Deputy Prime Minister Oliver Dowden has branded the Labour leader and his deputy the "Phil and Holly of British politics" as he clashed with Angela Rayner in the Commons.
Deputy Labour leader Ms Rayner said the Conservatives were "stuck in a conveyor belt of crisis" after 13 years in office, as she criticised their record on child poverty and the NHS during Prime Minister's Questions.
Mr Dowden countered he was "surprised the Lib Dem leader isn't taking questions today", referring to reports Sir Keir Starmer has left the door open to working with the Liberal Democrats if he does not secure a Commons majority after the next election.
"I seem to remember that after the loss of 300 Conservative seats at last year's local elections, he (Oliver Dowden) resigned, saying someone must take responsibility. After a thousand more Conservative councillors have been given the boot by voters, who does he think it is responsible now?"
The Deputy Prime Minister replied: "It really is a pleasure to see her here today. I was, though, expecting to face the Labour leader's choice for the next Deputy Prime Minister if they win the election. So I'm surprised that the Lib Dem leader isn't taking questions today."
He added: "We all know what's going on with her and her leader. It's all lovey-dovey on the surface, they turn it on for the cameras, but as soon as they're off, it's a different story.
"They're at each other's throats. They are the Phil and Holly of British politics."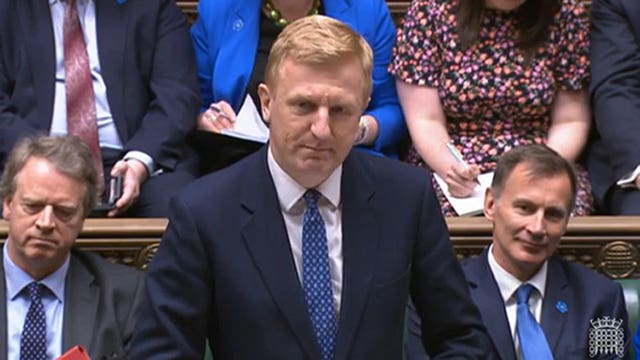 Ms Rayner turned to the NHS asking: "The Prime Minister pledged that by March, NHS waiting lists would fall. It is now May. So can he tell us, since he made that pledge: is the number of people on waiting lists higher or lower?"
Mr Dowden replied: "We are making good progress, for example with two-year waiting lists", adding Labour was "too weak" to stand up to unions, and urging the Opposition to back minimum service levels for the NHS.
Ms Rayner claimed the Government "has taken a wrecking ball to measures by the last Labour government to eradicate child poverty".
She said: "When I was a young mum I remember the sick feeling in my stomach not knowing if my wages would cover the bills, yet his Government has taken a wrecking ball to measures by the last Labour government to eradicate child poverty, even abolishing the child poverty unit.
Mr Dowden replied: "This comprehensive school boy is not going to take any lectures from the party opposite about the lives of working people.
"What I would say is that we have introduced record increases in the National Living Wage, something that this party introduced, the party opposite failed to do so, and we have taken one million working age people out of poverty altogether."
Ms Rayner raised the National Conservative Conference, saying: "While his party's preparing for opposition with their Trump tribute act conference over the road, Labour are focused on fixing the real problems facing British people.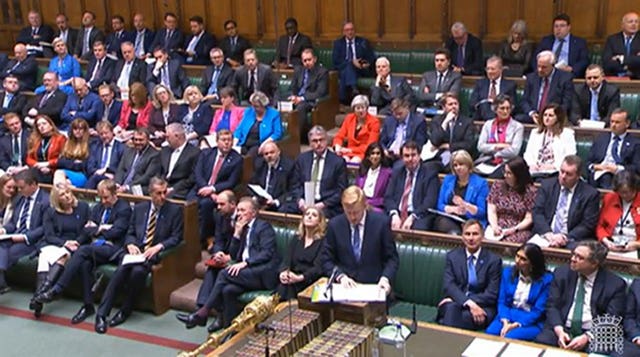 "Whether it's failing the millions of people anxiously waiting for treatment or overseeing a rise in child poverty, and while his colleagues spout nonsense at their carnival of conspiracy, I want to know: when will his party stop blaming everybody else and realise that the problem is them?"
Mr Dowden replied: "I will proudly defend our record in office. Crime down 50%, near record levels of employment, a record minimum wage.
"What's their record? Four general election defeats, 30 promises already broken and one leader who let antisemitism run wild – that is why the British people will never trust the Labour Party."