Labour will tear up planning red tape and allow some development on the green belt in order to increase the supply of homes, Sir Keir Starmer said.
The Labour leader said he wanted to see the price of houses come down, relative to incomes as he accused the Tories of killing off the dream of home ownership.
In a speech to the British Chambers of Commerce, Sir Keir stepped up his efforts to woo businesses ahead of the general election, saying he wanted "robust private sector growth" and a partnership with industry.
"We're going to tip the scales away from the vested interests that have held our businesses and our economy back for too long," he said.
"The blockers, the stiflers, those who are comfortable with Tory stagnation and failure, they aren't going to give up without a fight – that's not how change happens.
"But these past 13 years, what working people have been through, what businesses have been through – nearly record numbers of small businesses going under, every one a personal tragedy, an ambition, a dream, an investment in a better future – gone.
"All this, it has to be a turning point."
"The aspiration to own your own home is real, it's a dream for so many people and it's more than a dream, it's actually about security."
But, he said: "That dream is being killed. It's being killed by a government that's taking down the targets for housing and everybody in this room will know that means that building of houses is likely to drop now to the lowest level since the Second World War."
Rishi Sunak dropped plans for mandatory local housing targets as part of a plan to build 300,000 homes a year in response to a revolt by Tory MPs and activists.
Sir Keir said under his plan local areas would be given "more powers to direct where houses are built", including on the green belt in some circumstances, but he insisted "I want to protect the green belt, I value our countryside".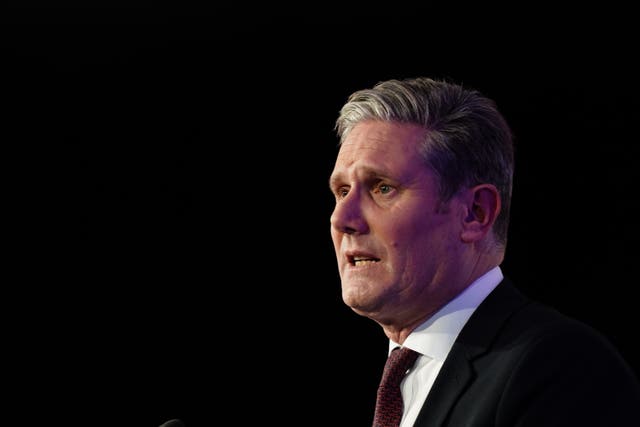 Sir Keir highlighted an example between a car park which was in the green belt and a playing field which was not, with the latter site chosen for development instead.
"We've got to take better decisions than that," he said.
Asked if he wanted the price of houses to come down, Sir Keir said: "Relative to income I would like to see them come down. But the sheer number has to go up."
Housing Secretary Michael Gove challenged Sir Keir over Labour's approach to development, highlighting opposition to local schemes from senior MPs.
In a letter to the Labour leader he said: "Your shadow Cabinet colleagues with constituencies in England regularly oppose development, including in their own areas.
"At the last count more than three-quarters of them had been blockers not builders. Is this not a case of do as I say but not as I do?
"Your shadow Housing Secretary, Lisa Nandy, opposed building on the green belt in her own constituency. Has she changed her mind, and does she agree with your new policy?"
Asked about Mr Gove's letter later, Sir Keir said he had not seen it but conceded that implementing his plans would be challenging because MPs would say "not here".
But he said he would be "tougher" than Mr Sunak and not cave in to pressure from his party.
Sir Keir told BBC Radio 4's PM programme: "The Prime Minister backed off. He has admitted it was the challenge within his own party, his own backbenchers, that forced him to take the targets down. He didn't say, 'Look, it's good for housing or good for growth'. He just did it because he was too weak to press on.
"We've got to be tougher than that and push forward.
"Insofar as people object because they want to protect the green belt, that's right. And of course we want to protect the green belt, we've got fantastic countryside and we need to protect it. But we need to recognise we do build on bits of the green belt and we don't build on the right bits."