Ukrainian forces have used UK-supplied Storm Shadow cruise missiles against Russian targets, Ben Wallace confirmed.
The Defence Secretary declined to give further details about the use of the long-range cruise missile.
The UK confirmed it would supply the weapons to Ukraine earlier this month.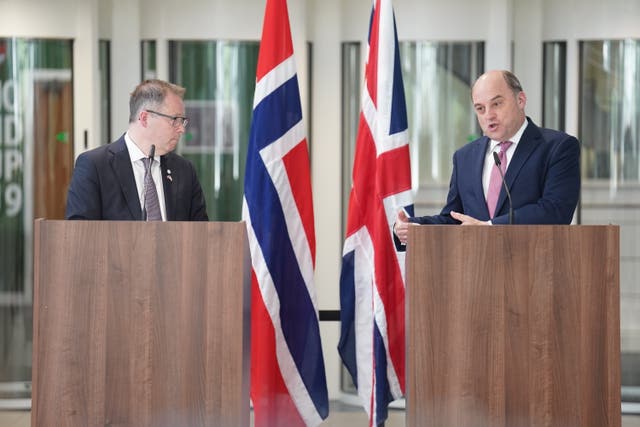 Mr Wallace suggested the Storm Shadow missiles could help provide some of the same capabilities to strike at Russian positions behind the front line.
At a press conference at the UK's Permanent Joint HQ in Northwood with his Norwegian counterpart Bjorn Arild Gram, Mr Wallace said: "It is my understanding that it (Storm Shadow) has been used since we announced its deployment to Ukraine."
He said the missiles gave the Ukrainians the ability to strike Russian command and control centres which had been moved further behind the front line to keep them out of range of the rocket artillery systems the West had supplied to Kyiv.
He added: "It's also one of the mitigations that, if you can't supply fighter aircraft, can you help provide one of the things that fighter aircraft deliver, which is deep strike?
"And yes, we can, we can do that with Storm Shadow."
The Defence Secretary warned that Vladimir Putin seemed determined to prolong the war in Ukraine "no matter what the cost" to the Russian people.
Mr Wallace said: "He's on the receiving end of over 250,000 dead or injured of his own troops, over 10,000 armoured vehicles destroyed or capture, he's low on his stocks, his international reputation is pretty much trashed on the rocks, and he is still pressing on.
"So I'm afraid to say at the moment Russia still seems determined, no matter what the cost to their own people.
"And that's why it's important that Ukraine is not only given the tools to defend itself, but also to go to the next step of expelling Russia from its borders.
"I'm not going to speculate when they will do that. We are on the right trajectory of their capability, their training their weapons systems."