A murder-accused nurse has told jurors that mistakes by hospital colleagues led to the death of one of her alleged victims.
Lucy Letby, 33, told Manchester Crown Court that a delay in giving antibiotics to the newborn girl's mother after her waters broke early "may have had an impact".
Letby allegedly administered air to the infant via an intravenous line while she worked a night shift at the Countess of Chester Hospital's neonatal unit.
Child D, a full-term baby, died in the early hours of June 22 2015, two days after her birth.
The prosecution say she was stable and progressing well when Letby went on duty to care for two other babies in the same nursery.
Prosecutor Nick Johnson KC said: "Is it your case that medical competency contributed?"
Letby said: "Yes. I believe she didn't have appropriate treatment at the start of her life."
Mr Johnson said: "The delay with antibiotics?"
Letby said: "Yes. It may have had an impact."
The jury of eight women and four men previously heard from Child D's designated nurse that she was on a break when the infant first collapsed in nursery one.
Letby said: "No."
Two further deteriorations followed as medics were unable to resuscitate Child D.
Mr Johnson said: "(Child D) died because you injected her with air?"
Letby said: "No, I didn't."
On Thursday, Letby told the court a "gang of four" consultants at the the Countess of Chester pinned the blame on her for a number of baby deaths to cover up hospital failings.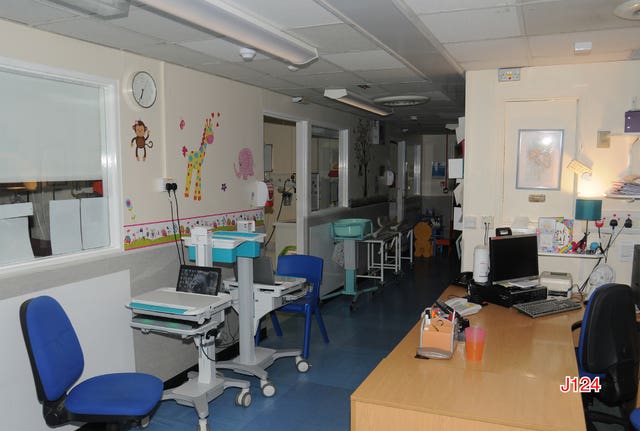 Letby said the boy was without fluids for some time and there was an issue with his intravenous line insertion.
She denied injecting him with air.
Letby is accused of trying to murder the boy's twin sister, Child B, using the same method on the next night shift.
She told the court she did not know why Child B had collapsed.
Letby said she also could not explain the collapses of Child C, a baby boy, who died in the early hours of June 14.
She again denied she took an opportunity to sabotage Child C when his designated nurse left the room.
Letby said her colleague was "insufficiently qualified" to look after the infant.
The defendant, from Hereford, denies murdering seven babies and trying to murder 10 others between June 2015 and June 2016.
The trial has been adjourned until next Wednesday.