Rishi Sunak has conceded he believes immigration into the UK is "too high" but was unable to commit to bringing levels down by the next election.
The Prime Minister would not spell out what he believes is an acceptable level as he faces pressure after dodging a Tory manifesto commitment to bring net migration down to the scale seen in 2019.
Home Secretary Suella Braverman has been publicly pushing for lower immigration, saying more Britons should be trained to be lorry drivers and fruit pickers to plug demand.
But Mr Sunak has been taking a more pragmatic approach over economic needs and has made clear to farmers that more seasonal fruit pickers will be allowed into the UK if they are needed.
But he said to BBC News: "I'm not going to put a precise figure on it but I do want to bring them down.
"The numbers are too high and we want to bring them down. Now, the numbers last year were impacted by the fact that we welcomed Ukrainian refugees to the UK. Again, that's something I think we are proud of."
The 2019 Conservative manifesto promised that "overall numbers will come down" as the Government ends freedom of movement in the wake of Brexit.
Migration levels were at 226,000 then, they exceeded 500,000 in the year to June 2022 and it could be as high as one million in new figures due to be published in the coming weeks.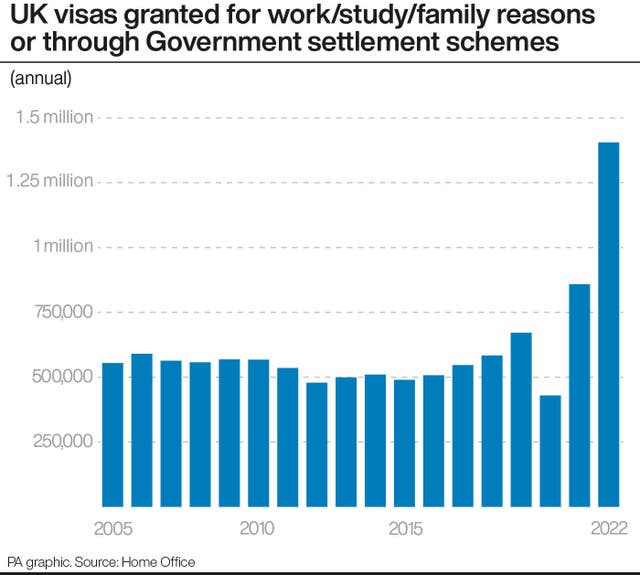 Instead, he said: "I'm committed to bringing down the levels of migration that I inherited, and I'm relentlessly focused on stopping the boats, that's one of my five priorities, and we're doing absolutely everything we can to do that."
Mr Sunak raised migration with allies at a Council of Europe meeting in Iceland on Tuesday.
The Prime Minister believes he had made "another big step forward" with EU chief Ursula von der Leyen to discuss the UK working with the bloc's border force, Frontex.
And he also held talks with the president of the European Court of Human Rights (ECHR), Siofra O'Leary, over a review of the working of Rule 39.
The order was used to block the inaugural forced removal flight of refugees to Rwanda last year.
Mr Sunak sees the stalled policy as key to reducing unauthorised entries to the UK.