Rishi Sunak was unable to commit to bringing migration levels down by the next election as the Border Force rescued and brought ashore a group of people thought to be migrants.
A Border Force vessel brought about 70 people, including some children, in to Dover, Kent, on Friday after a small boat incident in the Channel.
It comes as the Prime Minister conceded he believes immigration into the UK is "too high" but would not spell out what he believes is an acceptable level as he faces pressure after dodging a Tory manifesto commitment to bring net migration down to the scale seen in 2019.
There have been a total of 7,217 small boat crossings this year – up to and including Thursday – according to the Home Office.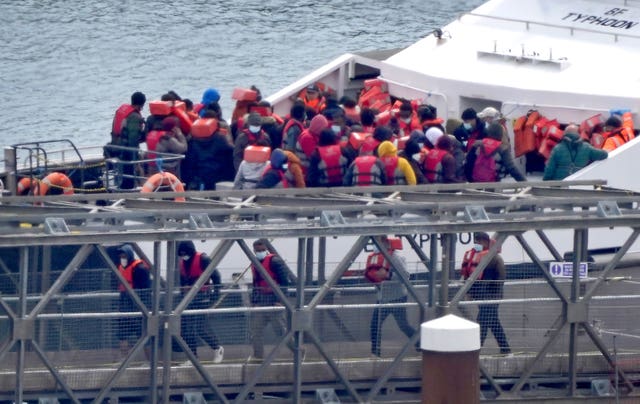 But he said to BBC News: "I'm not going to put a precise figure on it but I do want to bring them down.
"The numbers are too high and we want to bring them down. Now, the numbers last year were impacted by the fact that we welcomed Ukrainian refugees to the UK. Again, that's something I think we are proud of."
The 2019 Conservative manifesto promised that "overall numbers will come down" as the Government ends freedom of movement in the wake of Brexit.
But Mr Sunak avoided giving a specific commitment when pressed by Sky News whether he can bring down net migration to below 500,000 by the next election.
Instead, he said: "I'm committed to bringing down the levels of migration that I inherited, and I'm relentlessly focused on stopping the boats, that's one of my five priorities, and we're doing absolutely everything we can to do that."
Downing Street said: "(The Prime Minister) said specifically, 'I won't put a number on it'. We don't know what the numbers will be next week and it's right we take stock of those.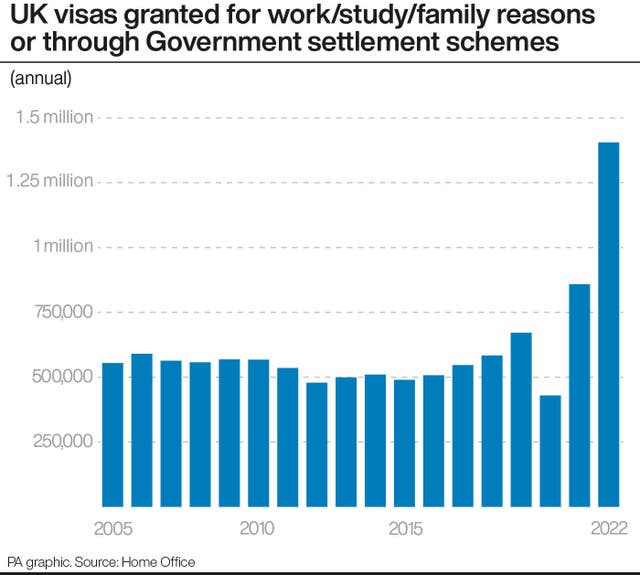 "Of course, the Prime Minister will work closely with Cabinet ministers on the ambition to reduce overall migration."
A Home Office spokesperson said: "The unacceptable number of people risking their lives by making these dangerous crossings is placing an unprecedented strain on our asylum system.
"Our priority is to stop this illegal trade, and our Small Boats Operational Command is working alongside our French partners and other agencies to disrupt the people smugglers.
"The government has gone further by introducing legislation which will ensure that those people arriving in the UK illegally are detained and promptly removed to their country of origin or a safe third country."