Sir Keir Starmer will pledge to get the NHS "off its knees" by tackling waiting lists and deaths from heart disease and stroke.
The Labour leader will set out his plans for the health service on Monday during a speech in the east of England, in which he will say he will say it is his party that "will fight for the NHS".
Among the commitments are hitting the four-hour A&E target – not achieved nationally since 2015 – and ambulance response times by 2030.
He will say: "We will fix the NHS. We will reform the NHS. Old values, new opportunities…
"An NHS, not just off its knees, but running confidently towards the future."
Addressing the record numbers of people on waiting lists, Sir Keir will tell the audience the next Labour government "will deliver an NHS that is there when you need it", adding: "No backsliding, no excuses. We will meet these standards again. We will get the NHS back on its feet."
Labour is also pledging to cut deaths from heart disease and stroke by a quarter within a decade, as well as tackling suicide, which is the biggest killer of young people in the UK.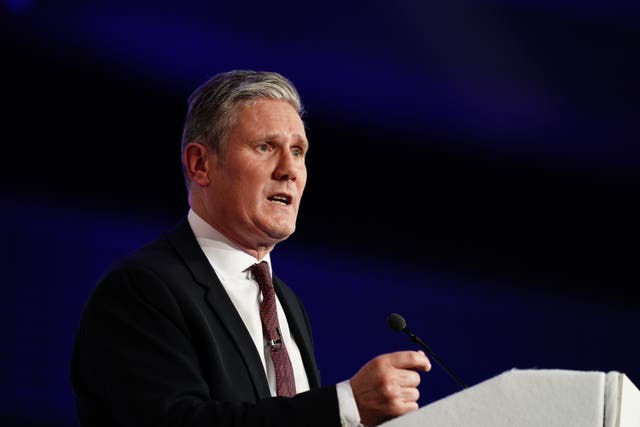 The Government and NHS England set the ambition of returning the number of patients waiting more than 62 days to pre-pandemic levels by March 2023.
However, the data showed that the number of patients waiting longer than 62 days since an urgent GP referral for suspected cancer stood at 19,248 in the week ending April 2.
The average weekly figure for February 2020 was 13,463.
The Labour leader said that some of the ambitions in his mission for the NHS will take "a bit longer" and "possibly a second term", but that his core plans would be achieved after the first term.
Asked on BBC Radio 4's Today programme whether he was officially pledging to meet targets on "the four-hour waiting time for A&E, ambulance response times, hospital treatment" by 2030, he said: "Yes, that is a pledge and that is within the first term."
Sir Keir also appeared to commit to more funding for the NHS, saying: "Money is part of the answer and the NHS is always better funded under Labour."
The Labour leader also told BBC Breakfast the NHS needed to change and he would be focusing on a "prevention model", which would end up costing much less than the current system.
Pointing out that he ran a public service for five years, he added: "I do know that if you put more money in the top you do get a better outcome, so money is, of course, part of the answer. But we've also got to change and reform.
"If we go down the path of prevention, that actually will not only be a lot better for people's lives and their health, but also in the long run actually cost a lot less."
Speaking to BBC Radio 5 Live, the Labour leader also said his "very strong view" was that sugary foods should not be advertised to children.
He said: "For example, in the speech I'm going to deal with vaping and junk food and sugary foods, which should not be advertised to children, in my very strong view. It's so bad for their health, so bad for the NHS."
However, he ruled out imposing a tax on salt and sugary food during the cost-of-living crisis if Labour comes to power.
Sir Keir said: "We don't want to go down the road of making food more expensive in the middle of a cost-of-living crisis, which is why today we'll focus on advertising rather than increasing the cost to food, because I think for many families who are already struggling, the idea that food prices would go up again is something which simply wouldn't be tolerable from their point of view."
In his speech, Sir Keir will also pledge that Labour's mission "must be and will be" to reverse the rising number of deaths from suicide.
He will say: "Suicide is the biggest killer of young lives in this country. The biggest killer. That statistic should haunt us. And the rate is going up. Our mission must be and will be: to get it down."
The Conservative Party highlighted that cutting NHS waiting lists was one of Prime Minister Rishi Sunak's top five priorities for the country.
A party source said: "We have already seen 18-month waits down 91% from the peak and two-year waits virtually eliminated.
"If Labour wanted to address waiting lists, they shouldn't have voted against Conservative plans for more doctors.
"If Labour wanted to address NHS efficiency, they shouldn't be setting out a plan for thousands more NHS managers.
"If Labour were serious about NHS reform, they would have taken action where they are in power in Wales where waiting lists are higher."