The King and Queen appeared enchanted by a new garden in Co Antrim to celebrate their coronation.
Bubbles, spinning trees, music and a glitter ball were used to create a sense of dancing and joy in the formal garden in Newtownabbey.
Charles and Camilla officially opened the ornate gates bearing their names topped with a crown to applause before moving inside, taking in the flowers and tall pavilion in the centre.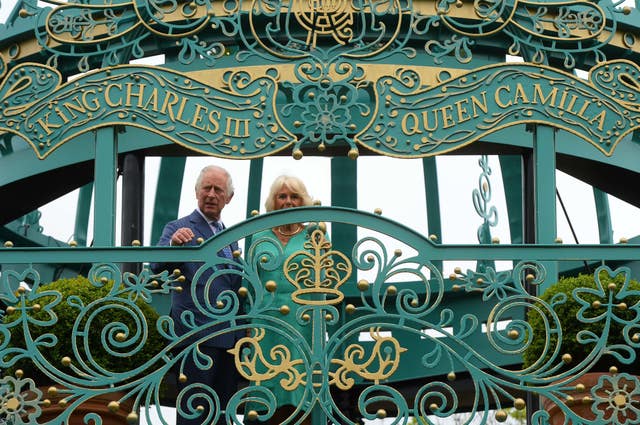 Camilla exclaimed as she first caught sight of one of the pieces of dancing topiary starting to move before smiling at the sight of spinning conical trees.
"I thought I was seeing things," she laughed.
"Maybe there are two little leprechauns under there!"
They went on to explore the pavilion, climbing up to the top floor offering a view across Hazelbank Park to the shores of Belfast Lough.
While the Queen described the height as a "bit vertiginous", she delighted in a glitter ball, commenting "it's a bit like the glitter ball from Strictly".
Their descent down the stairs coincided with the music, which automatically comes on every 15 minutes, along with the dancing topiary.
The couple continued their way around the garden, meeting a number of community groups, including the Forget-Me-Notes choir, made up of those with dementia and their carers.
Charles was meeting with some of the local councillors elected to Antrim and Newtownabbey Council when the next musical interlude started and could be seen smiling as Pure Imagination, a song from the 1971 film Willy Wonka & the Chocolate Factory, played.
Charles and Camilla also met school children who have been taking part in coronation-theme projects, including making coronation robes.
They excitedly giggled and said yes in chorus when the King asked them if being there was better than sitting tests and exams.
Leaving the garden, Camilla commented to an official that it had not been what she had expected, but praised it as "absolutely lovely", a sentiment echoed by Charles, who added: "Amazing."
Mr Gavin described efforts to complete it as "round the clock for the last four months".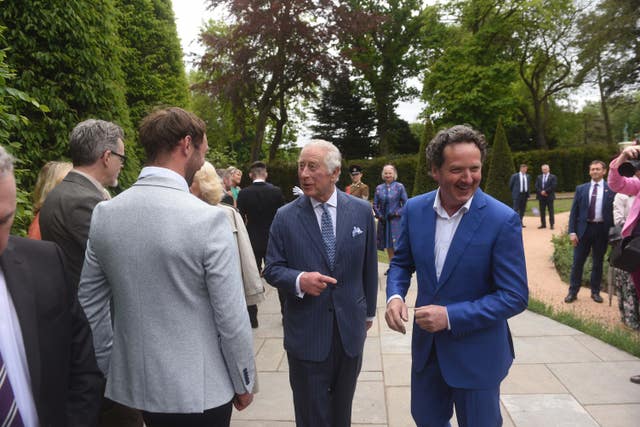 "They were wonderful, they said a lot and they were absolutely wonderful. I got to spend a little bit of time with them in the quiet garden with the water dancing. They were asking me where the plants came from and the idea behind the design, and they couldn't have been nicer."
He described the rationale behind choosing Bring Me Sunshine for the garden.
"It's one of those songs, they thought Morecambe and Wise would be overjoyed at having their music played in the garden … it talks about joy, smiles, sunshine, and I thought it might be a nice whimsical one for plants to dance … you can't help yourself but shimmy a little bit," he said.
"It was really lovely, they acknowledged everyone in the team who helped to build the garden, and that was all local people.
"It's been intense, so to have the King and Queen say well done to them, it's wonderful."