A watchdog is to investigate a road crash which left two teenagers dead, sparking a riot, after CCTV footage emerged of a police vehicle following a bike prior to the incident.
The Independent Office for Police Conduct (IOPC) will probe "any interaction" between South Wales Police officers and Kyrees Sullivan, 16, and Harvey Evans, 15.
The boys were killed on Monday evening in the Ely area of Cardiff while riding an electric bike.
A video circulating on social media appears to show a police vehicle following a bike being ridden by two people a few minutes before the fatal incident.
There were no police vehicles on Snowden Road when the crash occurred and a vehicle in nearby Grand Avenue responded, the force said.
One local resident suggested the boys had got away from the police by riding up Stanwey Road, which is blocked off to traffic at one end, and had then ridden on to the adjacent Snowden Road where the crash occurred.
Tensions rose and spilled over into rioting which saw missiles and fireworks thrown at the police and cars set alight.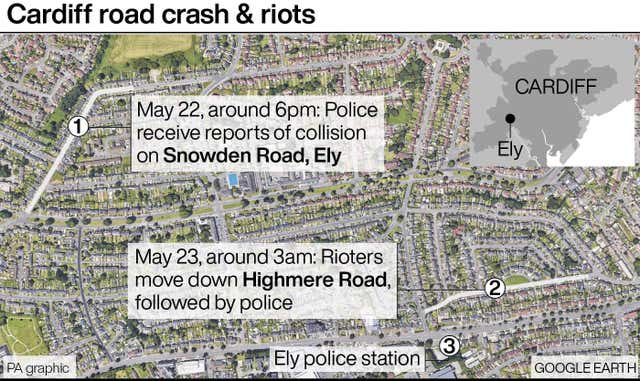 "It is important that we independently investigate the circumstances leading up to this tragic event."
The police and crime commissioner for South Wales, Alun Michael, said he had been "assured and I am still assured youths were not being chased by the police at the time of the road traffic accident".
In the aftermath of the collision, Mr Michael gave interviews in which he said there were "rumours" of a police chase, "which wasn't the case".
On Wednesday he told BBC Radio 4's Today programme: "Information emerged after we had done the interview which has to be investigated, and the question has to be asked of whether there is a connection between earlier events and the road traffic accident itself.
"We have to look at the facts of what actually happened on Monday. I am assured and I am still assured youths were not being chased by the police at the time of the road traffic accident.
"I was assured there was not… police chasing the individuals at the time the accident happened. That there may have been something earlier is of course something that should be fully investigated."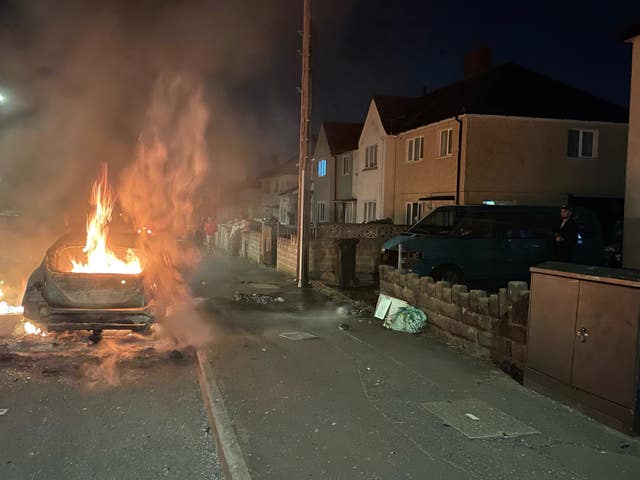 Scenes being livestreamed on YouTube showed young people throwing fireworks and other missiles at a line of police officers with riot shields who were blocking one end of the street.
Police said arrests had been made following the disorder, which left 15 officers requiring medical attention – 11 of which were treated in hospital.
At around midnight, Belinda Sullivan, Kyrees's mother, pleaded on Facebook with the rioters to stop because her son's body remained at the scene of the collision.
Friends of the two boys, who were from the Ely area, said they were riding a Sur-Ron electric bike without helmets when they died.
She added that he was best friends with Kyrees, who was "into the same things".
A family friend said: "I'm OK in myself, I'm just absolutely devastated and heartbroken for my friends. My heart is hurting.
"That's the little boy I used to babysit and push around in a pram. It is so, so sad. They both went to see their boys yesterday and they are both very numb and haven't got much to say at the moment."
Hundreds of bunches of flowers have now been placed at the scene and floral tributes have also been taped up the entire length of one lamppost on the street.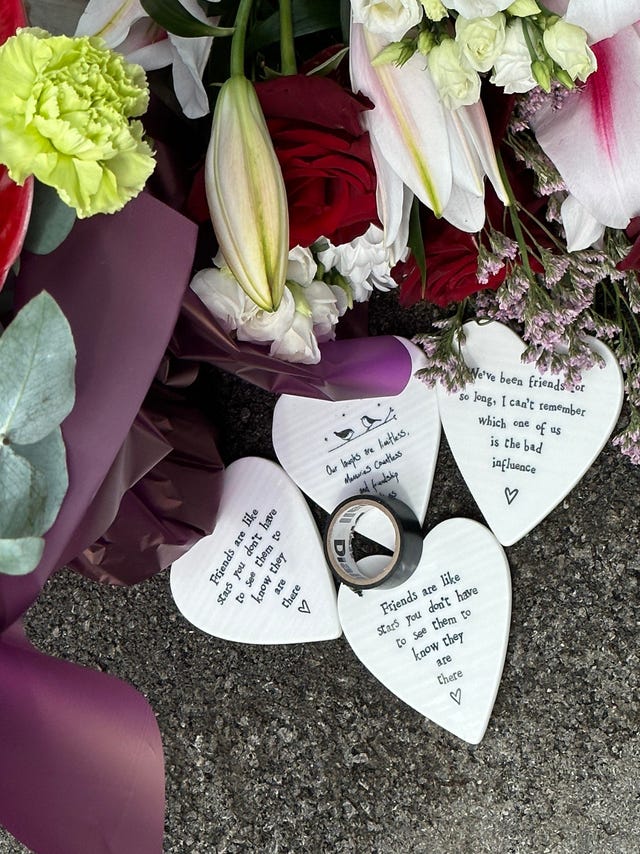 One young man at the scene who came to pay his respects said: "They (the police) are trying to hide what really happened. The video is as clear as day."
A woman looking at the tributes, who did not give her name, told journalists that "young people are always targeted by police around here".
A vigil and balloon release has been planned to pay tribute to the boys on Friday evening.