Inflation may have dropped to its lowest level for more than a year, but there was little to be cheery about in the latest official figures as food prices continued to race higher.
The data from the Office for National Statistics (ONS) showed Consumer Prices Index (CPI) inflation fell to 8.7% in April, down from 10.1% in March, as energy prices stabilised after sky-high rises a year ago.
However, food price inflation remained close to levels not seen for more than 45 years, at 19.3%, keeping household finances very much still under pressure.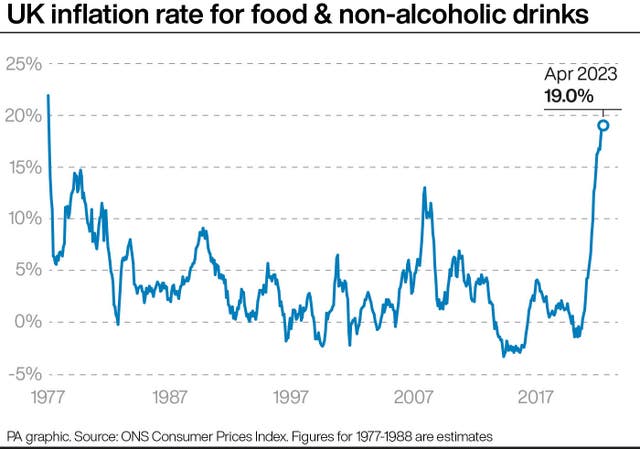 – If inflation has dropped so sharply, why are experts so concerned by the latest figures?
The fall in inflation was expected to be far greater, with experts pencilling in a drop to 8.2% in April.
It was also higher than the 8.4% predicted by the Bank of England just two weeks ago.
CPI has come in higher than predicted for three months in a row now, as inflation has proven painfully stubborn.
And while welcome, the fall in inflation was expected, given that energy prices have stabilised since the energy price guarantee came into effect last October.
– What is behind April's higher-than-expected inflation?
Rocketing food prices appear to be the key reason why inflation has failed to fall as fast as hoped.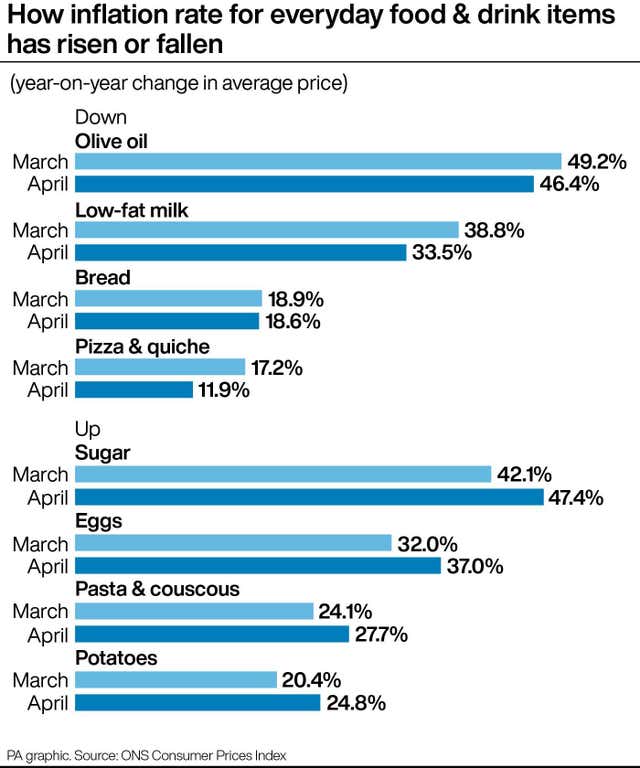 On Tuesday, Chancellor Jeremy Hunt said the Government "stands ready" to update pricing rules after he spoke to representatives from the food industry to raise concerns over the sky-rocketing cost of groceries.
There have been some small signs that food prices may soon be on the descent, but retailers appear to be passing on little in the way of meaningful cuts, despite reporting that commodity prices are beginning to ease.
– What do the higher-than-expected inflation figures mean for me?
Economists are warning that April's higher-than-forecast CPI may mean yet more interest rate rises on the cards, which will pile further pain on already financially stretched households.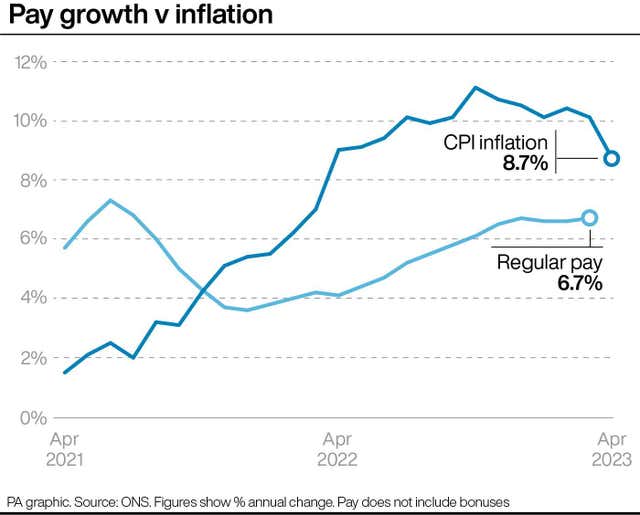 It had been hoped that the May rise could be the last for a while, but experts said this month's 8.7% reading increases the chances of further hikes.
James Smith, an economist at ING, said data "undoubtedly puts pressure on the Bank of England to hike by another 25 basis points in June".
But he added "it's not a foregone conclusion, not least because we still have another set of data before the meeting", and pointed to the fact that jobs and wages data have been "moving in the right direction".
– When can we hope to see respite from the cost crisis?
Bank of England governor Andrew Bailey insisted in a Commons committee hearing with MPs on Tuesday that inflation has "turned the corner".
It predicted earlier this month that inflation would fall to 5.1% in the fourth quarter of 2023, narrowly seeing the Government hit its target to halve inflation by the end of the year.
The latest inflation surprise has cast doubt over the Government achieving its goal, although Mr Hunt said the target was "still absolutely deliverable".
– How can the Government be so sure it will hit its inflation target?
Energy prices are due to fall sharply from July, with Ofgem set to confirm on Thursday the new price cap level when the current energy price guarantee limiting bills to £2,500 a year comes to an end.
But if food prices fail to begin their descent soon and with prices still rising across the board on everything from rent to council tax, water and broadband bills, that inflation target could yet prove elusive.