Here are the key numbers in the latest migration figures from the Office for National Statistics:
– Net migration to the UK is estimated to have reached a record 606,000 in 2022, up 24% from 488,000 in 2021.
The figure stood at 89,000 in 2020, when restrictions introduced during the Covid pandemic limited travel and movement.
Net migration is the difference between the number of people arriving and leaving the country.
A total of 1,163,000 people are estimated to have arrived in the UK in 2022, while 557,000 are likely to have left – a difference of 606,000.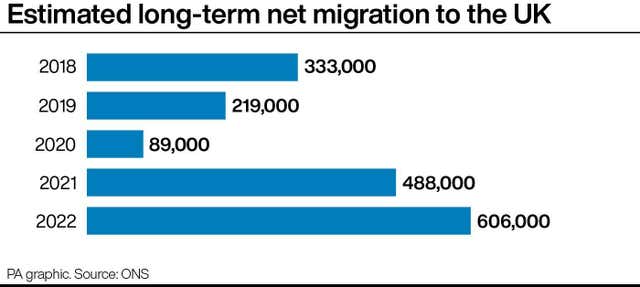 – More EU nationals left the UK last year (202,000) than arrived (151,000). The same was true of British nationals, with 92,000 leaving compared with 88,000 arrivals.
But the pattern was different for non-EU nationals, with far more arriving (925,000) than leaving (263,000).
– The rolling annual estimate of net migration looks to have levelled off towards the end of 2022.
It rose from 565,000 for the 12 months to March to 606,000 for the 12 months to June, peaked at 637,000 for the 12 months to September then dropped back to 606,000 for the 12 months to December.
– People arriving on study-related visas accounted for the largest proportion (39%) of long-term immigration of non-EU nationals last year, at 361,000 people, up from 301,000 in 2021.
This increase is mainly attributed to people arriving as dependants, up from 41,000 in 2021 to 85,000 in 2022.
– People coming to the UK on humanitarian routes, such as the Ukraine and Hong Kong schemes, accounted for 19% of non-EU immigration at 172,000 people, up year-on-year from 57,000.
– The remainder of the non-EU total was made up of people arriving for asylum (8%) at 76,000, up year-on-year from 53,000; family visas (6%) at 51,000, down from 62,000; and for other reasons (3%) at 29,000, up from 27,000.
– An estimated 114,000 long-term arrivals from Ukraine came to the UK in 2022 as part of the Ukraine schemes, along with 52,000 people who arrived under the scheme for British nationals overseas and their families from Hong Kong.
A further 6,000 people are estimated to have arrived under schemes for resettled refugees, including those who have come from Afghanistan.
– People arriving in the UK after crossing the English Channel on small boats are included in the migration figures only if they have claimed asylum.
Home Office figures show that 90% of small boat arrivals in 2022 (around 40,000 people) claimed asylum or were recorded as a dependant on an asylum application.