UK police officers are to be tasked with breaking up people-smuggling gangs alongside security forces in North African countries, it has been reported.
The Times newspaper has been told National Crime Agency (NCA) officers would join nations in the region in their efforts to stop the people traffickers.
Record numbers of people crossed the English Channel last year in small boats.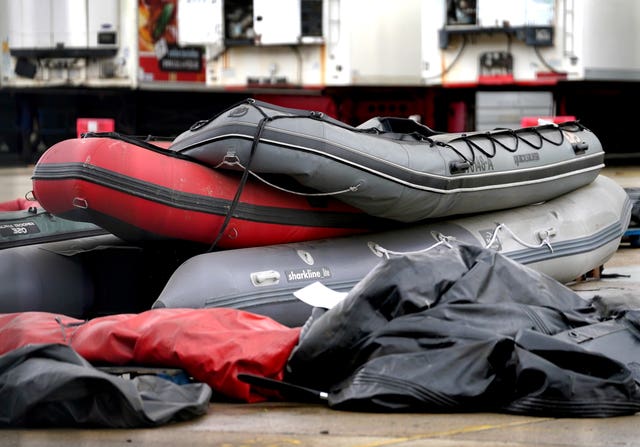 The report comes as immigration minister Robert Jenrick travels to North Africa and Europe in the coming week to discuss with international partners "the shared global challenge of organised immigration crime".
The NCA and the Home Office have been contacted for comment.
Mr Jenrick will visit Algeria, Tunisia, Italy and France for a series of engagements as the Home Office launches an ad campaign aimed at deterring Albanian nationals from arriving in the UK in small boats.
The publicity drive, which will run on Facebook and Instagram from next week, will send the message that people "face being detained and removed" if they make the journey.
The campaign will also aim to "bust the myths of organised crime gangs" who use social media to encourage people to take dangerous routes to the UK, the Home Office said.
A spokesman said: "Evil criminal gangs do not care about the safety of the people they smuggle across the Channel and have no qualms about pedalling lies online – even putting children at risk.
Opposition critics and charities have branded the campaign a "gimmick", with Labour accusing the Government of "tinkering at the edges" of an asylum system "in chaos".
The Home Office would not say how much the publicity drive is expected to cost.
The Government's Illegal Migration Bill aims to send asylum seekers who arrive in Britain via unauthorised routes back home or to a third country such as Rwanda.
Ministers also hope the legislation will cut the daily £5.5 million cost of housing migrants who make it to the UK.
The Bill, currently in the House of Lords, has been attacked by critics including the Archbishop of Canterbury who argue that it is both unworkable and "morally unacceptable".