Home sales plunged by a quarter in April compared with the same month a year earlier, according to HM Revenue and Customs (HMRC) figures.
Across the UK, 82,120 transactions were estimated to have taken place in April, marking a 25% drop compared with April 2022.
Residential property sales were also 8% lower in April 2023 than in the previous month.
HMRC's report said the drop in sales between March and April "appears particularly large".
It said: "The number of transactions in March was high due to a combination of factors including a larger number of working days relative to April and the final month for purchases to be completed under the Government's Help To Buy equity loan scheme."
Nicky Stevenson, managing director at estate agent group Fine & Country, said: "A slowdown in the property market last autumn as a result of the mini-Budget has fed into April's sales figures.
"Due to the time it takes to complete on a property, many of these sales will have been agreed just as mortgage rates spiked, resulting in some transactions stalling due to affordability issues."
On Tuesday, Moneyfactscompare.co.uk said several mortgage providers had withdrawn selected fixed mortgage products in recent days and some had pulled their whole fixed-rate range.
Moneyfactscompare.co.uk suggested the volatility is down to the concerns surrounding future interest rate hikes and lenders are reassessing their propositions.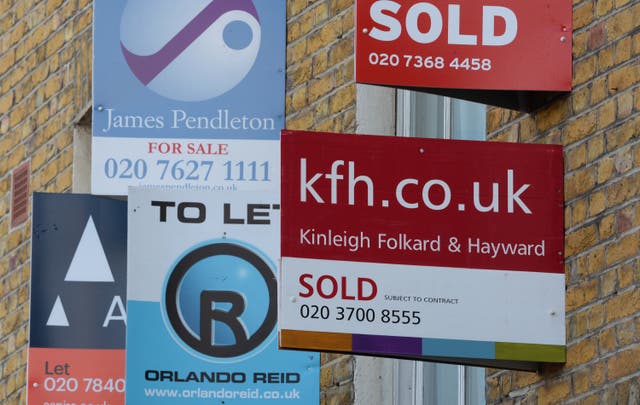 Mark Harris, chief executive of mortgage broker SPF Private Clients, said: "Transaction numbers are coming under pressure in the face of higher interest rates and the cost-of-living uncertainty.
"Swap rates, which underpin the pricing of fixed-rate mortgages, have risen again on the back of the inflation news. Lenders are busy repricing their fixed rates upwards."
Karen Noye, a mortgage expert at Quilter, said: "The spring and summer months typically bring more demand to the housing market but while inflation has finally started its descent, high mortgage rates could continue to put a dampener on transactions as moving home or taking the first step onto the property ladder becomes increasingly unaffordable.
Andrew Montlake, managing director of mortgage broker Coreco, said: "In recent months, we have seen the market begin to awaken from its prolonged slumber, with buyers returning and getting used to the new mortgage rate environment.
"That, of course, was before the latest inflation figures caused swap rates and therefore mortgage rates to start to increase again.
"This will undoubtedly have an effect on buyer affordability, mortgage choice, and therefore transaction levels going forward.
Jason Tebb, CEO of property search website OnTheMarket.com, said: "The past week has shown that volatility can't be ruled out going forwards as inflation, while falling, is proving more stubborn than forecast.
"With the potential for further interest rate rises and lenders pulling their mortgages and repricing upwards, borrowers are likely to be concerned about affordability.
"While there are people who need to move and will do so regardless, sellers must price their properties sensibly if successful transactions are to be achieved over coming months."
Jeremy Leaf, a north London estate agent, said: "Sales are taking longer and there is not the same urgency we saw previously."
Chris Druce, senior research analyst at estate agent Knight Frank, said: "A fall in monthly property transactions, albeit after March's performance was bolstered by the deadline for Help to Buy completions, provides a reality check for the health of the market.
"An improved economic outlook and solid jobs market has supported buyer sentiment in recent months and created an active spring sales market, after the mini-Budget knocked the sector off course last year.
"However, the cost of a mortgage is significantly higher than 18 months ago, and more pain will enter the system this year as people's fixed-rate mortgage deals come up for renewal."
Jonathan Hopper, CEO of Garrington Property Finders said: "In many parts of the UK it's a buyer's market and homes that are priced competitively are selling well."
Iain McKenzie, CEO of the Guild of Property Professionals, said: "While sales may have slowed down, estate agents have been using the quieter time to replenish their stock.
"As house prices remain buoyant, we should see sales recover in the second half of the year."