Damage to a major dam in Ukraine is a "catastrophe" and "abhorrent act", the Foreign Secretary has said.
Ukraine has accused Russian forces of blowing up a major dam and hydroelectric power station in a part of southern Ukraine that Russia controls.
Officials have described the breach as an "ecological disaster", while Ukrainian authorities have ordered hundreds of thousands of residents downriver to evacuate.
James Cleverly tweeted: "The destruction of Kakhovka dam is an abhorrent act.
"Intentionally attacking exclusively civilian infrastructure is a war crime.
"The UK stands ready to support Ukraine and those affected by this catastrophe."
The Foreign Secretary visited Kyiv this week, where he met his counterpart Dmytro Kuleba and Ukrainian President Volodymyr Zelensky.
Mr Zelensky said he convened an urgent meeting of the National Security Council. He alleged that Russian forces set off a blast inside the dam structure and that some 80 settlements were in danger.
The deputy head of the Office of the President of Ukraine said the "ecocide" was "really terrible".
Igor Zhovkva told BBC Radio 4's World At One programme Russia's claims that shelling had caused the damage were "absurd," saying: "I know that there was a blast and it was made on purpose because you cannot ruin this dam (only) by shelling."
But Evgeny Popov, a member of the Duma for Vladimir Putin's United Russia party, claimed Ukraine would "profit" from the damage and said Russia is evacuating 22,000 people from the area.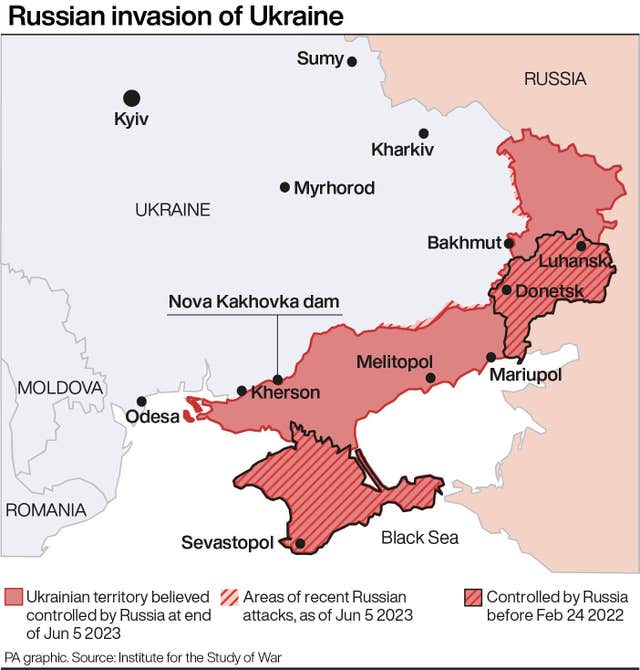 "We don't need to do that. We are not attacking civilian infrastructure," he told the same programme.
Downing Street said the UK is "ready to offer humanitarian and economic support" but it is too early to tell what is needed.
Prime Minister Rishi Sunak's spokesman also said he "wouldn't rule out" bringing up the attack with Russia but "at the moment we are looking into the situation".
"None of this would be taking place if it was not for Russia's illegal invasion. We are steadfast in our support," the official said.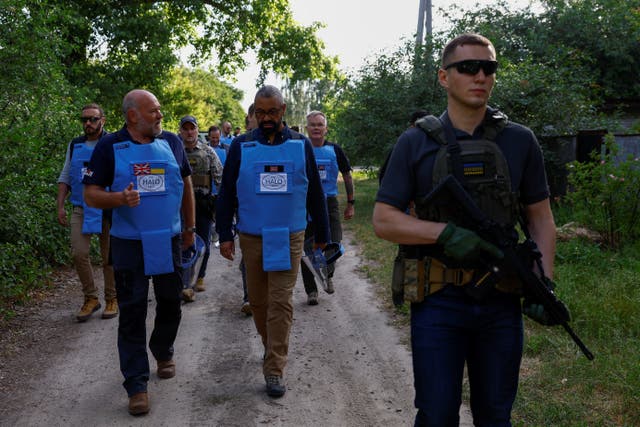 "All countries, including the United Kingdom have put limitations on the military equipment that we have donated," he said.
"And in most instances, that means that that equipment can only be used within Ukrainian territory and on that issue, the UK and the US are in exactly the same place."
He told reporters that "we have always made it clear that we support Ukraine's self-defence and, of course, the decisions about how Ukraine conducts that self-defence are rightly decisions which are made by Ukraine's leadership".
Mr Cleverly said he wanted the war to quickly come to a conclusion "which is fair, which is right for the people of Ukraine and, of course, is a conclusion which reinforces rather than undermines the UN Charter and the concept of sovereignty and territorial integrity".