Former health secretary Matt Hancock feared being pushed down an escalator by an anti-vaccination protester who accused him of murdering people during the coronavirus pandemic, he told a court.
Geza Tarjanyi, 62, of Leyland in Lancashire, who has denied causing harassment without violence, is accused of shoulder-barging the MP and shouting "ridiculous conspiracy theories" on two separate occasions on January 19 and 24.
Mr Hancock told a trial at Westminster Magistrates' Court: "As a public figure, I can't recall a time when I felt as intimidated as this."
Appearing in person as a witness, the MP told the court: "I felt physically intimidated and felt like I needed to get to a place of safety, he was being completely unreasonable.
"I didn't know what further unreasonable actions he would take."
Mr Hancock went on: "It made me feel unsafe going about my place of work, it made me feel frustrated that instead of engaging in a normal debate, someone was trying to intimidate me, I thought that was unacceptable."
He added: "I had a pretty good impression he had been taken over by these ridiculous conspiracy theories."
Mr Hancock said he recognised the defendant and felt "more intimidated" because he was on his own and tried to get Transport for London (TfL) staff to intervene.
But he told the court that Tarjanyi began harassing "anybody who was going to come to my aid" and continued following him through the station.
Mr Hancock said he then stopped at the top of an escalator to "resolve the situation" but felt the defendant pushing him towards it.
He said: "Obviously I was extremely worried at this time. If I had lost my balance at that point, I would have tumbled down the escalator.
"I had to work to maintain my balance and stop myself falling down the escalator."
The former health secretary feared Tarjanyi was willing to commit a crime, alleging the defendant had told him he "wanted to go to court".
He added: "One of the reasons I hadn't reported the incident on January 19 was because I don't want these people with these untrue beliefs to get further publicity from harassing me."
Tarjanyi then got onto the Jubilee Line train with Mr Hancock and accused him of murdering "millions of people" before they were separated at Bond Street station.
The defendant's mobile phone footage of the second incident, played to the court, showed him calling Mr Hancock a "murderous scumbag" and saying lockdown amounted to the harassment of the country due to his "lies and deceit".
Mr Hancock told her: "I didn't get on the Tube for some time after because I didn't want any further incidents that put my safety at risk."
Parveen Mansoor, defending, said Tarjanyi denies any physical contact and believes it was Mr Hancock who "barged into him".
She added: "He denies assaulting him in any way shape or form."
Ms Mansoor suggested Mr Hancock had not been pushed during the incidents, arguing the defendant merely walked into him after he stopped.
Mr Hancock responded: "Oh please … the idea that it was my fault he walked into me is ridiculous."
Ms Mansoor went on: "You exaggerated what happened on both of these occasions either to get sympathy or to stop Mr Tarjanyi saying what he wished to say."
The MP told the court: "I wouldn't make such an accusation lightly, and I certainly wouldn't if it was untrue."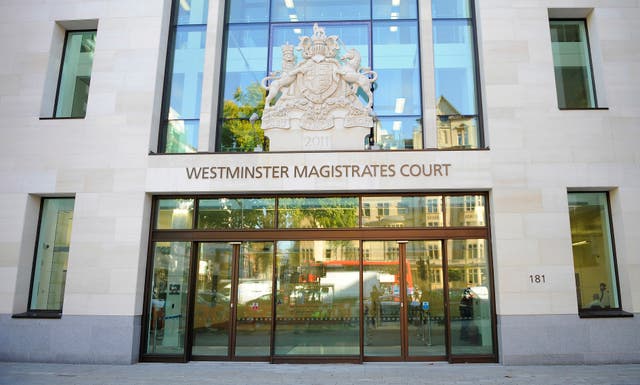 Mr Hancock, 44, was health secretary when the coronavirus pandemic struck and was a key figure in the lockdown restrictions and vaccine rollout that followed.
He resigned after leaked CCTV images showed him kissing an adviser in his office, in breach of his own social-distancing guidance.
Mr Hancock later angered colleagues and constituents by flying to the Australian jungle to appear on I'm A Celebrity … Get Me Out Of Here! in November 2022.
Having been stripped of the Conservative whip over the appearance, he said he would not contest his West Suffolk seat at the next election when he would step down.
The trial has been adjourned until July 4.