Cancer waiting times across the NHS in England have got worse, according to new data.
Figures from NHS England show 61.0% of cancer patients who had their first treatment in April after an urgent GP referral had waited less than two months for treatment to start.
This is down from 63.5% in March. The target is 85%.
Meanwhile, the proportion of cancer patients who saw a specialist within two weeks of being referred urgently by their GP fell from 83.9% in March to 77.7% in April, remaining below the 93% target and the lowest figure since September 2022.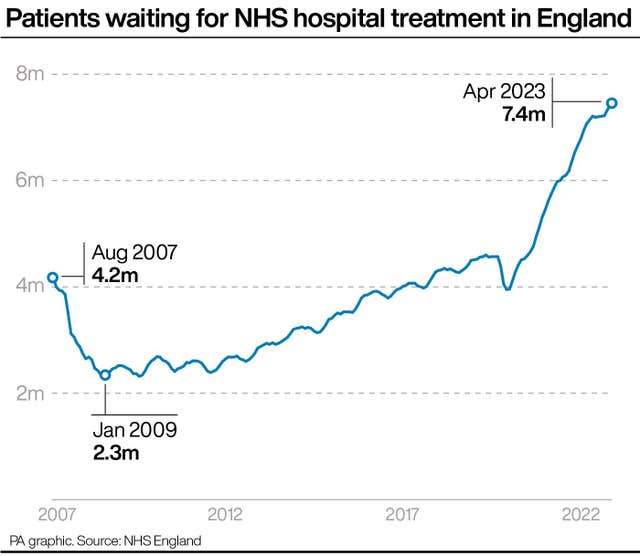 Elsewhere, 71.3% of patients urgently referred for suspected cancer were diagnosed or had cancer ruled out within 28 days, down from 74.2% the previous month.
The NHS elective recovery plan sets a goal of March 2024 for 75% of patients who have been urgently referred by their GP for suspected cancer to be diagnosed or have cancer ruled out within 28 days.
Overall, some 218,060 urgent cancer referrals were made by GPs in England in April, down month-on-month (by 16% compared with March 2023) but up year-on-year (by 2% compared with April 2022).
Seven per cent more people were referred for urgent cancer checks in the year to April, though the data shows they are having to wait longer to be seen or treated.
It comes after radiology leaders warned cancer patients face worsening NHS delays and the prospect of more gruelling treatment due to too few staff.
A poll of all 60 directors of the UK's cancer centres by the Royal College of Radiologists (RCR) found 95% feel staff shortages are leading to longer waiting times for appointments and delays in cancer treatment.
The RCR warned staff shortages mean people are waiting longer than necessary to start chemotherapy or radiotherapy, while some doctors are now having to make "difficult decisions" about who to prioritise and are having to send patients to different hospitals.
Responding to the new NHS figures, Minesh Patel, head of policy at Macmillan Cancer Support, said: "Today's data shows that thousands of people with cancer are continuing to be let down by a system that simply cannot cope.
"Too many people are facing excruciating delays to receive a diagnosis or start treatment, causing huge amounts of anxiety and putting lives at risk. This is unacceptable.
"It's vital that the UK Government recognises the reality of this situation and prioritises cancer care.
"It must urgently publish a long-term, fully funded workforce plan to ensure NHS England has the staff and resources to provide people with cancer with the vital care they need, when they need it."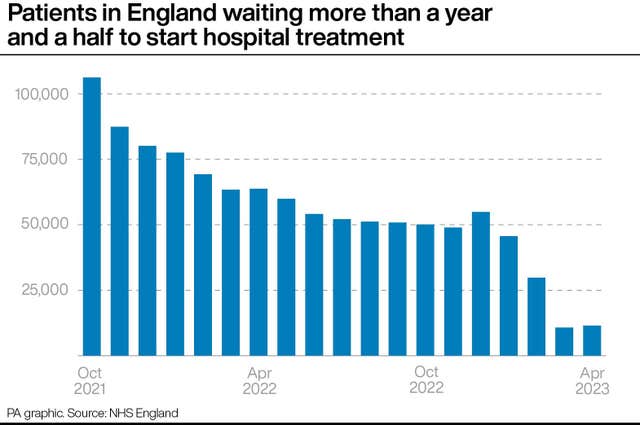 "Despite the tireless work of NHS staff, people affected by cancer continue to experience unacceptable delays for vital diagnosis and treatment.
"We need to see urgent political leadership and action on cancer, and urge the UK Government to publish the long-awaited workforce plan for England.
"Without a fully-funded strategy to recruit, train and retain staff, cancer patients and their loved won't receive the timely care they desperately need."
The latest NHS figures also show 371,111 people in England had been waiting more than 52 weeks to start routine hospital treatment at the end of April. This is up from 359,798 at the end of March.
Meanwhile, 11,477 people are estimated to have been waiting more than 18 months to start routine hospital treatment at the end of April – this is up from 10,737 at the end of March.
Overall, the number of people in England waiting to start routine hospital treatment – for issues such as knee and hip replacements – has also risen to a record high.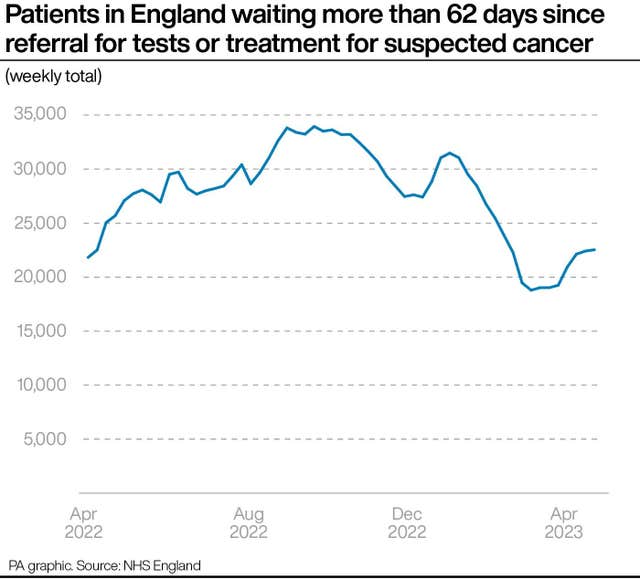 NHS England said staff are continuing to make progress on recovering routine services despite the it facing "the most disruptive industrial action in its history in April", with four days of strikes by junior doctors resulting in more than 195,000 appointments and procedures having to be rescheduled.
Accident and emergency units across the country also experienced the busiest May on record, it said.
NHS national medical director Professor Sir Stephen Powis said: "Despite the NHS continuing to see high levels of demand across urgent and emergency care, hard-working staff are continuing to deliver improvements as set out in our urgent and emergency recovery plan.
"Even as hospitals dealt with the most disruptive industrial action in its history, average waits for people on the waiting list dropped to just under 14 weeks – the lowest it's been since before winter.
"We knew the overall waiting list would continue to increase for a time as people who may have put off coming forward for care over the past few years of the pandemic sought help, and that demand would be reflected in other areas as well – today's data shows another record 12 months for cancer treatment and referrals, with more than ever before getting checked and starting treatment.
"We continue to urge people to come forward because the earlier cancer is detected, the easier it is to treat."