Large parts of England and Wales have been issued with a thunderstorm weather warning by the Met Office ahead of the weekend.
The UK's weather service issued the warning on Thursday ahead of what is expected to be the warmest weekend of the year, with central and southern England, and the whole of Wales, set for rain and thunder on Saturday.
The warning comes after weeks of prolonged high pressure which has led to the recent sun and high temperatures but as the high pressure moves north, the UK is expected to see higher temperatures as well as thunder, hail and rain hit central and southern England and Wales.
A change in weather is expected to come at around 2pm on Saturday, with the warning in place until 9pm on Saturday.
Oli Clayden, from the Met Office, confirmed that there could be some travel disruption over the weekend.
He said: "After a prolonged dry spell there is a chance of surface water flooding.
"There could be some surface water issues that could cause travel disruptions as well as the high gusts across parts of the country."
It is expected that some parts of the UK could see 30-40mm of rain in an hour during parts of Saturday, with hail also expected to hit the UK on Saturday.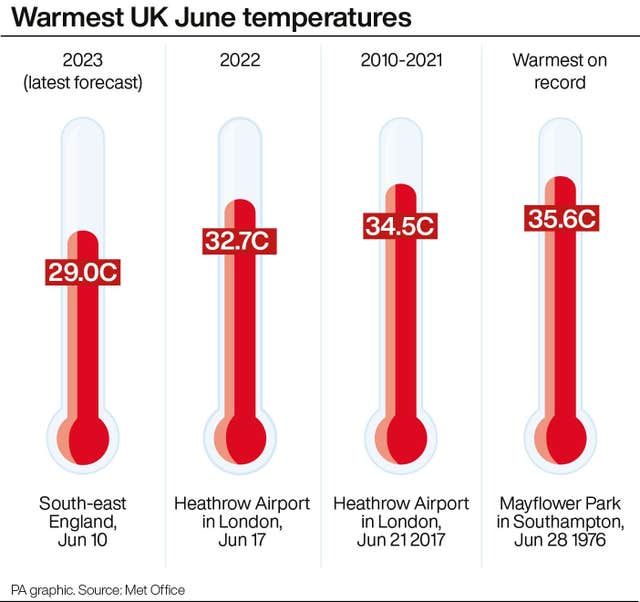 The thunderstorm warning comes after the UK Health Security Agency (UKHSA) and Met Office issued the first heat health warning of the year to six regions in England, London, the East Midlands, West Midlands, East of England, South East and South West, and is in place from 9am on Friday until Monday morning.
Parts of the country are predicted to be hotter than Marbella, Ibiza and Tenerife over the weekend as a "plume of warm air" moves in from the south.
Mr Clayden added: "This is going to be the warmest weekend of the year, which is to be expected as we go into summer.
"This weekend will also see hail mixed in with strong gusts of wind and rain hit parts of the country."