Pressure on the Chancellor to cut taxes ahead of the next general election ramped up further after figures showed government borrowing came in lower than official forecasts in August.
The Office for National Statistics (ONS) said public sector net borrowing stood at £11.6 billion last month – £3.5 billion more than a year earlier and the fourth highest August borrowing since records began.
It was higher than the £11.1 billion forecast by most economists, but lower than the £13 billion predicted by the UK's fiscal watchdog, the Office for Budget Responsibility (OBR).
Borrowing for the financial year so far has now reached £69.6 billion – £19.3 billion more than a year ago, but far below the £81 billion forecast by the OBR.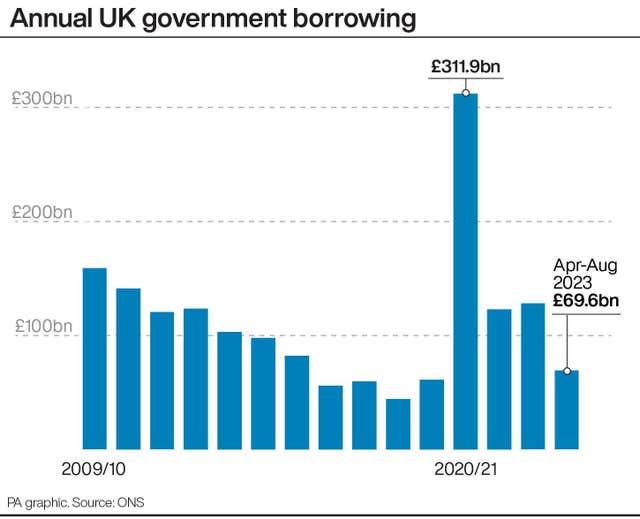 Chancellor Jeremy Hunt insisted: "These numbers show why, after helping families in the pandemic, we now need to balance the books.
"That becomes much easier when inflation is under control because higher inflation pushes up interest rates, so we need to stick to the plan to get it down."
Mr Hunt warned on Wednesday that there will be no pre-election "borrowing binge", despite saying the Government's plan to tackle the cost-of-living crisis is working following a surprise fall in inflation to 6.7% in August, down from 6.8% in July.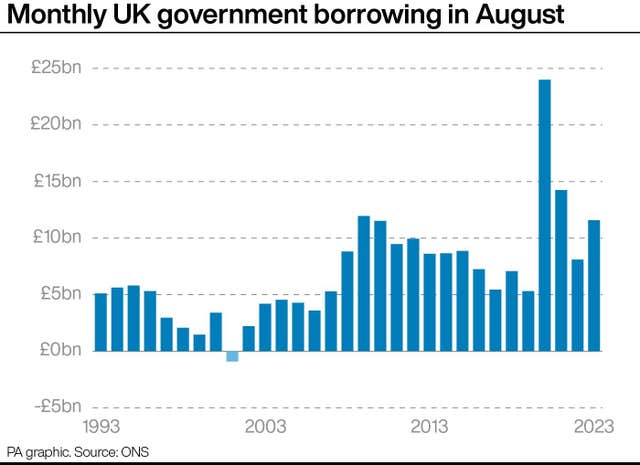 He has so far fought off pressure from some Tories – including former prime minister Liz Truss – to pledge tax cuts, repeatedly playing down the prospect of major giveaways in his Autumn Statement, due on November 22.
Samuel Tombs, an economist at Pantheon Macroeconomics, said he now expects full-year borrowing to total £113.2 billion, a "hefty" £18.4 billion below the OBR's forecast.
"We doubt, however, that the OBR will lower its full-year forecast quite that dramatically in the autumn statement," he added, citing the risks to economic output over the months ahead as well as debt interest payments.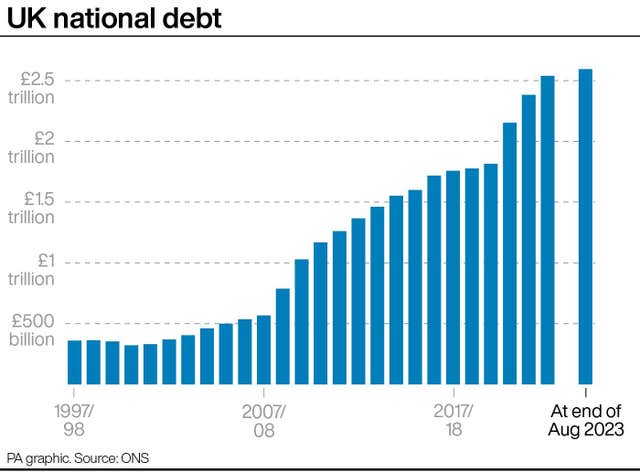 Britain's debt interest bill was sent rocketing due to the impact of sky-high retail prices index (RPI) inflation on index-linked gilt stock.
However, inflation is easing back from highs seen in October last year and debt interest payments for the financial year to date are 12.8% lower than a year earlier, at £43.5 billion.
The ONS said net debt stood at £2.59 trillion at the end of August, equal to around 98.8% of the UK's gross domestic product (GDP) and 2.3 percentage points higher than a year ago.