The chief inspector of prisons has called for the closure of one in ten prisons in England and Wales, singling out Victorian-era inner-city jails.
Charlie Taylor said there are an "awful lot of jails that have got just far more prisoners than they were originally designed for".
In an interview with the Guardian, he cited HMPs Wandsworth, Pentonville, Liverpool, Leicester, Lewes, Exeter, Bristol and Leeds among those in need of immediate attention.
He said: "There are a lot of inner-city local prisons that won't be closed any time soon but they really struggled to fulfil their purpose.
"Wandsworth was built for around 1,000 prisoners and I think has 600 over; Pentonville [in north London] was built for around 450 and I think there [are] about 1,200 prisoners in that jail.
"So there are an awful lot of jails that have got just far more prisoners than they were originally designed for.
"But also the infrastructure of some of those jails really struggles. You're probably talking about 10% of jails that struggle to be fit for purpose."
About the Victorian-era jails, he added: "They tend to be built with very small footprints because they're built in inner cities. And they definitely haven't got enough activity places when the population is double the number that the prison was originally built for."
On his last visit at Wandsworth prison, he said: "We saw a cell that was ready for a first-night arrival, potentially your first night in a jail cell, having been burnt out by the previous occupant.
"It was just hideous.
"If the prison was not overcrowded, what you would say is 'We'll take that out of commission and paint it and fix it up'. But it's just one out, one in."
With the next general election to be called any time until January 2025, the chief inspector also warned politicians against promising to increase sentences without having a "bigger conversation about what we want from prisons".
He said: "Sentencing is a matter for the courts and ministers decide policy. But I think there should be a bigger conversation about what we want from prisons.
"What is our expectation of what we are going to get? Because, apart from a handful, the prisoners we lock up are coming out at some stage."
Mr Taylor, a former head teacher at a school for children with complex behavioural, emotional and social difficulties, was appointed chief inspector of prisons in 2020 and reappointed in September 2023.
From 2017-2020 Mr Taylor was chairman of the youth justice board for England and Wales and previously led the Government's review of the youth justice system.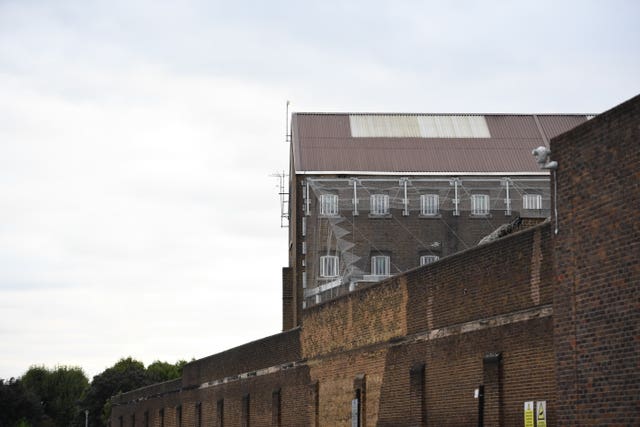 "We are also pressing ahead with the biggest expansion of prison places by any Government in over a century, delivering 20,000 additional spaces including six new, modern prisons.
"Around 5,500 new places have already been delivered, including HMP Fosse Way, which opened in May."
According to figures released by the Ministry of Justice in July, the number of prisons rated "outstanding" reached its lowest point in six years.
Among the 119 prisons evaluated, only 13 (10.9%) were awarded the highest rating, a significant drop compared with the performance in 2019/20, where 19 prisons (16.0%) had achieved the top-tier recognition.
The Annual Prison Performance Ratings for 2022/23 also showed there was a slight increase in the number of prisons rated as a "serious concern" compared with the previous year.
Nine prisons (7.6%) fell into this category, a rise of two prisons from 2019/20, and included Bedford, Bristol, Deerbolt in Co Durham, Foston Hall in Derbyshire, Isis in south-east London, Long Lartin in Worcestershire, Whitemoor in Cambridgeshire, Wandsworth and Styal in Cheshire.
Overall, though, 75 prisons (63.0%) received ratings of either "good" or "outstanding", showing more than half of the evaluated prisons maintained a satisfactory level of performance.