Rishi Sunak has declined to back building HS2 to the North despite growing warnings by senior Tories not to axe the rail project.
The Prime Minister hit out at the "speculation" surrounding its future but did nothing to quell fears he is preparing to either scrap or delay the leg of HS2 from Birmingham to Manchester.
Downing Street said there is precedent to delaying aspects of the high-speed rail scheme because of "affordability pressures", pointing towards high inflation.
But Tory former chancellor George Osborne and ex-Conservative deputy prime minister Lord Heseltine were among senior figures warning that axing the Manchester route would be a "gross act of vandalism" which would mean "abandoning" the North and Midlands.
Andy Burnham, the mayor of Greater Manchester, where the Tories will hold their annual party conference from Sunday, demanded Mr Sunak does not curtail the project.
The Labour politician argued scrapping it would be a "decision of epic proportions for our part of the world".
Mr Sunak insisted he is "absolutely committed to levelling up", as he refused to give any details over HS2's future during a visit to a community centre in Hertfordshire.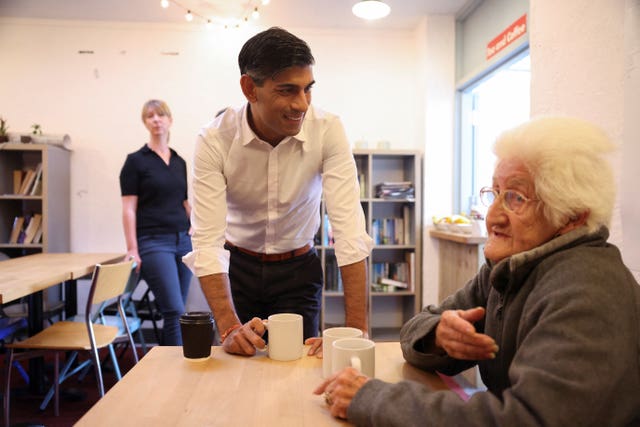 Pressed yes or no whether it will go ahead, Mr Sunak insisted: "This kind of speculation that people are making is not right. We've got spades in the ground, we're getting on and delivering."
Downing Street made clear that he was hitting out at the nature of the speculation, rather than suggesting any of it was incorrect.
The Prime Minister's official spokesman said that Mr Sunak "always listens to both sides of debate, and it's for him to make final decisions".
He also declined to set the record straight on HS2, but said that in the past the Government has announced "decisions to rephase parts of the project because of affordability pressures, which were exacerbated by inflation".
"I know there is continued speculation on this, and indeed many other topics, but for my part I'm not going to get into more detail," he added.
Mr Osborne and Lord Heseltine, writing in The Times, warned that governments "are remembered for what they build and create".
"Make this mistake and yours may only be known for what it cancelled and curtailed," they said.
Mr Burnham told the BBC he will be writing to the Prime Minister on Monday to ask him not to scrap the high-speed rail project.
He told Radio 4's Today programme: "Scrapping HS2 rips the heart out of Northern Powerhouse Rail.
"It would leave the north of England with Victorian infrastructure, probably for the rest of this century.
"And if we're trapped with that old infrastructure and the southern half of the country has new lines, that is a recipe for the North-South divide to become a North-South chasm, the very opposite of the levelling up that we were promised in this Parliament."
Gordon Brown, the last Labour prime minister, told LBC radio that "confusion and chaos" would be caused in the North if ministers "give up" on the unfinished project.
In October, the Government's assessment of the cost for the western leg was up to £71 billion.
Ministers said in June that £22.5 billion had been spent so far on the first leg to Birmingham, while around £2.3 billion had been spent on subsequent legs, with expenditure going towards labour as well as land.
All those figures were based on 2019 prices, so will have soared thanks to inflation alone, as the costs of materials and wages rose.
Commons Health Committee chairman Steve Brine said it would look "odd" to scrap the scheme in the days before Tory MPs and activists arrive in Manchester for their conference.
The Conservative also said he hoped the line would run all the way into central London rather than stopping short at Old Oak Common in the capital's western suburbs.
"It would seem very odd not to bring this new rail line into central London and just stop it at Old Oak Common.
"So I really hope a way can be found to do this."
The Prime Minister and Chancellor are reported to be meeting to discuss the situation in the coming days.
Former transport secretary Mr Shapps used broadcast interviews on Sunday to say the Government could not write an "open-ended cheque" if costs were "inexorably going higher and higher".
In a hint that a delay rather than an outright cancellation could be an option, Mr Shapps said: "I think the sequencing of what happens next is a perfectly legitimate question."
The Independent reported the northern leg of the scheme could be pushed back by up to seven years.