A hastily deleted tweet which saw the wrong Conservative MP named as the party's new chairman has been mocked on social media.
For a few minutes it looked as though Transport Secretary Chris Grayling was to become the party's chairman in Theresa May's January reshuffle.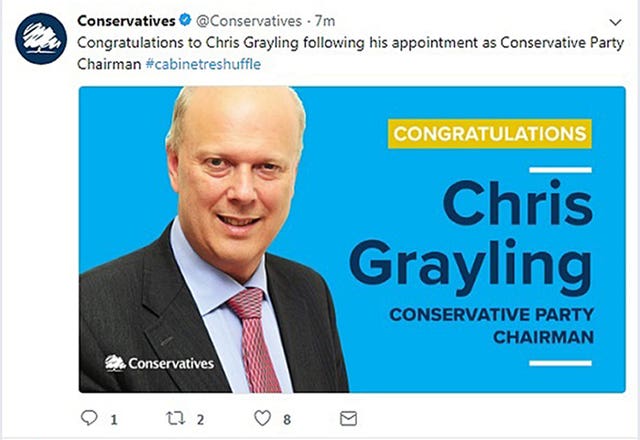 The gaffe proved an amusing sideshow as the media was watching and waiting for answers on who was in and out in the reshuffle.
Grayling's Wikipedia entry was updated to say he served in the chairman role for between "10 and 37 seconds", although the edit was later removed as vandalism.
In spite of its brevity, people spoke longingly of Grayling's chairmanship.
Among those getting in on the joke was MP Ed Vaizey, the Conservative member for Didcot and Wantage, who recalled a mix-up between him and Liberal Democrat Ed Davey.
Sharing a tweet by Guardian journalist Gaby Hinsliff about a reshuffle which went wrong during the Blair years, he said: "That happened with me and Ed Davey. I was trade minister for 30 minutes."
Even Lewis's official announcement, on the Number 10 Twitter account, was marred by a spelling error although it was swiftly adjusted.
The original tweet named Lewis as the minister without "porfolio".