On Saturday, American expats and supporters gathered at marches and rallies across the globe to take part in the March For Our Lives.
The movement is calling for gun control following the murder of 17 people by a gunman at Marjory Stoneman Douglas High School in Florida in February.
Many of the events held outside of the US on Saturday were organised by US citizens. According to a 2016 study by the Federal Voting Assistance Programme, there are 5.7 million US citizens living abroad, of which 2.6 million are eligible to vote.
The Press Association spoke to some of these people and their local supporters in Dublin, London, Oslo, Barcelona, Mumbai and Tokyo about their reasons for protesting and their experiences on the day.
Dublin
Archaeologist Dr Kelli Malone, 59, says she chose to march on Saturday as she is against gun ownership on any level and is "sickened by the suffering caused by gun violence".
The rally in Ireland's capital was organised by Democrats Abroad Ireland and the Women's March, and took place outside the US embassy in the city.
"The powerful messages and courage of the Parkland students, and those students everywhere who – often alone – stood in protest and walked in support of Parkland, has set an example for us all to aspire to," Malone said.
"This is an opportunity for the world to unite against violence."
Greg Johnson, 25, chair of Democrats Abroad Ireland and one of the rally's organisers, shared his experience of growing up in a country where gun violence is so prevalent.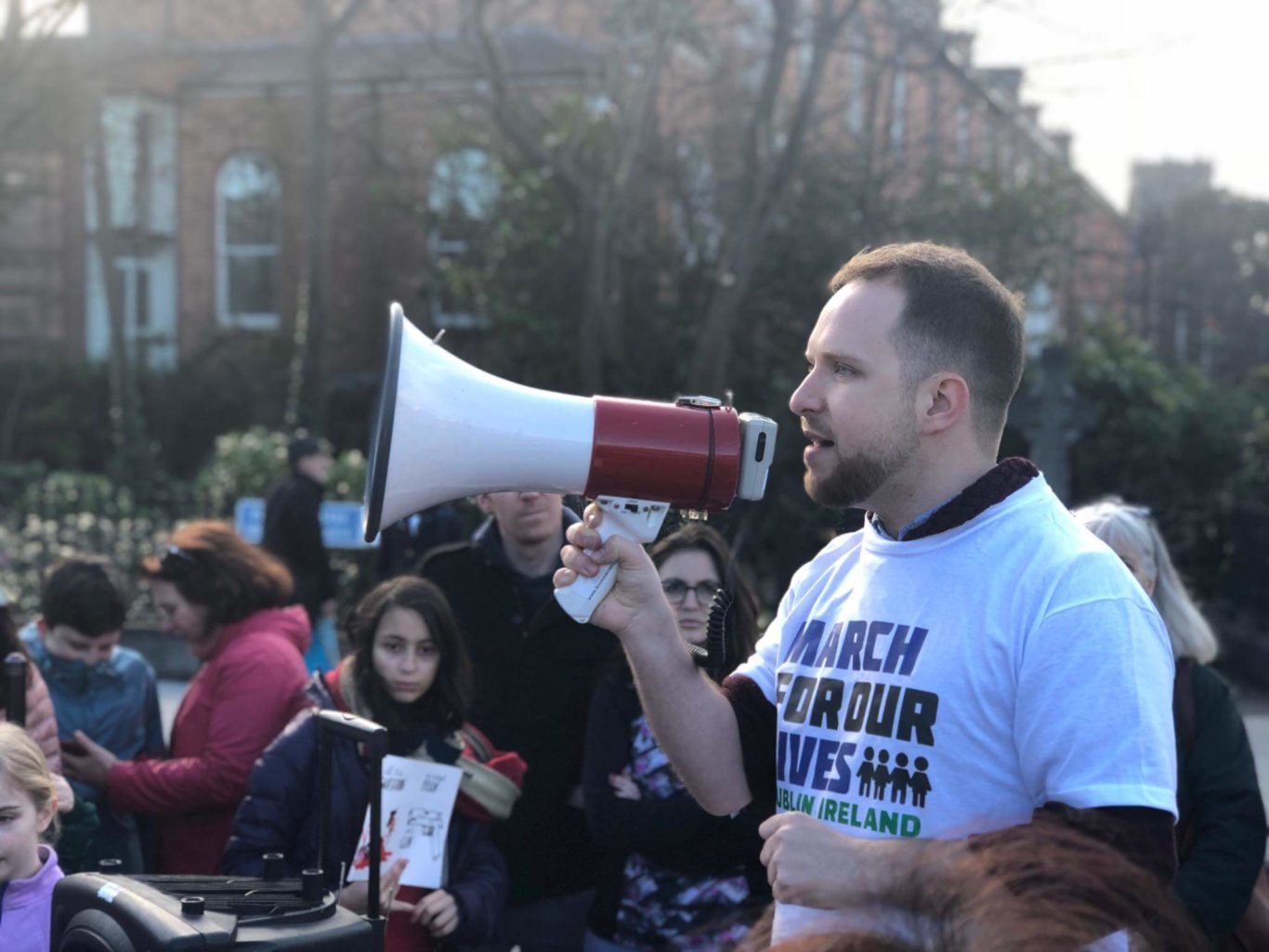 "We were trained to lock the classroom door, turn off the lights, hide in the corner, and hope for the best. I didn't realise these types of school drills were largely unique to America until I moved abroad.
"I want to help build an America where these kinds of drills don't need to happen anymore."
Johnson said he would like the marches around the world to remind Americans that "routine mass shootings just don't happen outside of the US". He is calling on elected officials to work across the aisle to protect people from gun violence.
Oslo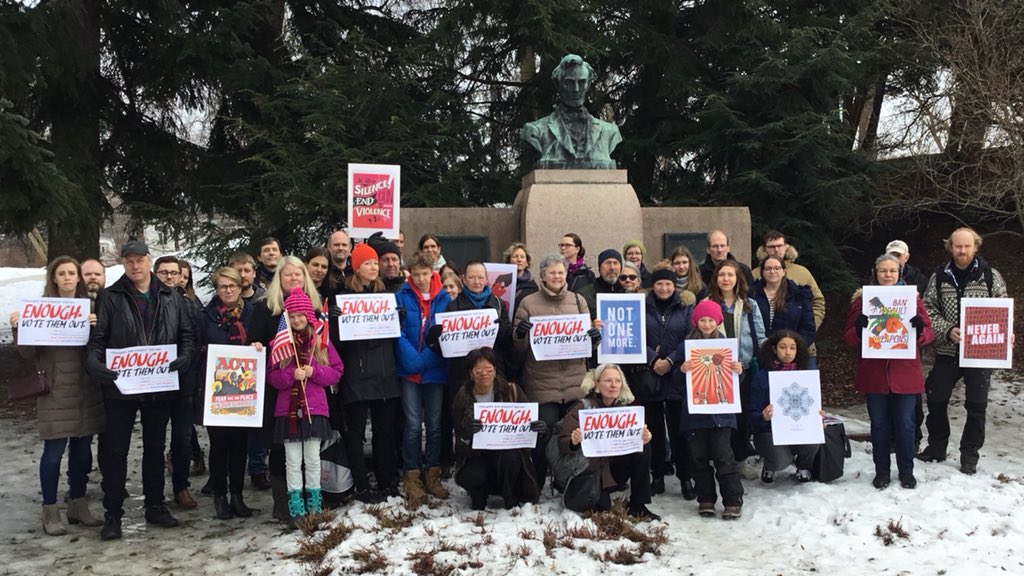 "I ended up meeting a few other American expats here during the first Women's March and one of them had started up an organisation called PAAL (Progressive American's Action League) here in Oslo with the intent of fighting against social, racial, and environmental injustice happening back home in the US but also locally in Oslo," Salus explained.
"I got burnt out a bit after this last Women's March but the Parkland shooting just really hit hard. I had already had a hard time looking to the US from Norway and seeing all of this gun violence occurring year after year with nothing being done about it."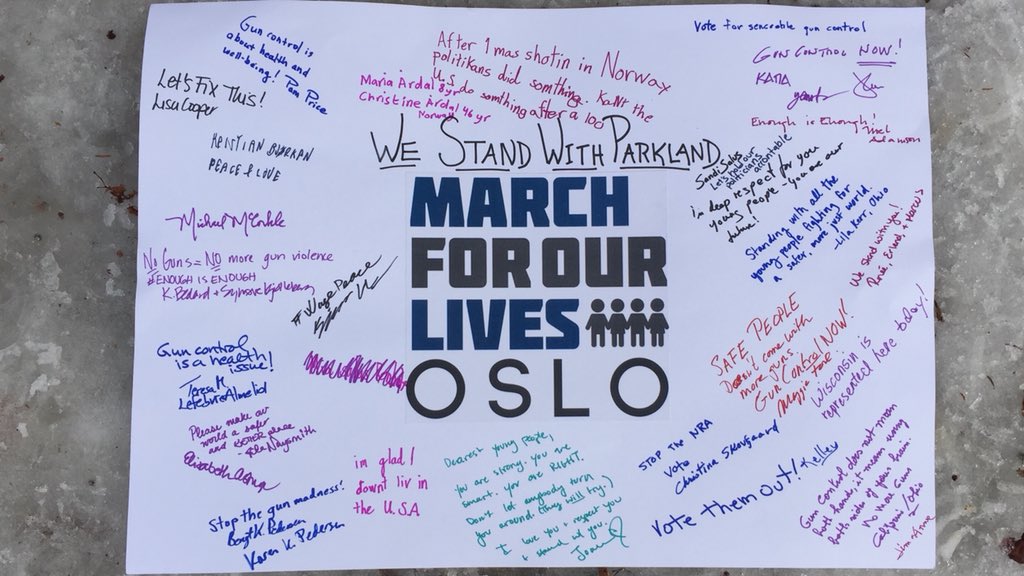 "I also think that it is important that we share our perspective – that we have had the chance to live outside the US and see how another place deals with gun reform."
At Saturday's rally, attendees lit candles and Salus gave a speech – then the floor was opened to others who had points to make.
"One young woman, an American, told of how her life has been touched by gun violence, including knowing gun victims as well as teaching young students in San Antonio, Texas and having to keep them calm and ease the students' fears as they had to undergo gun-violence drills," said Salus. "It was very moving."
Also in attendance was a survivor of the Utøya attack in 2011, when a gunman killed 69 young people attending a summer camp. According to Salus, "he has now committed his life to gun safety as well as helping with the mental health issues of those who have gone through a horrible incident of gun violence".
Mumbai
Mumbai's protest was held on Sunday March 25 and 17-year-old student and writer Mahek Chacha felt compelled to attend.
The rally was organised by gun control activist Sanchi Rohira and her family.
"As an Indian, it is thankfully a far-fetched thought for an adolescent to purchase a gun and terrorise the lives of countless people, whatever the reason may be," she said.
"Watching such events unfold as an outsider, as someone who is not American, the cause and prevention of mass shootings is painfully obvious to me.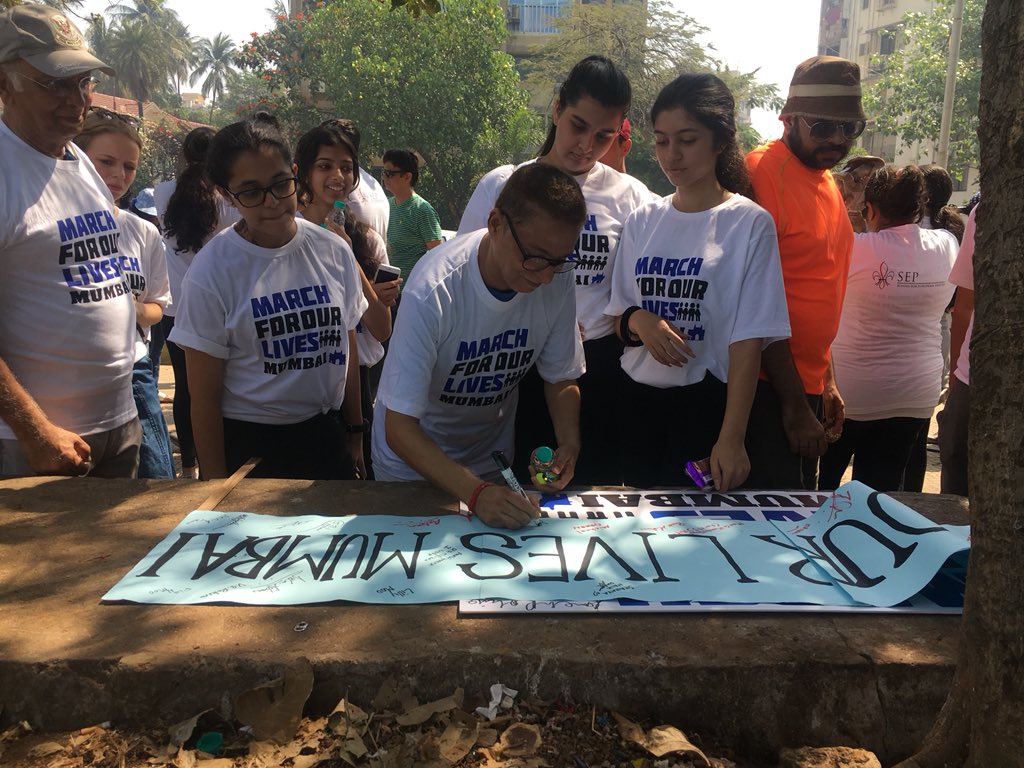 Chacha says that as a student herself, she finds the idea of students fearing gun violence at school to be "incredibly painful". Although she cannot relate to that feeling, she is joining the protest to support American teens in their quest for gun reform.
Barcelona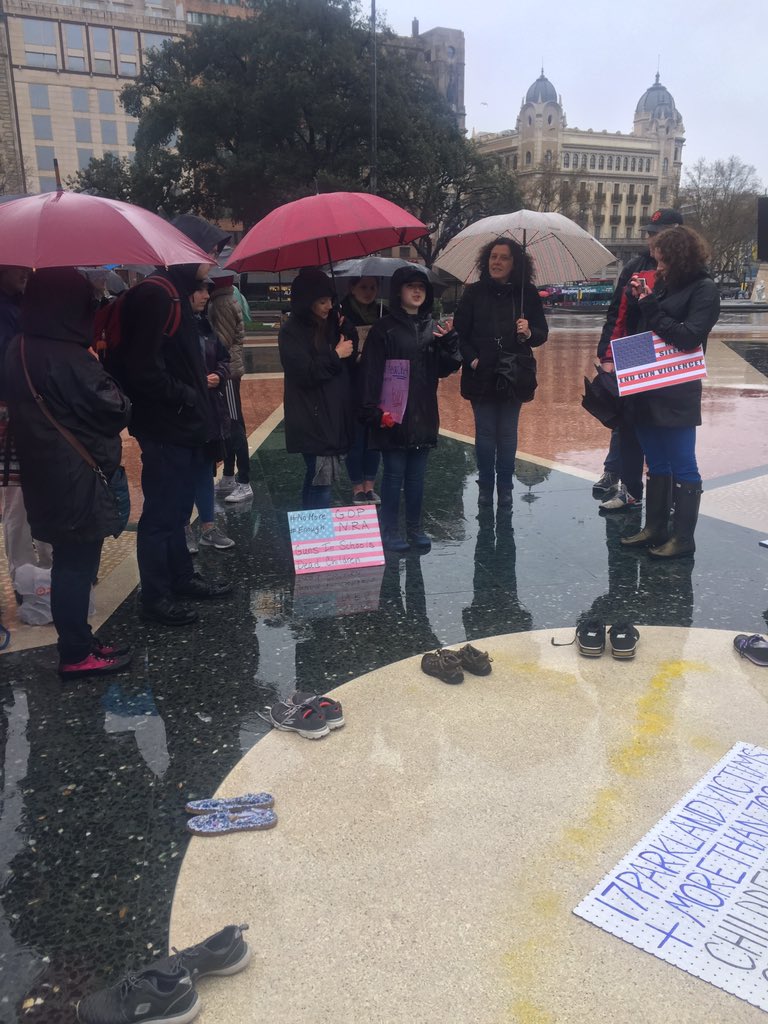 "I truly admire them so I want to stand up with them as a young student in solidarity."
Despite the rain, more that 75 people attended the rally, during which speeches were given and 17 pairs of shoes laid out in a circle to represent those who were killed at Marjory Stoneman Douglas High School on February 14.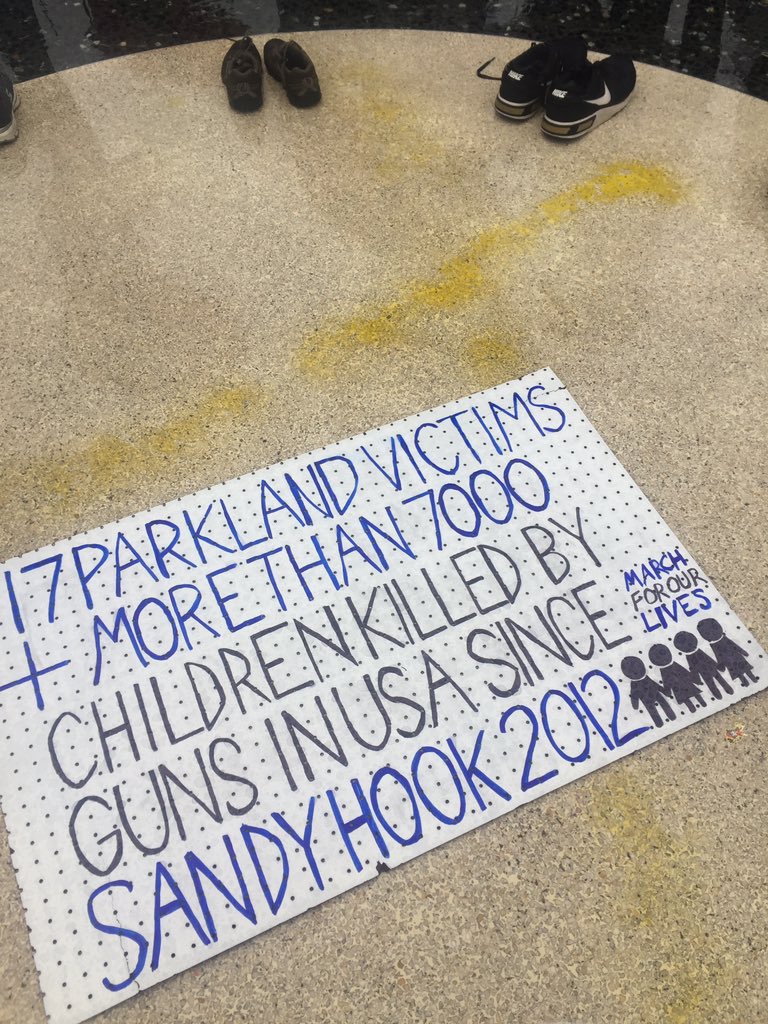 "Some of the stories other women shared were so much more emotional than I was expecting.
"It makes you realise the insanely large number of people who are impacted by gun violence when even a small demonstration so far away from the US ends up including people who have had a direct experience of a mass shooting or people who live each day worrying about this."
Melbourne
Young activist Persephone Nihil took it upon herself to organise Melbourne's March For Our Lives with a friend, inspired by the actions of Florida's Parkland students.
"Not only has America been standing by and ignoring their gun problem, so has the rest of the world," the 16-year-old said.
Nihil would like the outcome of the global marches to be "a reflection on the consistent weakening of gun laws internationally, and the lack of gun laws in America, and finally seeing some change in gun laws and the deadly culture surrounding them".
London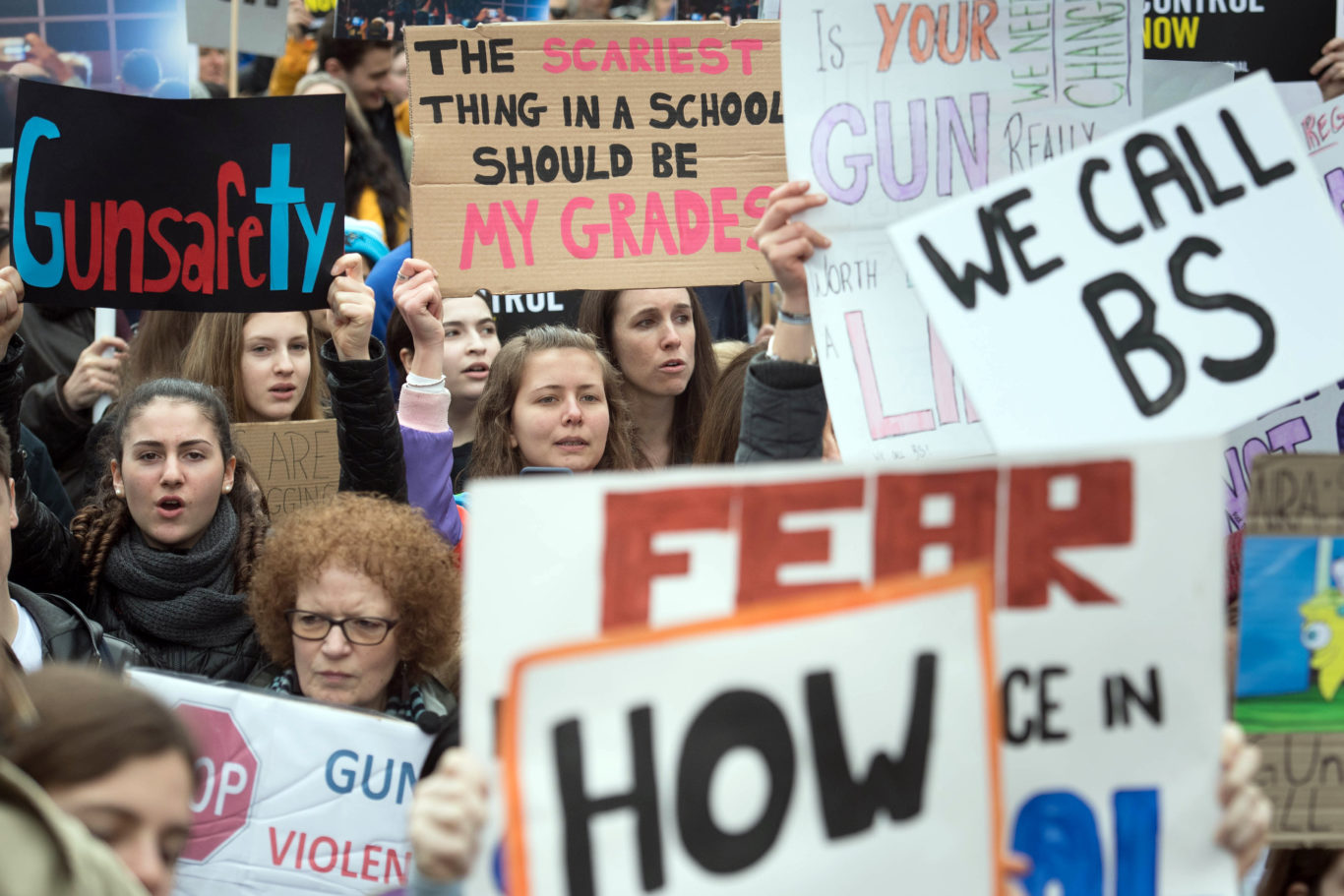 Stephen James Rushbrook, 47, travelled from the Isle of Wight especially to add his voice to the hundreds of children and adults outside the US Embassy in Nine Elms.
The computer game artist said he took part in the rally "because I believe the way the USA proudly treats its guns and the current, distorted reading of the second amendment as a fetish is sick and perverse".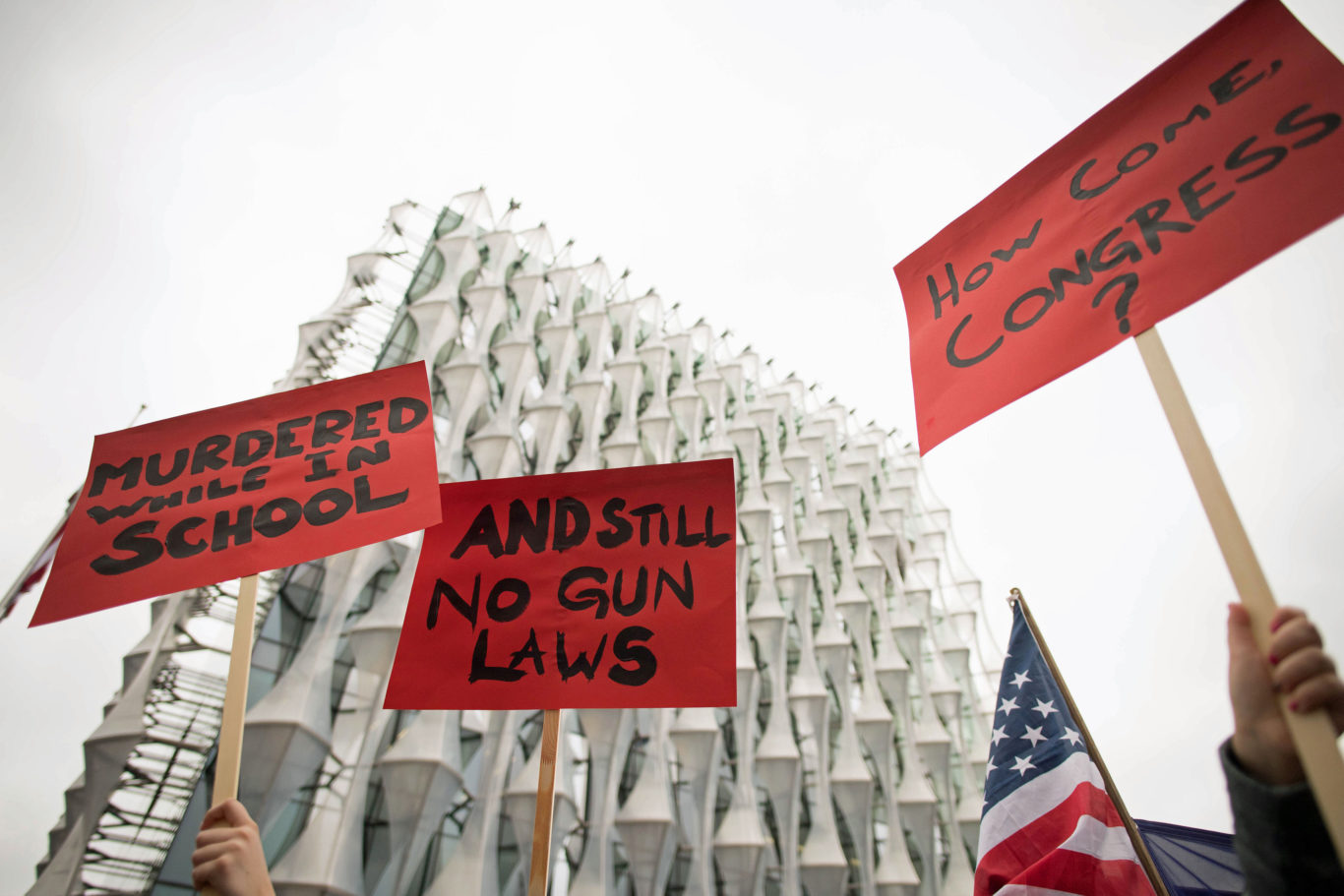 "I am sensitive that a certain percentage of the USA will tell us to mind our own bloody business, but it is important that the industrialised world shows solidarity with the US… We've all gone through this and made the choice that individual liberty to own guns is outweighed but the need to protect the most vulnerable in out community, our children."
Tokyo
Kat Callahan, 34, who was at high school when the Columbine shooting occurred and now lives in Japan, said the US is no different from other nations that have implemented gun control, there is just a lack of political will to do so.
The writer and teacher joined American expats and Japanese citizens in Hachiko Square in Tokyo. Attendees held signs bearing the names of victims of various school shootings in the US.
Callahan feels teenagers are not taken seriously by adults when raising important issues about their welfare.
She said: "While many are finally listening to the students of Parkland, they are not unique. This is not to suggest they are any less amazing than they are, but it is to highlight the number of teens over the last 20 years that have tried to raise awareness only to be shut down, ignored, shouted over, and sidelined.
"Relatively recently black teens and other teens of colour have led their own protests to gun violence, including police violence, which has to be part of the conversation, and have not been given the same attention as the Parkland students, despite being just as active, passionate, and hard-working.
"I'm really glad people are listening to the Parkland students, and teens more generally, but I gotta ask, where the hell have you been for the last 20 years?"
Callahan has been touched personally by gun violence.
"When I was in high school, my school bully and I got into a fight. He went home, grabbed his abusive father's gun, and while there was a raging debate inside his own head (from what we can glean from the note), he decided not to become a school shooter," she said.
"Instead he shot himself in the head.
"I consider him a victim of the same easy access to guns as any others. He should never have been able to so easily get his hands on a weapon, and he should not have been without the resources to get the help he needed."
For Callahan, international protests and support send a signal to elected officials.
She said: "We're watching. We're organised. We vote… Americans abroad are organised and part of this movement. We won't be left out. We can't do everything, but we can do something, so we are doing the things we can do."