Russian president Vladimir Putin has hailed his first face-to-face meeting with Donald Trump, saying he thinks the US leader accepted his assurances that Russia did not meddle in last year's American presidential election.
Mr Putin added that their conversation could serve as a model for improving ties between the two countries.
Speaking to reporters after the two-day G20 summit ended, Mr Putin said he and Mr Trump had a long discussion about the allegations of Russian interference in last year's election which have dogged the Trump presidency.
The Russian leader said he reiterated his "well-known" position that "there are no grounds" for the allegations.
"He asked many questions on the subject, I tried to answer them all," Mr Putin said.
"It seems to me that he has taken note of that and agreed, but it's better to ask him about his attitude."
Mr Putin said his answers were detailed and covered his discussions on the election meddling issue with representatives of the previous administration, including former president Barack Obama.
But he would not reveal details of his exchange with Mr Trump, saying the conversation was confidential.
"He asked questions, I replied. It seemed to me that he was satisfied with the answers," Mr Putin said.
The Russian president said that a working group on cyber security he and Mr Trump agreed to create should help prevent such election controversies in the future.
"What is important is that we agreed that there should be no uncertainty in that sphere," he said.
"We agreed with the US president to create a working group and work jointly on how to ensure cyberspace security, how to ensure the fulfilment of international legal norms in that sphere and prevent meddling in internal affairs of Russia and the US.
"We believe that if we work that way, and I have no reason to doubt it, there will be no such allegations."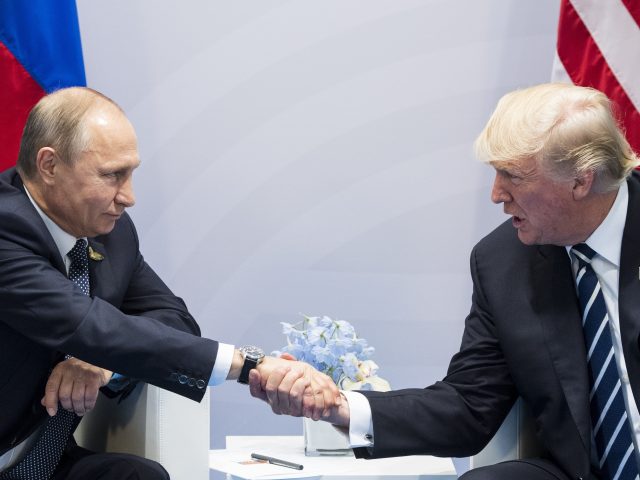 Mr Putin also praised his US counterpart as a strong negotiator who quickly grasps various issues.
"As for relations on personal level, I believe we have established them," Mr Putin said.
"Trump's TV persona differs sharply from the real man. He is a very straightforward person, grasps precisely what his interlocutor says, quickly analyses and responds to questions or new elements of the discussion."
The Russian leader said his talks with Mr Trump offered a model for rebuilding Russia-US ties, which have plummeted to post-Cold War lows over the Ukrainian crisis, the war in Syria and other disputes.
"I think that if we develop our relations in the same way, there is every reason to believe that we would be able to at least partially restore the level of interaction that we need," Mr Putin said.
He particularly hailed the US-Russian deal on a cease-fire in south-western Syria announced on Friday as a step toward ending the hostilities.