Two teenage boys have appeared before a judge on suspicion of deliberately starting one of the wildfires that devastated parts of south-eastern France and Corsica this week.
Authorities warned that the danger is far from over even though they have tamed most of the blazes that scorched over 7,000 hectares (17,300 acres) of land, destroyed homes and forced the evacuation of thousands in the worst fires France has seen in more than a decade.
The boys, both aged 16, were stopped on Wednesday by police who believed that arson was the cause of the blaze in Carro, west of Marseille, where 150 hectares (370 acres) of land were burnt.
Carro lies to the west of the Cote d'Azur region where blazes have laid waste to forests overlooking the Mediterranean Sea.
Around 230 firefighters battled the Carro fires, which damaged houses, injured an emergency worker and forced the evacuation of residents.
Aix-en-Provence deputy police prosecutor Remy Avon said the teenagers also face charges of theft and could be sentenced to 15 years in prison if convicted.
Francois Arizzi, the mayor of the French town of Bormes-Les-Mimosas, a tourist magnet in the Var region on the Cote d'Azur that saw one of the most dramatic wildfires, is among several officials to say some of the blazes were caused by arsonists.
He said: "We have to stop closing our eyes to the facts. We need to find the persons responsible and punish them so that they don't do it again."
Between Monday and Thursday, firefighters were deployed to fight 177 blazes in the vast Var region.
French president Emmanuel Macron, who met Portugal's prime minister Antonio Costa in Paris, said the two discussed the possibility of sharing equipment and manpower in fire crises.
A wildfire last month in central Portugal killed 64 people in one night, and Portuguese firefighters are currently battling a string of blazes.
Meanwhile, a 41-year-old man has admitted to starting a wildfire by accident with a metal-cutting device.
That fire, in Peynier, some 19 miles north of Marseille, burned 72 hectares (178 acres) of vegetation before being contained by a team of over 300 firefighters.
The man will go before a judge on Friday afternoon and could face up to five years in prison.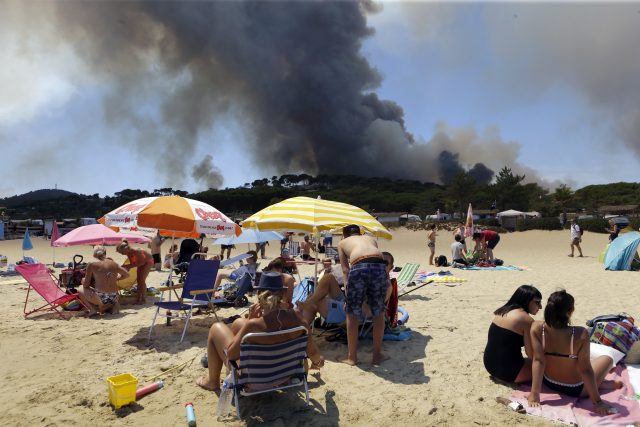 The fiercest fires have been tamed in Riviera towns such as Bormes-Les-Mimosas, with more than 12,000 evacuated residents and tourists now able return to their homes and holiday places.
"Everything is back to normal. The vacation has restarted and it's really a great feeling," said Katherine Mercier, an American tourist from Atlanta.
But it is not a return to normality for many others. The burnt-out landscapes are said to have already hurt tourism in the Riviera town, although it is too early to measure the overall impact of the blazes.
The picturesque hilltop town of Bormes escaped the blazes, but large swathes of the wooded Bormes region were devastated.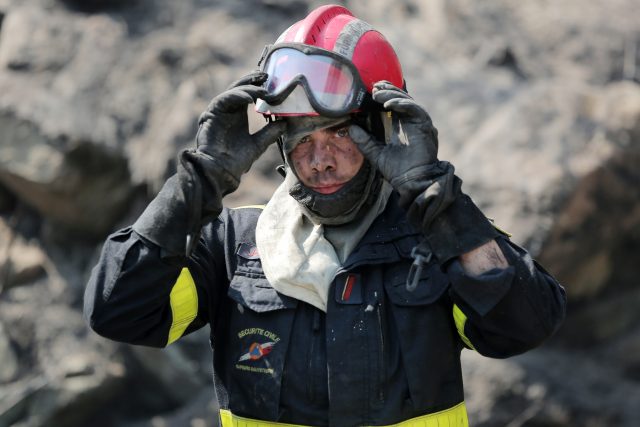 Senior officials warned that the situation remains perilous in certain places.
"In Corsica, the fires are starting up in a sporadic way," interior minister Gerard Collomb told reporters in Paris.
He said one of the fiercest fires, deep in the back country in Artigues, remains out of control.
Mr Collomb said an Italian fire-fighting plane used against the Riviera blazes has now been redeployed back to Italy as the country faces its own fires caused by drought and heat.