Spain will deploy police reinforcements to Catalonia if an independence referendum pledged by Catalan officials but opposed by the national government goes ahead, officials have said.
The measure came amid rising tension between Spanish and Catalan authorities over the planned October 1 ballot.
Civil Guard police this week arrested around a dozen regional government officials and seized about 10 million ballot papers.
Authorities in the wealthy north-eastern region insist the vote will take place, even though Spain's Constitutional Court has ordered it to be suspended and the Madrid-based national government insists it is illegal.
An Interior Ministry statement said the extra police would provide backing for the Catalan regional police, who are also under orders to prevent the staging of the referendum.
The statement said the Catalan Interior Ministry had been informed. It did not say how many extra police would be sent. Three ferries docked at Barcelona's port will provide accommodation for the extra officers.
Also on Friday, a Catalan regional judge ordered the release with restrictions of six people arrested on Wednesday in a crackdown on referendum preparations. A statement said the six declined to give evidence.
They remain under investigation for disobedience, abuse of power and embezzlement in relation to the planned ballot and must appear before the court each week.
Hundreds of pro-independence supporters had protested outside the courthouse to demand the officials' release.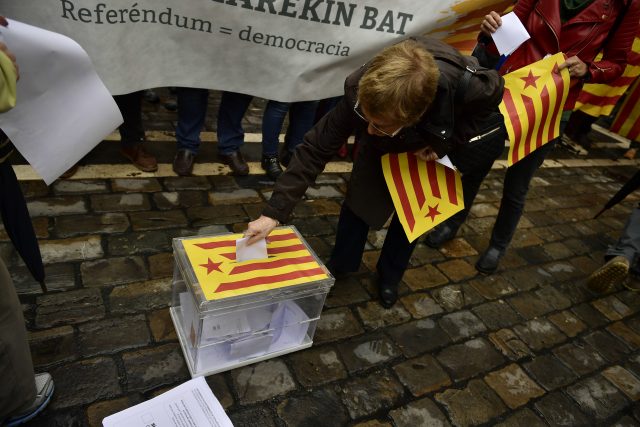 The protest in the north-eastern Catalan town of Hospitalet de Llobregat was an extension of another started on Thursday outside the Catalan judiciary headquarters in nearby Barcelona that attracted thousands.
A pro-independence group said about 2,500 supporters were at the protest in Hospitalet.
Meanwhile, around 2,000 students gathered around and inside one of Barcelona's main universities calling for an end to the national government's crackdown, carrying pro-independence flags and banners supporting the ballot.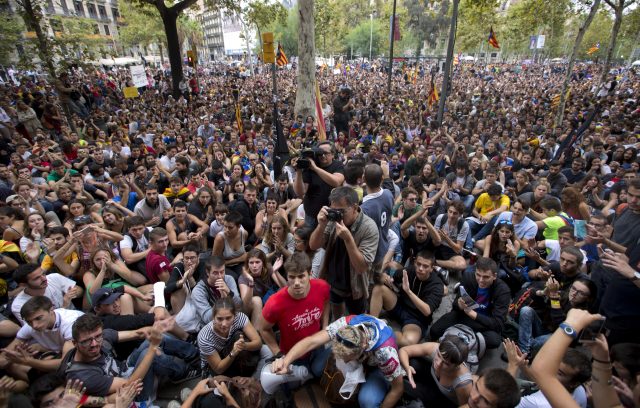 They occupied a central cloister near the offices of the dean and other university officials. Student union representatives urged the protesters to remain over the weekend.
Spain's central government says the planned referendum violates Spain's constitution, and the Constitutional Court has ordered it suspended while it studies its legality.
Catalonia represents a fifth of Spain's 1.1 trillion-euro (£970 billion) economy and enjoys wide self-government.
The region has about 5.5 million eligible voters, and polls consistently show the region's inhabitants favour a referendum but are roughly evenly divided over independence from Spain.