US secretary of state Rex Tillerson has made a secret trip to Afghanistan to outline the Trump administration's new south Asia policy.
Mr Tillerson visited Bagram air base on Monday for talks with Afghan president Ashraf Ghani, chief executive Abdullah Abdullah and other senior officials.
He also underscored the continuing US commitment to stabilising the war-torn country but stressed it was "conditions based", meaning that the Afghan government must meet certain benchmarks.
Cloaked in secrecy and under heavy security, Mr Tillerson slipped out of the Qatari capital Doha in the pre-dawn hours and flew into Afghanistan in a military plane on the third leg of a trip that started in Saudi Arabia.
He will visit Pakistan on Tuesday and India on Wednesday.
"The US has made it clear in terms of our support for Afghanistan, support a sovereign unified Afghanistan, a democratic Afghanistan, of charting a path to peace, prosperity and self-reliance," Mr Tillerson told the small group of reporters allowed to accompany him to Kabul.
"It is imperative in the end that we are denying safe haven to any terrorist organisations or any extremists to any part of this world.
"We also want to work with regional partners to ensure that there are no threats in the region.
"This is very much a regional effort as you saw. It was rolled out in the strategy itself, demanding that others deny safe haven to terrorists anywhere in the region. We are working closely with Pakistan as well."
He praised Mr Ghani for his reform efforts, notably to curb corruption, and to prepare for parliamentary elections next year.
Donald Trump rolled out his south Asia strategy last month and made clear that his approach to the region would be inclusive of its three main nations, Afghanistan, India and Pakistan, and defeating the Taliban and other extremist groups.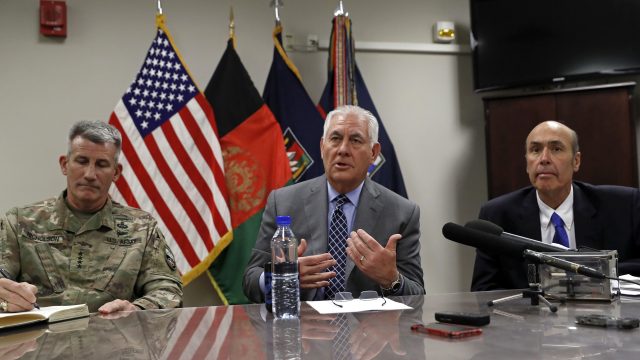 Mr Tillerson has said several times that peace in Afghanistan will come only when the Taliban realises that it cannot win militarily and sit down for negotiations with the government in the framework of the country's constitution.
"Clearly we have to continue to fight against the Taliban, against others, in order for them to understand they will never win a military victory," he said.
"And there are, we believe, moderate voices among the Taliban, voices that do not want to continue to fight forever. They don't want their children to fight forever.
"So we are looking to engage with those voices and have them engage in a reconciliation process leading to a peace process and their full involvement and participation in the government."
"There's a place for them in the government if they are ready to come, renouncing terrorism, renouncing violence and being committed to a stable prosperous Afghanistan."