Fears of further bloodshed has led Kenya's election commission to postpone Saturday voting in some opposition strongholds, citing safety concerns for its workers as deadly clashes continued between police and protesters.
It was the second voting delay in four out of Kenya's 47 counties, highlighting the bitter divisions and political uncertainty that have intensified after Thursday's repeat presidential election, which was boycotted by supporters of opposition leader Raila Odinga.
It was not clear when the voting will now take place.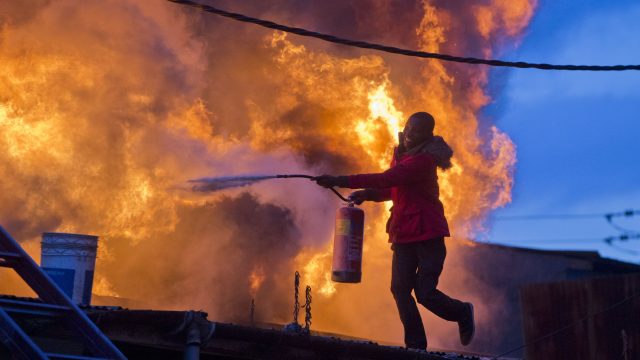 At least six people have died in violence linked to the latest election, including a man who was shot in the Nairobi slum of Kawangware as security forces moved to quell fighting between gangs from different ethnic groups late on Friday, according to police.
Earlier in the day, stone-throwing protesters in Kawangware who support Mr Odinga clashed with police who fired tear gas and water cannon.
The rioters, some belonging to the Luhya and Luo ethnic groups, looted shops and set fire to a kiosk owned by an ethnic Kikuyu, according to witnesses.
Kikuyu gangs with machetes then moved into the area and attacked the rioters. More fires were started and one man with a severe wound from a machete blow was seen on the ground, bleeding heavily.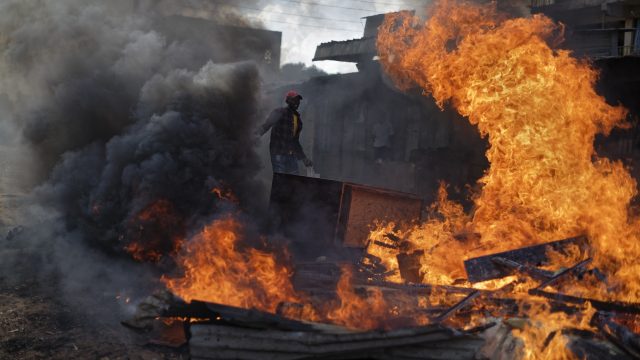 "We are not celebrating this election!" one opposition supporter shouted as dozens of young men streamed by carrying sticks and stones.
Since Thursday, six police officers have been seriously injured in election violence and authorities have arrested 86 people, police said.
Many observers say Kenya's ethnic-based politics overshadow the promise of its democracy.
President Uhuru Kenyatta, who gained 54% of the vote in the August 8 presidential election that was later nullified by the Supreme Court over irregularities, is from the Kikuyu community.
Mr Odinga, who got nearly 45%t in the earlier election, is a Luo.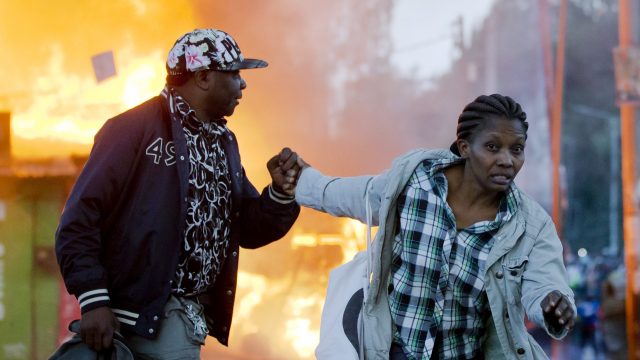 Mr Odinga's legal challenge led to the nullification of the August vote. He then withdrew from the new election, saying the process was not credible because of the lack of electoral reforms.
Friday's announcement that voting will not occur in several opposition areas "until further notice" followed warnings from opposition leaders that they would not participate, fearing a police crackdown.
"This is our polling station here but we won't vote, come what may," said R Samson Odhiambo, of Kisumu, Kenya's third-largest city and an opposition stronghold.
Peter Anyang' Nyong'o, the governor of Kisumu County, described the plan to open the polls on Saturday as a "joke" and church leaders and lawyers in Kisumu city also criticised the plan.
US State Department spokeswoman Heather Nauert said in a tweet that Washington was "disappointed" by reports of Friday's violence.
"We encourage immediate & open dialogue w/ all parties to resolve deep divisions," she said.
Thursday's vote had a sharply lower turnout because of the opposition boycott. About 6.5 million people, or one-third of registered voters, went to the polls, according to the election commission.
Nearly 80% of registered voters participated in the August election.
Opposition supporters in some places blocked polls from opening, and election commission chairman Wafula Chebukati said colleagues were targeted in the chaos.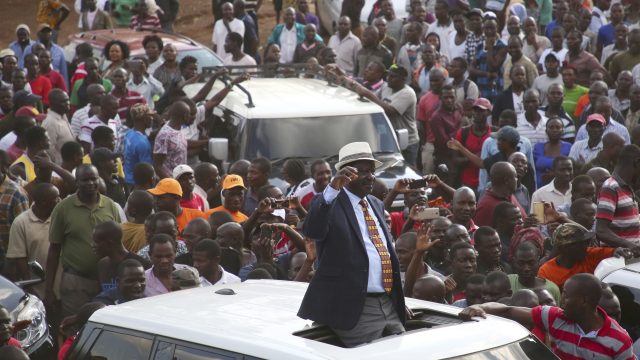 "Some of my staff were hijacked and some were tortured … others were forbidden and violently prevented from reporting to their polling stations," he said.
The Supreme Court's decision to nullify the August vote was the first time a court in Africa had overturned a presidential election.
The ruling was sharply criticized by Mr Kenyatta, who seeks a second term. After voting on Thursday, he said he would work to unify east Africa's economic hub if re-elected.
Mr Odinga and Mr Kenyatta also faced off in a 2013 election similarly marred by opposition allegations of vote-rigging.
The opposition leader also ran unsuccessfully in 2007 and ethnic-fuelled animosity after that vote killed more than 1,000 people and forced 600,000 from their homes.
The election commission has asked Kenyans to be calm and patient while it counts and verifies results from the new vote.
Mr Chebukati said he understands the fatigue that many Kenyans feel over the uncertainty in a country previously known for its relative stability.
"We acknowledge the fact that you want to move on with your lives," he said.