A brutal winter storm has dumped snow, sleet and freezing rain up the south-east seaboard of the United States, delivering snowy conditions some cities had not seen in decades.
Cars spun out of control on icy overpasses from Texas to Georgia, while the water park at Disney World and other Florida theme parks were closed because of the unusually cold temperatures, adding to the misery of a long cold snap across America.
Forecasters warned that conditions could worsen, especially in the north-east.
A winter storm warning extended from the Gulf Coast in Florida's "Big Bend" region all the way up the Atlantic coast.
Forecasters said hurricane-force winds blowing offshore on Thursday could generate 24ft seas. There are also warnings over coastal flooding, downed trees and power lines along the East Coast.
Schools in the south-east called off classes just months after being shut down because of hurricane threats, and police urged drivers to stay off the roads in a region little accustomed to the kind of winter woes common to the north-east.
The coastal city of Savannah, which has not seen measurable snowfall since February 2010, was expecting up to 2in of snow and sleet on Wednesday. Trucks spread grit on bridges and major streets ahead of the storm and police closed a major causeway and several bridges because of ice.
Authorities closed a stretch of Interstate 10 near the capital because of wintry precipitation.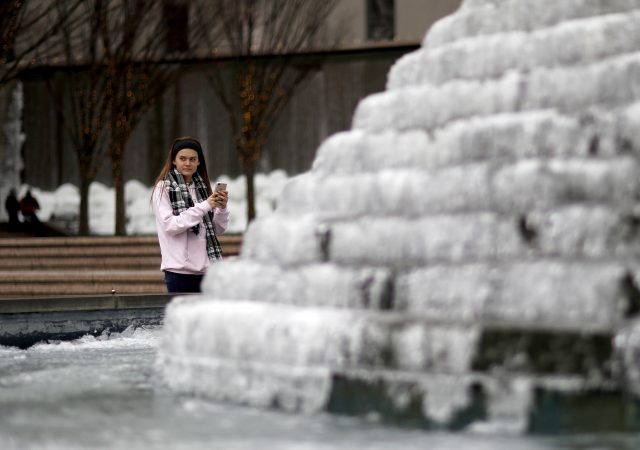 The National Weather Service said snow and freezing rain was expected to spread up the coast to the Carolinas and warned that icy roads and low visibility could make driving treacherous. Accumulations of 3-5in were possible in eastern North Carolina.
Georgia governor Nathan Deal declared a state of emergency through until Friday for 28 counties. School systems on the Alabama coast waived uniform requirements so students could bundle up.
In central Florida, the state's largest theme parks announced that water attractions such as Disney's Typhoon Lagoon, Universal Orlando's Volcano Bay and SeaWorld's Aquatica were closed. Temperatures are running well below normal for this time of year, and the lows are expected to hover right around freezing.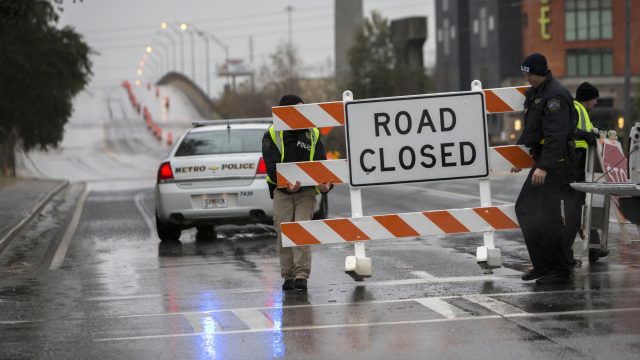 In other parts of the US, dangerously cold temperatures have been blamed for at least a dozen deaths as well as freezing a water tower in Iowa and halting ferry services in New York.
The National Weather Service issued wind chill advisories and freeze warnings covering a vast area from South Texas to Canada and from Montana through New England. Temperatures dropped as low as minus 28C in Lafayette, Indiana.
Forecasters warned of the dangers of frostbite and hypothermia in Chicago, where wind chills of minus 37C were predicted.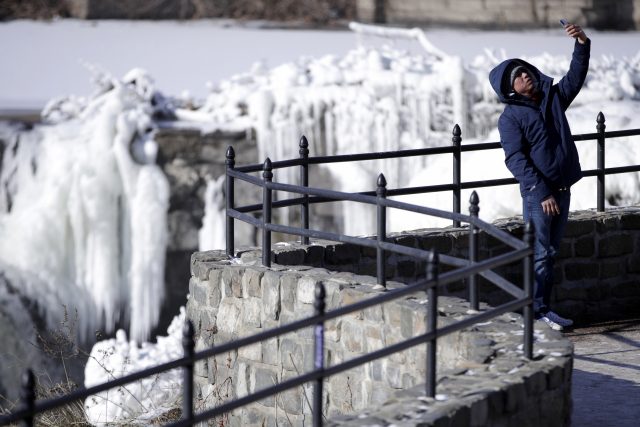 Atlanta hospitals reported a surge in emergency room visits for hypothermia and other ailments as temperatures plunge well below freezing.
Shelters were opened across the South as weather warnings blanketed the region, including much of Louisiana, Mississippi and Alabama.
Plunging temperatures in Texas brought rare snow flurries as far south as Austin, and accidents racked up on icy roads across the state.