Donald Trump has told South Korea's president that he is open to talks with North Korea "at the appropriate time, under the right circumstances".
He phoned President Moon Jae-In on Wednesday after the two Koreas held their first high-level talks in two years.
North Korea confirmed it will send a delegation to next month's Winter Olympics in South Korea, and both sides agreed to hold talks on reducing tensions along their border.
Mr Moon has said he would be prepared to hold talks with Kim Jong Un to resolve the North Korean nuclear stand-off, but that the success of such a summit must be guaranteed before any meeting can be arranged.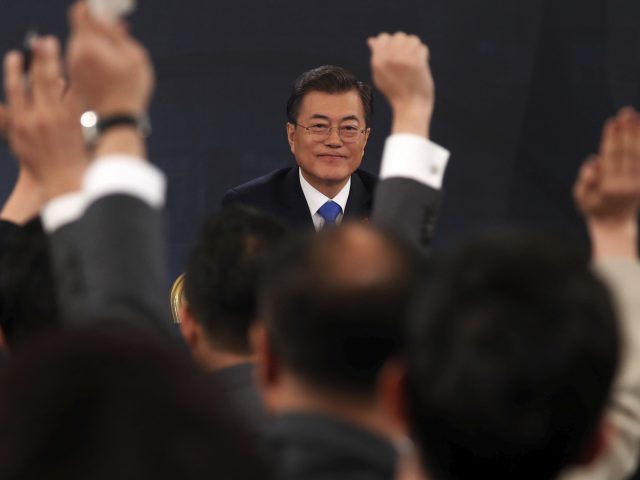 The White House said Mr Trump and Mr Moon emphasised the importance of continuing the "maximum pressure" campaign against North Korea over its development of nuclear weapons — the US-led international sanctions that are starting to hit Pyongyang's economy.
But South Korea's presidential office also said Mr Trump told Mr Moon to let North Korea understand there will be no military action of any kind while the two Koreas continue to hold dialogue, the Yonhap news agency reported.
"President Trump expressed his openness to holding talks between the United States and North Korea at the appropriate time, under the right circumstances," the White House said.
Mr Trump also told Mr Moon that Vice President Mike Pence and his wife Karen will lead the US delegation to the Winter Olympics, scheduled for February 9-25 in Pyeongchang.
Mr Pence will stop in Alaska to review intercontinental ballistic missile defence systems and in Japan, stressing the US commitment to stability in the region.
Speaking at his Cabinet meeting on Wednesday, Mr Trump claimed his administration's pressure had prompted the North Koreans to negotiate with the South, and he voiced cautious hopes for diplomatic success.
"Without our attitude that would have never happened," Mr Trump said of the inter-Korean dialogue.
"Who knows where it leads. Hopefully it will lead to success for the world — not just for our country but for the world, and we'll be seeing over the next number of weeks and months what happens."