A Burmese judge on Tuesday postponed a decision on bail until early February for two journalists detained on charges of violating a British colonial-era secrecy law that a former military junta once used to muzzle freedom of speech.
Lawyers spent a large part of the hearing at a court complex on the outskirts of Rangoon questioning a police chief who oversaw the December 12 arrests of Wa Lone and Kyaw Soe Oo. Authorities said the reporters received "important secret papers" from two policemen who had worked in Rakhine state, where security forces are blamed for mass killings, rapes and arson that have forced nearly 700,000 Rohingya Muslims to flee into Bangladesh.
Defence lawyer Than Zaw Aung at one point asked the chief, Yu Naing, whether the public has a right to know what is going on in Rakhine state. The chief would only answer that journalists must abide by local media laws.
The journalists, who are both Burma citizens, face up to 14 years in prison if convicted.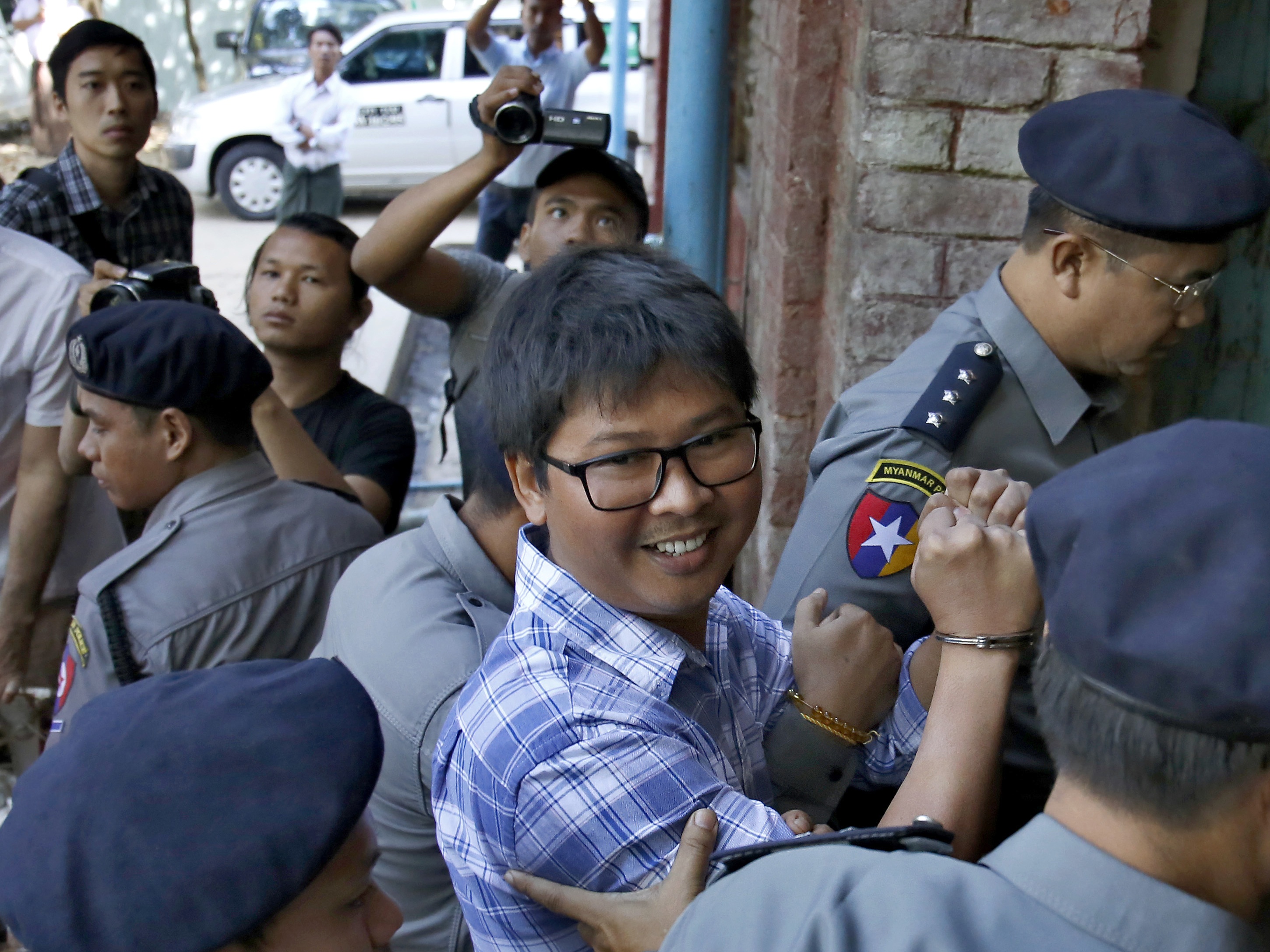 Former New Mexico governor Bill Richardson is in Burma and has said he will press for the journalists' release. Mr Richardson and other members of an advisory panel met on Monday with Ms Suu Kyi about the Rohingya crisis, but it was not clear if anything came of the meeting.
Tuesday's hearing was interrupted occasionally by power outages, during which the two reporters took the chance to huddle with their loved ones. Kyaw Soe Oo put his cuffed hands around his young daughter to hug her and used a tissue to wipe his wife's tears. Wa Lone's wife, sitting behind him, put small pieces of food in his mouth during the hearing.
Wa Lone and Kyaw Soe Oo had been reporting on rights abuses against Rohingya in Rakhine state, where restrictions have made it nearly impossible for journalists to independently cover the region.
Local media say the Reuters journalists' arrests were an attack on media freedom. Under the current government, at least 32 journalists have been charged, mostly under colonial-era laws, according to the local group We Support Journalists.
"The arrests of journalists are more often these days even though we have been demanding … free press," said Thar Lun Zaung Htet, a member of a protection committee for Burma journalists.