Even in the United States, which has the highest rate of civilian gun ownership in the world, fully automatic weapons remain rare.
After the infamous gangland massacres of the 1920s, Congress introduced the National Firearms Act in 1934, which strictly regulated automatic rifles (more commonly known as machine guns).
Updated in the 1960s and 1980s, historians believe the ban was largely a success. Police say that now only three in every 1,000 gun crimes they deal with involves an automatic weapon.
Over the years, however, gun enthusiasts have adopted various devices that allow semi-automatic weapons to fire faster, essentially turning semi-automatic rifles into automatic rifles, similar to ones used by soldiers on the battlefield.
The best known of these is the 'bump stock', used by gunman Stephen Paddock to murder 58 people at a country music show in Las Vegas last year.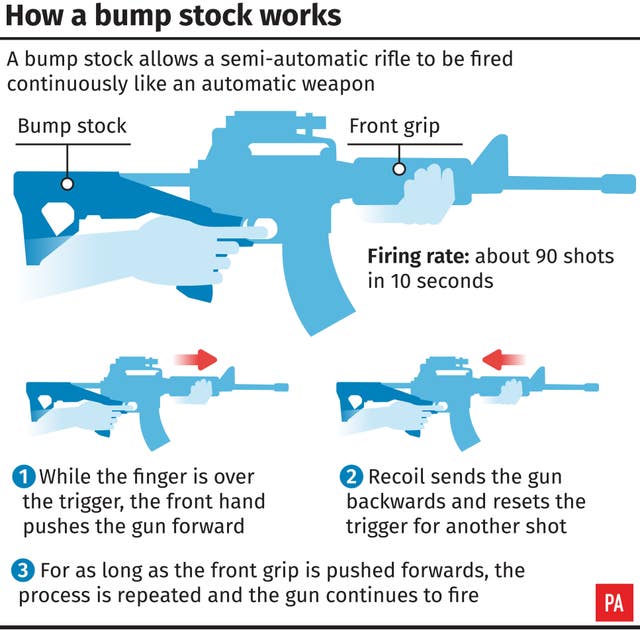 This allows the weapon to slide back and forth rapidly, 'bumping' between the shooter's shoulder and trigger finger.
It harnesses energy from the kickback shooters feel when they pull the trigger.
Paddock's use of what was essentially a fully automatic weapon made the Las Vegas massacre stand out, even against a backdrop of increasingly frequent mass shootings.
The massacre at the Marjory Stoneman Douglas High School in Florida did not involve a bump stock, authorities say.
Opponents argue that the silencer facilitates crime by allowing thieves and murderers to get away undetected.
Last year, some Republican lawmakers backed a proposal by the National Rifle Association (NRA) to loosen 1930s-era restrictions on silencers.
The bill was quickly shelved in light of the Las Vegas massacre, however.