The world's oldest known message in a bottle has been found – more than 130 years after it was tossed into the Indian Ocean.
Sailors on board the German boat Paula placed a scroll in a gin bottle as they made their way from Cardiff to Makassar in Indonesia as part of an experiment looking at ocean currents.
It is thought the bottle washed up on Wedge Island, north of Perth, Western Australia, within a year of being jettisoned and was buried in damp sand which helped to preserve its contents.
Tonya Illman, who found the bottle on January 21, said: "It just looked like a lovely old bottle so I picked it up thinking it might look good in my bookcase.
"My son's girlfriend was the one who discovered the note when she went to tip the sand out. The note was damp, rolled tightly and wrapped with string.
"We took it home and dried it out, and when we opened it we saw it was a printed form, in German, with very faint German handwriting on it."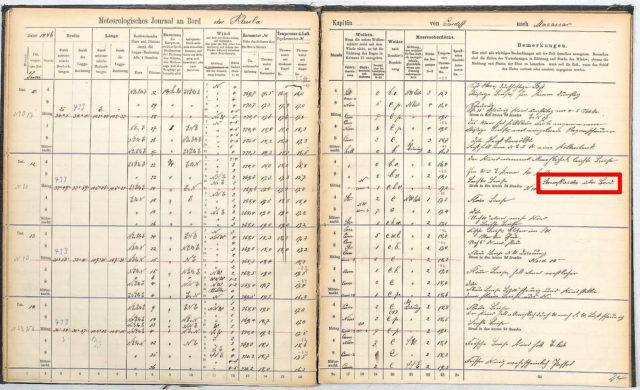 The letters asked the finder to write when and where the bottle was found as part of an experiment.
Initial investigations by the Western Australian Museum established that the bottle was a mid to late 19th century Dutch gin bottle, the paper and colouration were consistent with cheaply-made 19th century paper, and the German bark Paula sailed from Cardiff to Makassar in 1886.
"Incredibly, an archival search in Germany found Paula's original Meteorological Journal and there was an entry for 12 June 1886 made by the captain, recording a drift bottle having been thrown overboard. The date and the co-ordinates correspond exactly with those on the bottle message."
The find has been determined to be authentic by the German Federal Maritime and Hydrographic Agency (BSH).
A report from the BSH said: "The knowledge about the ejection of a bottle post with exactly this data about ship, route and exact date would be available only through the access to various historical sources. However, these sources are not easily accessible to the public. This makes a fake in terms of content extremely unlikely."
The bottle has been loaned to the Western Australia Museum in Fremantle by Mr and Mrs Illman, and will be on display for the next two years.