Rescuers have found all 12 boys and their football coach alive inside a cave in northern Thailand more than a week after they disappeared.
Chiang Rai provincial Governor Narongsak Osatanakorn said the 13 are in the process of being rescued, but warned they are not out of danger yet.
"We found them safe. But the operation isn't over," he said.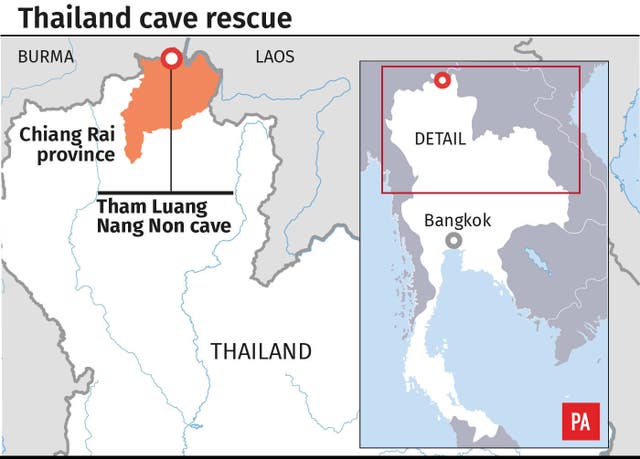 Aisha Wiboonrungrueng, the mother of one of the boys, 11-year-old Chanin Wiboonrungrueng, said she would cook her son a Thai fried omelette, his favourite food, when he returns home.
Rescue divers had spent much of Monday making preparations for a final push to locate the lost football players, aged 11 to 16, and their 25-year-old coach. They disappeared when flooding trapped them after entering the Tham Luang Nang Non cave in Chiang Rai on June 23.
"When the medics have evaluated the kids to see if their health is in good condition, we will care for them until they have enough strength to move by themselves, and then we will evaluate the situation on bringing them out again later," Mr Narongsak said.
Anmar Mirza, a leading American cave rescue expert, said many challenges remain for the rescuers. He said the primary decision is whether to try to evacuate the boys and their coach or to supply them in place.
"Supplying them on site may face challenges depending on how difficult the dives are," Mr Mirza said.
"Trying to take non-divers through a cave is one of the most dangerous situations possible, even if the dives are relatively easy. That also begets the question: If the dives are difficult then supply will be difficult, but the risk of trying to dive them out is also exponentially greater."
"The Royal Thai Government and the Thai people are grateful for this support and co-operation, and we all wish the team a safe and speedy recovery," Mr Prayuth's office said.