US secretary of state Mike Pompeo has brushed aside North Korea's accusation of "gangster-like" demands, maintaining that his third visit to the country was producing results.
However, he vowed that sanctions would remain until Pyongyang follows through on leader Kim Jong Un's pledge to get rid of his nuclear weapons.
Mr Pompeo downplayed North Korea's statement after the talks in which the country's foreign ministry bashed hopes for a quick deal and accused the US of making "gangster-like" demands aimed at forcing it to abandon nuclear weapons.
The North's statement, coming so soon after Mr Pompeo's trip, was sure to fuel growing scepticism in the US over how serious Mr Kim is about giving up his nuclear arsenal.
"If those requests were gangster-like, the world is a gangster," Mr Pompeo said, noting that numerous UN Security Council resolutions have demanded that the North rid itself of nuclear weapons and end its ballistic missile program.
"People are going to make stray comments after meetings," Mr Pompeo said.
"If I paid attention to the press, I'd go nuts."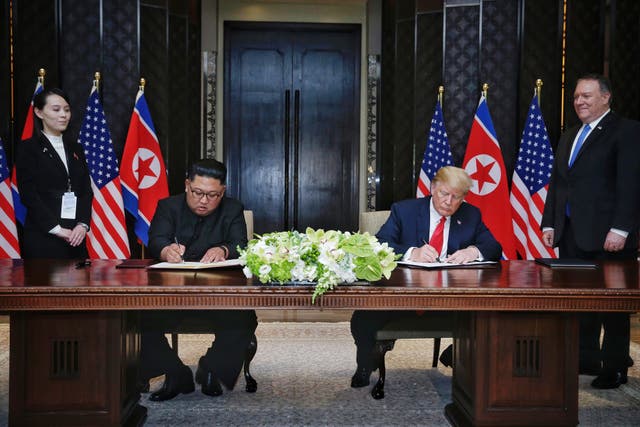 But following the stinging commentary from the North, he allowed that the goal of denuclearisation would be difficult and that much work remains.
"The road ahead will be difficult and challenging and we know critics will try to minimise what we have achieved," he said.
Two days of talks with senior North Korean officials had "made progress," he said, and included a "detailed and substantive discussion about the next steps".
Those include the formation of working group to determine exactly how North Korea's denuclearisation will be verified and a Thursday meeting with Pentagon officials to discuss the return of remains of Americans soldiers killed during the Korean War.
Mr Pompeo sought to dispel suggestions that the Trump administration has backed down from demanding the complete, verifiable and irreversible dismantlement of the North's nuclear weapons.
He said North Korea understood that denuclearisation must be "complete" and "verified".
However, Mr Pompeo said the progress achieved thus far did not warrant any concessions.
"While we are encouraged by the progress of these talks, progress alone does not justify the easing of the sanctions regime," he said.
"Sanctions will remain in place until final fully verified denuclearisation as agreed to by Chairman Kim Jong Un has occurred," he said.
After the historic US-North Korea summit in Singapore, President Donald Trump declared the North was no longer a threat and would hand over the remains of American soldiers.
Yet three weeks later, the two sides were still divided on all the issues, including exactly what denuclearisation means and how it might be verified.
And, the promised remains have yet to be delivered.
Just hours after Mr Pompeo arrived in Tokyo, the North blasted the discussions, saying the visit had been "regrettable".
In a statement carried by the North's official Korean Central News Agency, the foreign ministry said the outcome of Mr Pompeo's talks with senior official Kim Yong Chol was "very concerning" because it has led to a "dangerous phase that might rattle our willingness for denuclearisation that had been firm".
"We had expected that the US side would offer constructive measures that would help build trust based on the spirit of the leaders' summit … we were also thinking about providing reciprocal measures," it said.
"However, the attitude and stance the United States showed in the first high-level meeting (between the countries) was no doubt regrettable.
"Our expectations and hopes were so naive it could be called foolish."
It said the North had raised the issue of formally ending the Korean War, which concluded with an armistice and not a peace treaty, but the US came up with a variety of "conditions and excuses" to delay a declaration.
It downplayed the significance of the United States suspending its military exercises with South Korea, something trumpeted by Mr Trump after the summit as a success, by saying it made a larger concession by blowing up the tunnels at a nuclear test site.
In criticising the talks with Mr Pompeo, however, it carefully avoided attacking Mr Trump personally, saying "we wholly maintain our trust toward President Trump", but stressed that Washington must not allow "headwinds" against the "wills of the leaders".
That appeared to be a reference to Mr Trump's national security adviser John Bolton, a prominent North Korea hawk who has been vilified by Pyongyang in the past.
Mr Pompeo spoke with Mr Trump, Mr Bolton and White House chief of staff John Kelly on Saturday before his second round of meetings with Kim Yong Chol.