Decades after the end of the Korean War, the remains of dozens of presumed US war dead have begun their journey home following a repatriation ceremony in South Korea.
North Korea handed over the remains in 55 boxes last week and allowed a US military transport plane to move them to the US Osan Air Base near Seoul in South Korea.
While it was an apparent goodwill gesture by North Korea towards the United States, the return comes amid growing scepticism about whether the North will follow through on its pledge of nuclear disarmament.
Hundreds of US and South Korean troops gathered at a hangar at the Osan base for the repatriation ceremony, which included a silent tribute, a rifle salute and the playing of the US and South Korean national anthems and dirges in front of the UN flag-covered metal cases containing the remains.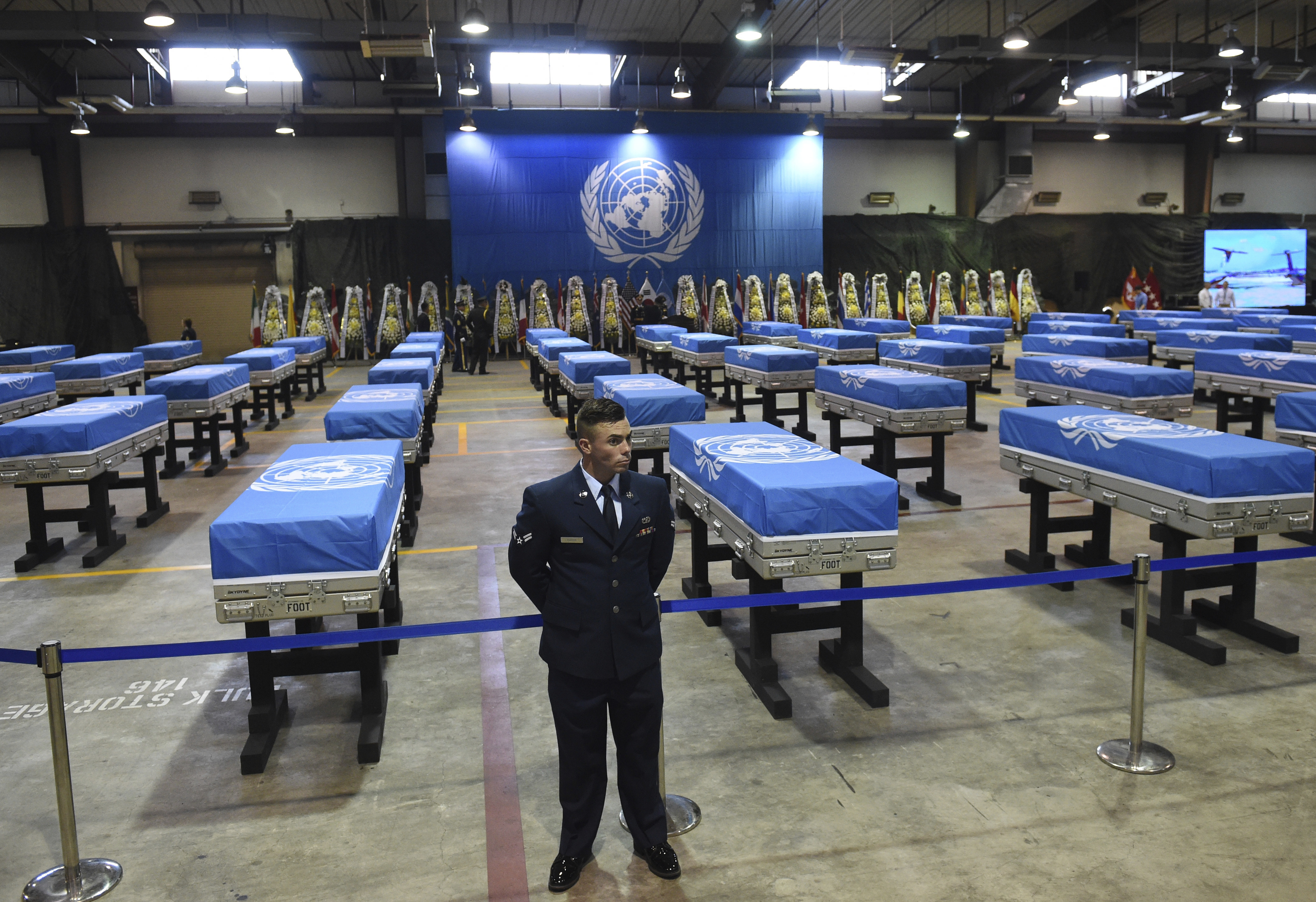 The planes will fly them to Hawaii, where they will undergo an in-depth forensic analysis, in some cases using mitochondrial DNA profiles, at a Defence Department laboratory to establish identifications.
US defence secretary Jim Mattis said last week that the return of the 55 boxes was a positive step but not a guarantee that the bones are American.
A US defence official said it will probably take months if not years to fully determine individual identities from the remains.
The official also said North Korea provided a single military dog tag along with the remains.
The official did not know details about the single dog tag, including the name on it or whether it was even that of an American military member.
Vice President Mike Pence, the son of a Korean War veteran, is to fly to Hawaii for what the military calls an "honorable carry ceremony" marking the arrival of the remains on American soil.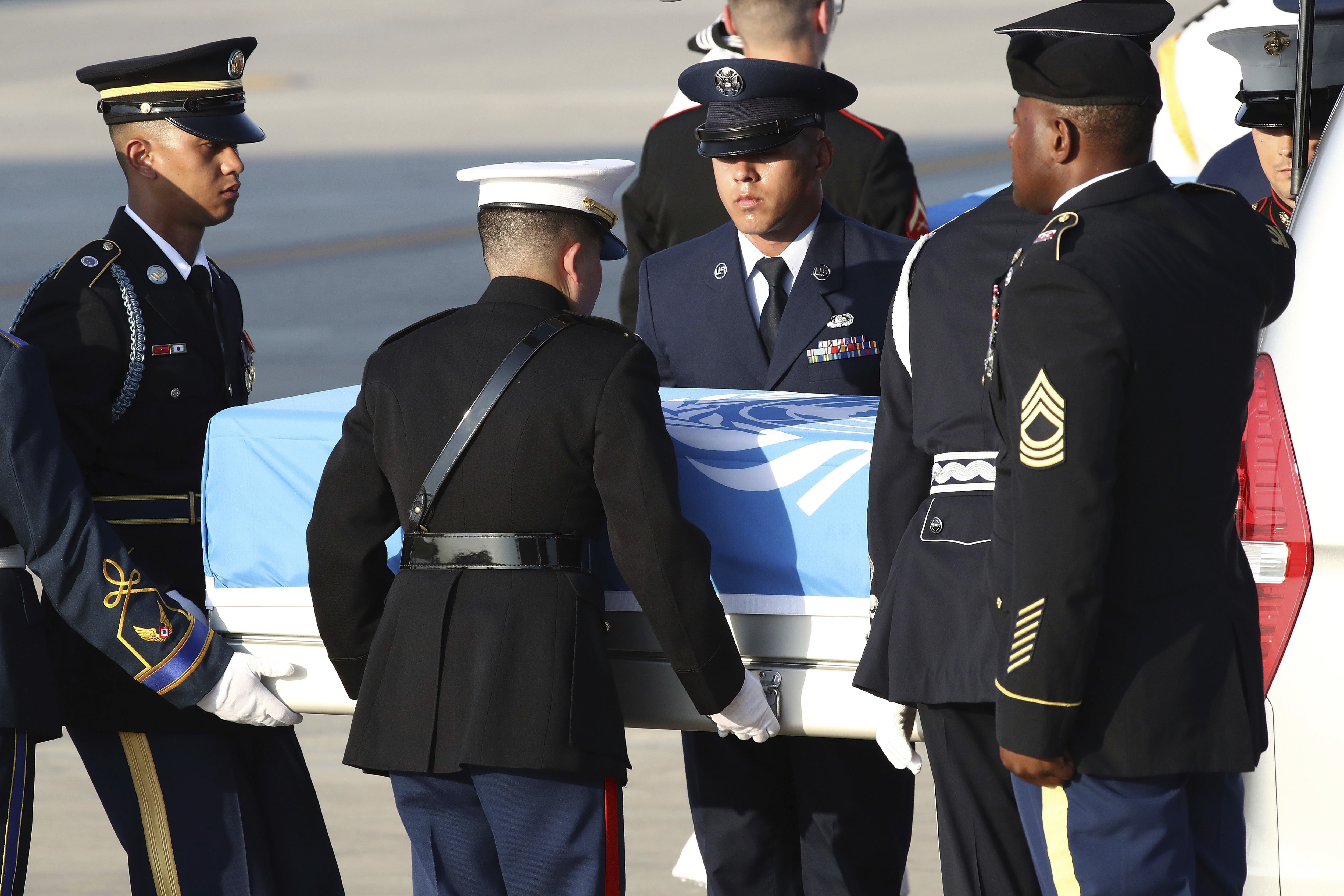 About 7,700 US soldiers are listed as missing from the 1950-53 Korean War, and 5,300 of the remains are believed to still be in North Korea.
"The remains received from North Korea are being handled with the utmost care and respect by professional historians, forensic scientists, uniformed personnel and government officials," the US-led UN Command said in a statement.
It said it "never leaves troops behind, living or deceased, and will continue the mission of repatriation until every service member returns home".
The bones' return was part of an agreement reached during a June summit between US President Donald Trump and North Korean leader Kim Jong Un.
Mr Trump thanked Mr Kim for the return.
During the summit, Mr Kim also agreed to "work towards complete denuclearisation of the Korean Peninsula" in return for Mr Trump's promise of security guarantees.
Mr Trump later suspended annual military drills with South Korea which North Korea had long called an invasion rehearsal.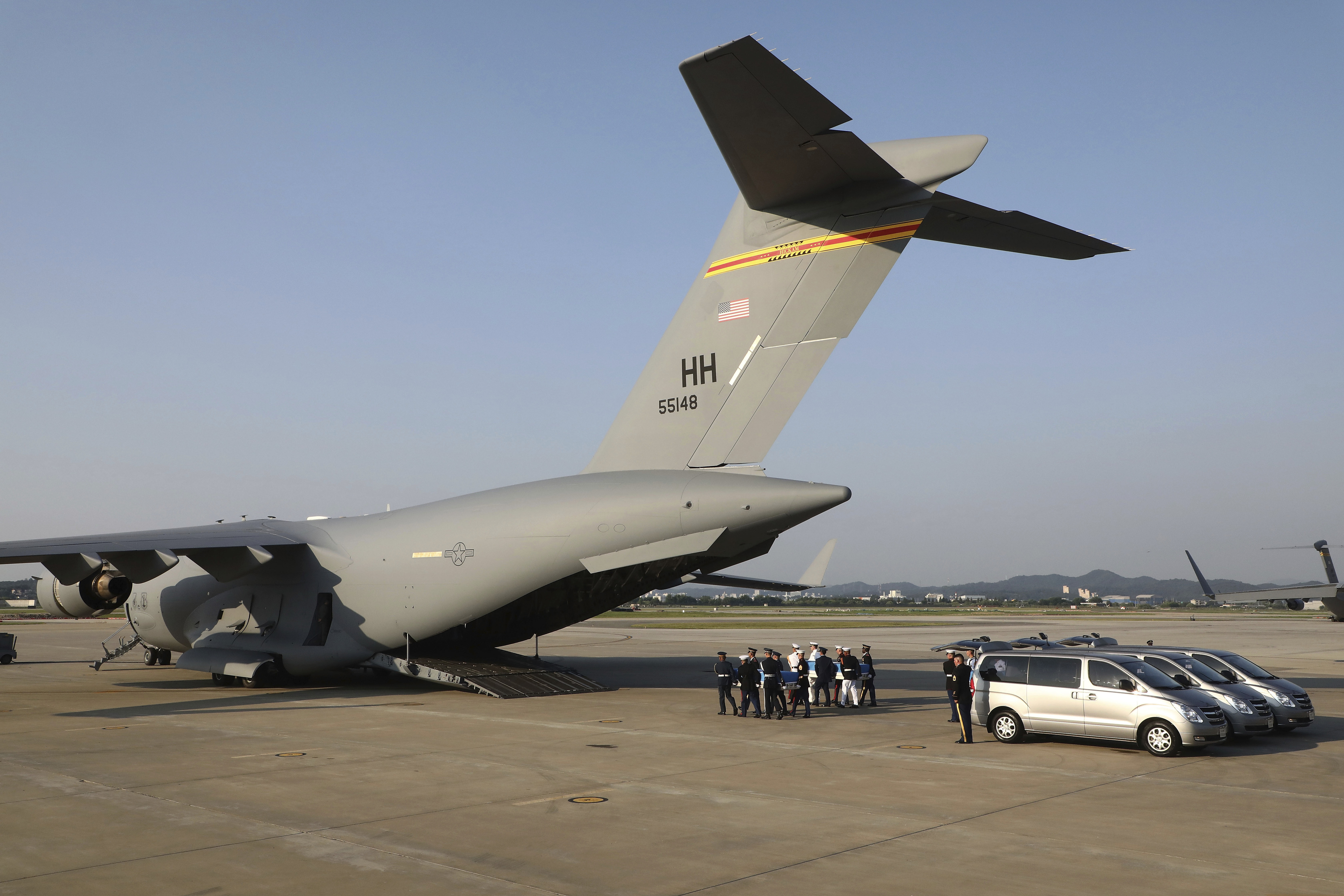 North Korea halted nuclear and missile tests, shut down its nuclear testing site and began dismantling facilities at its rocket launch site.
But many experts say those are neither irrevocable nor serious steps that could show the country is sincere about denuclearisation.
The Washington Post reported that US intelligence agencies have obtained evidence indicating that North Korea is continuing to build long-range missiles.
It cited officials "familiar with the intelligence" as saying that work on at least one and possibly two intercontinental ballistic missiles was under way.
North Korea may want to use the remains' return to keep diplomacy with the United States alive and win a reciprocal US concession.
Experts say the North probably wants a declaration of the end of the Korean War as part of US security assurances.
An armistice that ended the Korean War has yet to be replaced with a peace treaty, leaving the peninsula in a technical state of war.
North Korea has steadfastly argued its nuclear weapons are meant to neutralise alleged US plans to attack it.
The signing of a peace treaty could allow the North to demand the pullout of the 28,500 American troops stationed in South Korea.
Efforts to recover remains in North Korea have been fraught with political and other obstacles since the war's end.
Between 1990 and 1994, North Korea unilaterally handed over 208 coffins to the US, which turned out to contain remains of far more than 208 individuals, although forensics specialists thus far have established 181 identities.
In addition, a series of US-North Korean recovery efforts, termed "joint field activities", between 1996 and 2005 yielded 229 coffins of remains, of which 153 have been identified, according to the Pentagon.
The recovery efforts stalled for more than a decade because of a standoff over North Korea's nuclear ambitions and a previous US claim that security arrangements for its personnel working in the North were insufficient.
The Trump administration, as part of the Singapore agreement, is pursuing discussions with North Korea on resuming those "field activities".