Millions of Americans are preparing for what could become one of the most catastrophic hurricanes to hit the Eastern Seaboard in decades, with mandatory evacuations already issued for parts of three East Coast states.
Hurricane Florence, carrying winds of up to 130mph as a Category 4 storm, is expected to strengthen and possibly become a Category 5 storm on Tuesday.
It is then forecast to close in on North or South Carolina on Thursday, hitting a stretch of coastline that is vulnerable to rising sea levels due to climate change.
South Carolina's governor ordered the state's entire coastline to be evacuated starting at noon Tuesday, and predicted that a million people would flee.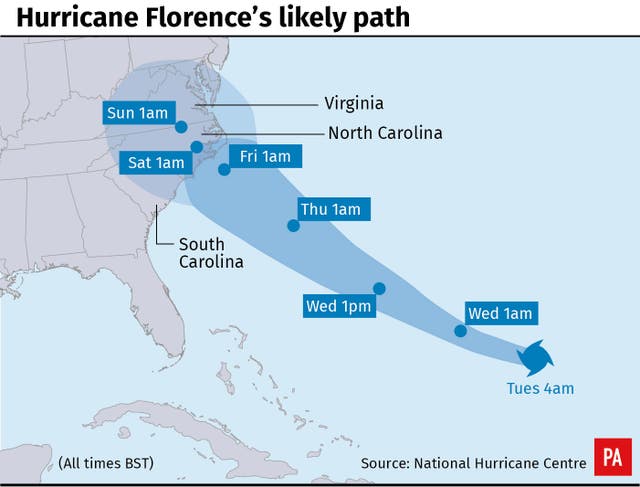 The storm's first effects were already apparent on barrier islands as dangerous rip currents hit beaches and seawater flowed over the road.
For many people, the challenge could be finding a safe refuge.
If Florence slows to a crawl just off the coast, it could bring torrential rains to the Appalachian mountains and as far away as West Virginia, causing flash floods, mudslides and other dangerous conditions.
The storm's potential path also includes half a dozen nuclear power plants, pits holding coal-ash and other industrial waste, and numerous pig farms that store animal waste in massive open-air lagoons.
National Hurricane Centre director Ken Graham warned that Florence is forecast to linger over the Carolinas once it reaches shore.
People living well inland should prepare to lose power and endure flooding and other hazards, he warned.
"It's not just the coast," Mr Graham said. "When you stall a system like this and it moves real slow, some of that rainfall can extend well away from the centre."
With little wind shear to pull the storm apart, Florence's hurricane wind field is expected to expand over the coming days, increasing its storm surge and inland wind threats.
Early on Tuesday, Florence was centred about 975 miles east-south-east of Cape Fear, North Carolina, and moving west-north-west at nearly 15mph.
Its centre will move between Bermuda and the Bahamas on Tuesday and Wednesday and approach the coast of South Carolina or North Carolina on Thursday, the National Hurricane Centre said.
Two other storms are spinning in the Atlantic.
Hurricane Isaac is expected to lose strength as it reaches the Caribbean, and Helene, much farther out to sea, may veer northwards into the open ocean as the 2018 hurricane season reaches its peak.
In the Pacific, Hurricane Olivia triggered warnings for multiple Hawaiian islands as it blew west towards an arrival over the state as soon as late Tuesday or early Wednesday.
Preparations for Florence were intensifying up and down the densely populated east coast. Since reliable record-keeping began more than 150 years ago, North Carolina has been hit by only one Category 4 hurricane: Hazel, with 130mph winds, in 1954.
"I've been doing this since 1983," Roberts said as he completed an order for another load of supplies. "This is the craziest one."
On North Carolina's Outer Banks, Dawn Farrow Taylor, 50, was gathering photos and important documents and filling prescriptions Monday before heading inland. She grew up on the island chain, and says this will be only the second time she has evacuated.
"I don't think many of us have ever been through a Category 4. And out here we're so fragile. We're just a strip of land — we're a barrier island," she said.
Announcing his evacuation order, South Carolina governor Henry McMaster said an estimated one million people would be fleeing the coast.
An evacuation order from Virginia governor Ralph Northam applies to about 245,000 people, including parts of the Hampton Roads area and Eastern Shore.
North Carolina governor Roy Cooper said his state was "in the bullseye" of the storm and urged people to "get ready now".