The search for the crashed Lion Air plane has found aircraft debris and passenger belongings on the seafloor.
Search and Rescue Agency chief Muhammad Syaugi said the seafloor findings give the search team confidence they will find the body of the aircraft.
The location of the plane's "black box" flight data recorder has been identified, he said, but strong currents prevented it from being recovered.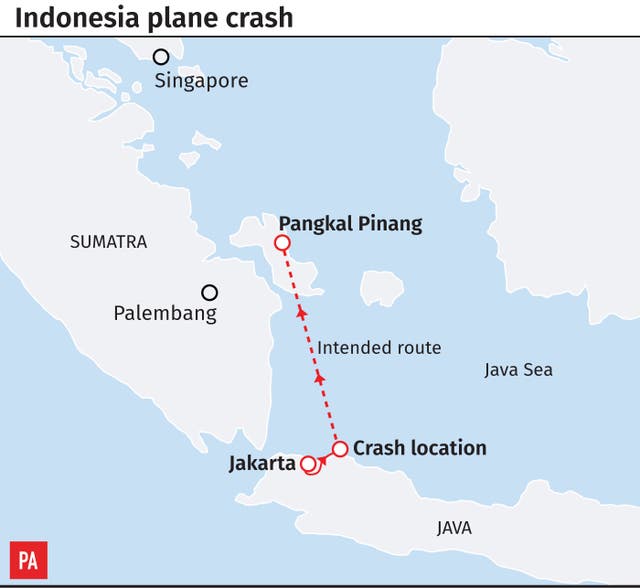 The two-month-old Boeing 737 MAX 8 jet plunged into the Java Sea early on Monday just minutes after taking off from Jakarta, killing all 189 people on board.
The disaster has reignited concerns about safety in Indonesia's fast-growing aviation industry, which was recently removed from European Union and US blacklists, and also raised doubts about the safety of Boeing's new generation 737 MAX 8 plane.
Mr Syaugi said one of the ships with high-tech equipment being used in the search dispatched a remote-operated vehicle that recorded parts of the aircraft on the seafloor but not the 22-metre-long object detected at a depth of 32 meters that is believed to be the fuselage. He said the area is about 400 metres from the co-ordinates where the plane lost contact.
Three other objects in separate locations were reached by divers but turned out to be two sunken boats and a fish trap. A remote-operated vehicle was sent to the black box location "but the currents on the seabed were very strong, the ROV was carried away," Mr Syaugi said.
Anguished family members have been providing samples for DNA tests and police say results are expected within 4-8 days.
Boeing experts were expected to arrive in Indonesia on Wednesday and Lion Air has said an "intense" internal investigation is under way in addition to the probe by safety regulators.
Data from flight-tracking sites show the plane had erratic speed and altitude in the early minutes of a flight on Sunday and on its fatal flight on Monday. Safety experts caution, however, that the data must be checked for accuracy against the plane's black boxes.
Several passengers on Sunday's flight from Bali to Jakarta have recounted problems that included a long-delayed take-off for an engine check and terrifying descents in the first 10 minutes in the air.