Finland's top diplomat has appeared to suggest that the country may have to join Nato without Sweden after Turkey's president cast doubt on the expansion of the military alliance.
"We still have to evaluate the situation if it turns out that Sweden's application is stalling for a long time to come," Foreign Minister Pekka Haavisto told Finnish broadcaster YLE.
His comment came a day after Turkish President Recep Tayyip Erdogan warned Sweden not to expect support for its bid for Nato membership following weekend protests in Stockholm by an anti-Islam activist and pro-Kurdish groups.
Sweden and Finland's historic bid to join the alliance needs the approval of all existing Nato members, including Turkey, which has so far blocked the expansion, saying Sweden in particular needs to crack down on exiled Kurdish militants and their sympathisers.
"We are in contact with Finland to find out what is really meant," Swedish Foreign Minister Tobias Billstrom said in a statement to The Associated Press.
"Sweden respects the agreement between Sweden, Finland and Turkey regarding our Nato membership. We have done that so far and we shall continue to do so."
In a memorandum of understanding signed by the three countries at a Nato summit last year, Sweden and Finland committed not to support Kurdish militant groups and to lift arms embargos on Turkey imposed after its incursion in northern Syria in 2019.
Pro-Kurdish and anti-Turkish demonstrations in Stockholm have complicated the process.
On Saturday, a far-right activist from Denmark staged a protest outside the Turkish Embassy in Stockholm where he burned a copy of the Koran, Islam's holy book.
A separate pro-Kurdish demonstration was held in the Swedish capital later on Saturday.
The Swedish government has tried to distance itself from the demonstrations, while insisting that such protests are allowed under the country's freedom of speech.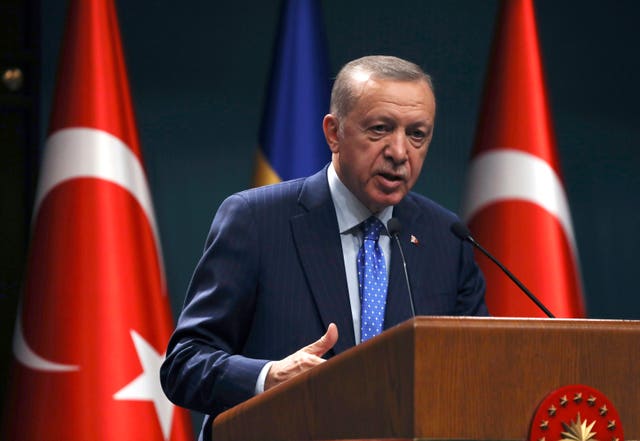 Turkish President Recep Tayyip Erdogan condemned the Swedish authorities for allowing the Koran-burning demonstration.
"It is clear that those who allowed such vileness to take place in front of our embassy can no longer expect any charity from us regarding their Nato membership application," he said.
He also criticised the pro-Kurdish demonstration, accusing Sweden of letting "terror organisations run wild on your avenues and streets".
He said if Sweden will not show respect to Nato-member Turkey or Muslims, then "they won't see any support from us on the Nato issue".