Nato Secretary-General Jens Stoltenberg has said China's growing assertiveness and collaboration with Russia poses a threat not only to Asia, but also to Europe.
Mr Stoltenberg made the remarks on Wednesday as he sought stronger cooperation and more "friends" for Nato in the Indo-Pacific region.
He said Nato does not regard China as an adversary or seek confrontation, and pledged that the alliance will continue to engage with Beijing in areas of common interest, such as climate change.
After talks on Tuesday, Mr Stoltenberg and Japanese Prime Minister Fumio Kishida agreed to step up their partnership in security in cyberspace, space, defence and other areas.
Nato is also strengthening "practical cooperation" with Australia, New Zealand and South Korea.
Mr Stoltenberg said China is increasingly investing in nuclear weapons and long-range missiles without providing transparency or engaging in meaningful dialogue on arms control for atomic weapons, while escalating coercion of its neighbours and threats against Taiwan, the self-ruled island it claims as its own territory.
Mr Stoltenberg told an audience at Keio University in Tokyo: "The fact that Russia and China are coming closer and the significant investments by China and new advanced military capabilities just underlines that China poses a threat, poses a challenge also to Nato allies.
"Security is not regional but global."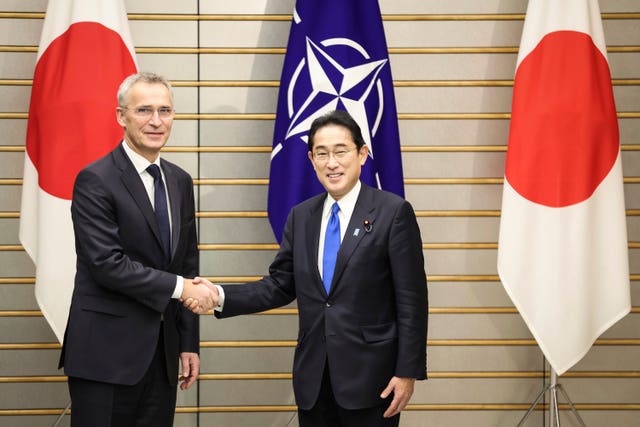 China is increasingly working with Russia and they lead an "authoritarian pushback" against the rules-based, open and democratic international order, he said.
Mr Kishida also announced Japan's plans to open a representative office at Nato.
Japan, already a close ally of the United States, has in recent years expanded its military ties with other Indo-Pacific nations as well as with Britain, Europe and Nato amid growing security threats from China and North Korea.
Tokyo was quick to join in US-led economic sanctions against Russia's war in Ukraine and provided humanitarian aid and non-combative defence equipment for Ukrainians.
Japan fears that Russian aggression in Europe could be reflected in Asia, where concerns are growing over increasing Chinese assertiveness and escalating tensions over its claim to Taiwan.
Stoltenberg arrived in Japan late on Monday from South Korea, where he called for Seoul to provide direct military support to Ukraine to help it fight off the prolonged Russian invasion.
North Korea condemned Mr Stoltenberg's visits to South Korea and Japan, saying that Nato was trying to put its "military boots in the region" to pressure America's Asian allies into providing weapons to Ukraine.
North Korea also criticised increasing cooperation between Nato and US allies in Asia as a process to create an "Asian version of Nato," saying it would raise tensions in the region.