Humanitarian groups working in southern Turkey and northwest Syria have warned survivors in the earthquake zone will require help for months, or even years, after the rescue and recovery missions end.
Among the worst in recent history, the 7.8 magnitude earthquake has killed at least 23,200 in the region and left tens of thousands more homeless, with thousands taking refuge in shopping malls, stadiums, mosques and community centres.
Humanitarian access to northern Syria is complicated by the civil war, while sending funds can be blocked or slowed by US sanctions, despite an exemption for relief efforts. The political environment in Turkey also poses challenges.
The first shipment of aid crossed from Turkey into Syria's rebel-held enclave on Friday.
However, some aid groups were already in place because of the country's 12-year civil war.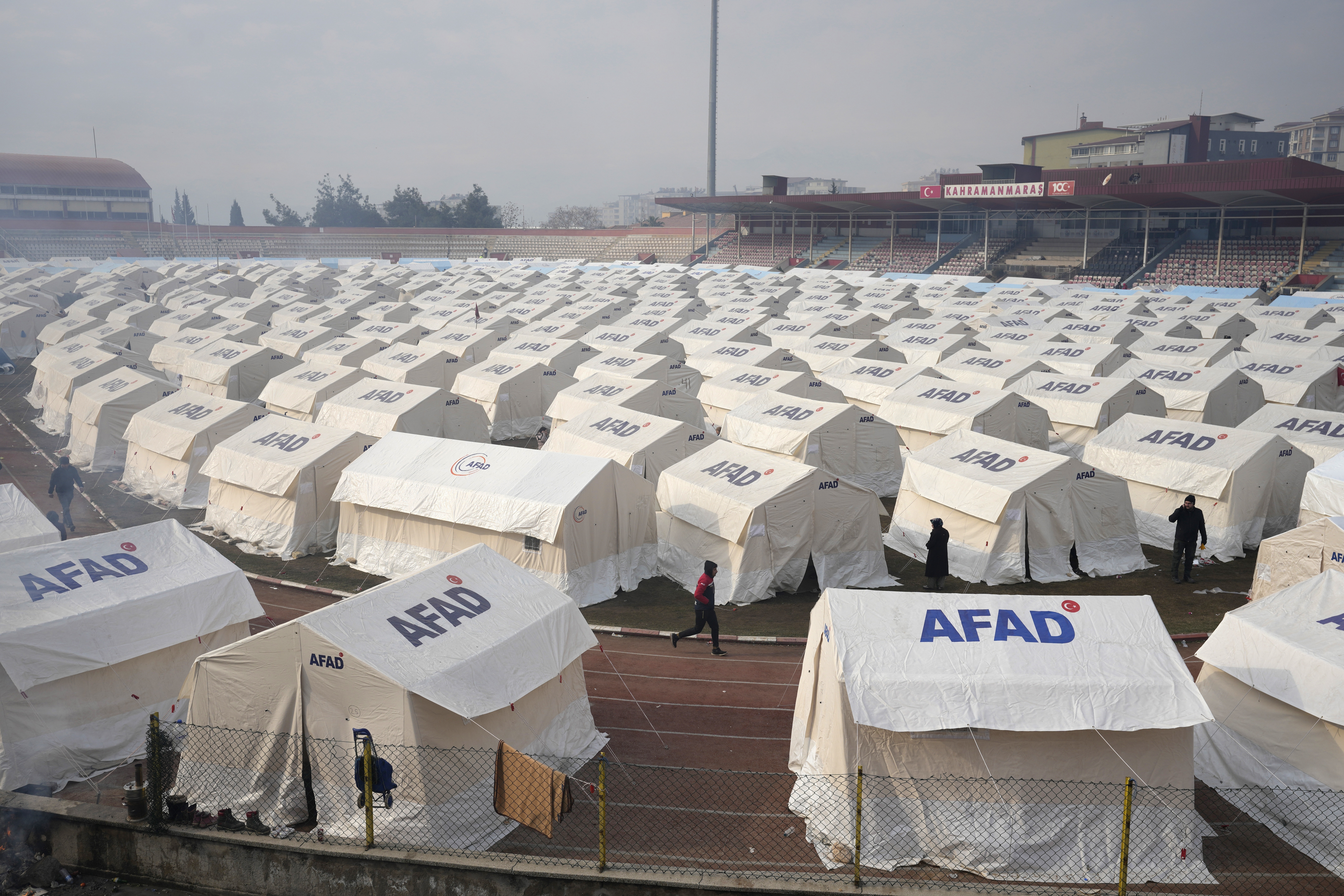 "We were able to do a massive distribution of food and blankets to more than 500 families," said Avril Benoit, executive director for MSF USA. Her organisation keeps emergency supplies on hand in the case of major disasters.
"There's a long tail to an emergency like this, both for the injured from the earthquake, but also for chronic disease management, making sure they have access to their medications," Ms Benoit said.
People will die without access to medications to control chronic illnesses such as hypertension and diabetes, she said, adding that the earthquake will also take a mental toll.
The International Federation of Red Cross and Red Crescent Societies (IFRC) said they had 5,200 volunteers mobilised on both sides of the border, with the Turkish operation being more robust and better-equipped because of its longstanding programme to support Syrian refugees.
The IFRC's Syrian chapter works in areas controlled by the government of Syrian President Bashar al-Assad, which has been sanctioned by the US and European countries.
In the past year, little humanitarian aid has arrived from Damascus to the opposition-held north, which has suffered an outbreak of cholera and Covid-19 amid desperate living conditions for many.
The Syrian American Medical Society (SAMS), which also provides significant medical services in northern Syria, has called for the opening of additional border crossings and has commissioned a legal analysis that argues the United Nations has the authority to use other crossings.
"We think that the UN does not really need a Security Council resolution to proceed with this life-saving medical relief," said Dr Basel Termanini, the medical society's board chairman.
Both MSF and SAMS said their supplies in the region are depleted and need new shipments to continue to help.
However, delivering supplies is difficult. There are major obstacles to moving machinery to places in Syria where it is needed to remove rubble.
Fuel shortages also limit the supply of electricity, said Xavier Castellanos, under secretary general for operations coordination of the IFRC.
He called the situation in the region "the great storm", with all the conditions reducing the amount of support to below the level that it should be.
Mr Castellanos, speaking from Geneva on Thursday, said the IFRC has received "soft" pledges from governments and a very small number of pledges from companies so far.
The group will look to individual giving to make up for the shortfall because those funds can be used wherever they are needed most.
He estimated the IFRC has received seven million Swiss francs (£6 million) so far in the early response to their appeals.
As of Thursday, MSF had £4.2 million come in from online donations along with a 10 million euro (£8.8 million) donation from the IKEA Foundation. SAMS had raised almost £1.6million between a Facebook fundraiser and another on GiveSmart as of Friday.
Amazon has pledged £497,000 to humanitarian organisations, including AKUT and Red Crescent of Turkey, in addition to supplying emergency supplies for cold weather, the company said in an online post.
The IFRC already is planning its recovery efforts over the next 12 months.
Some Syrians in the affected area have already been displaced many times by the war as well as separated from their families with little support. Many now have lost whatever shelter they had managed to find.
"Over 12 years, you can imagine the loss of hope that one would have," said Ms Benoit, of MSF, which also provides psychological first aid.
"It's essentially to help the person in a culturally appropriate way, whatever is resonant for them," she said. "To get through the day. To to be able to function, to be able to feed their children."