Russian forces have continued to shell Ukrainian cities over the weekend amid a grinding push to seize more land in the east of the country, with Ukrainian officials saying Moscow is having trouble launching its much-anticipated large-scale offensive there.
One person was killed and another wounded on Sunday morning by the shelling of Nikopol, a city in the south-eastern Dnipropetrovsk region, governor Serhii Lysak reported.
The shelling damaged four residential buildings, a vocational school and a water treatment facility.
In Kharkiv, Ukraine's second largest city, one person was injured when three Russian S-300 missiles hit infrastructure facilities overnight, regional governor Oleh Syniehubov said.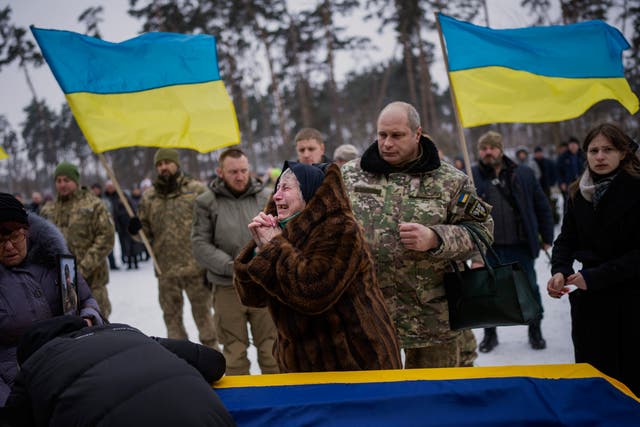 The attacks came as Russian forces push to take over more land in the eastern industrial heartland of Donbas, comprised of the Donetsk and Luhansk regions.
Ukrainian and Western officials have warned that Russia could launch a new, broad offensive there to try to turn the tide of the conflict as the war approaches the one-year mark.
But Ukrainian officials say Moscow is having trouble mounting such an offensive.
"They are having big problems with a big offensive," Oleksiy Danilov, the secretary of Ukraine's National Security and Defence Council, told Ukrainian television on Saturday night.
"They have begun their offensive, they're just not saying they have, and our troops are repelling it very powerfully.
"The offensive that they planned is already gradually under way. But (it is) not the offensive they were counting on."
A US-based think tank noted that it is also Russia's pro-Kremlin military bloggers who question Moscow's ability to launch a broad offensive in Ukraine.
They "continue to appear demoralised at the Kremlin's prospects for executing a major offensive", the Institute for the Study of War said in its latest report.
Yevgeny Prigozhin said in a video interview released late on Friday that it could take 18 months to two years for Russia to fully secure control of Donbas.
He added that the war could go on for three years if Moscow decides to capture broader territories east of the Dnieper River.
The statement from Mr Prigozhin, a millionaire who has close links to Russian President Vladimir Putin and was dubbed "Putin's chef" for his lucrative Kremlin catering contracts, marked a recognition of the difficulties that the Kremlin has faced in the campaign, which it initially expected to wrap up within weeks when Russian troops invaded Ukraine on February 24 2022.
Russia suffered a series of humiliating setbacks in the autumn when the Ukrainian military launched successful counter-offensives to reclaim broad swathes of territory in the east and the south.
On Sunday, Mr Prigozhin said Wagner fighters have taken over the Krasna Hora settlement north of Bakhmut, a strategic city at the epicentre of the fighting in recent months.