One of Cambodia's last free media outlets, Voice of Democracy radio, ceased operations on Monday after Prime Minister Hun Sen ordered its closure for allegedly slandering his son.
The story, which was also published on the website of VoD, as the station is better known, claimed that Hun Sen's son, Lieutenant General Hun Manet, had signed a donation on his father's behalf of 100,000 US dollars (almost £83,000) for Turkey earthquake relief aid.
Hun Sen said the article misinterpreted the facts and that only the prime minister has the authority to make decisions on foreign aid.
VoD acknowledged it had made a mistake, but that did not satisfy Hun Sen, who has ruled Cambodia with an iron fist for 38 years, during which he has cracked down on critics and independent media.
His son heads the army and has been nominated by Hun Sen's Cambodian People's Party to succeed him when he steps down.
With most opponents silenced, including the only credible opposition party, Hun Sen is certain to lead his party to another victory in a general election scheduled for later this year.
VoD has reported extensively on sensitive issues such as land-grabbing and criminal gangs operating with near impunity to carry out internet scams with people, especially foreigners, tricked into working under conditions of near-slavery.
The media crackdown has already hounded several outlets out of business on disputed grounds that they had not properly paid their taxes.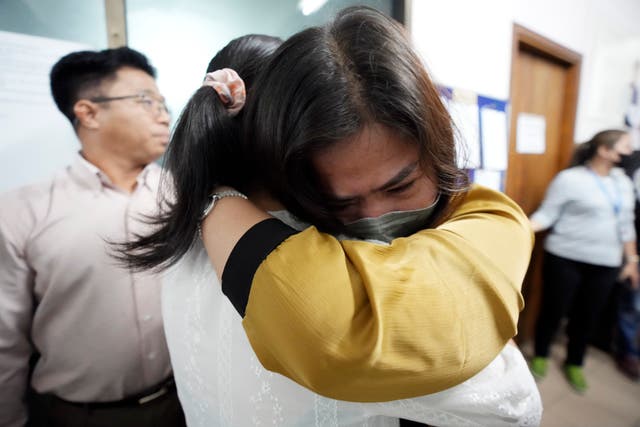 Phil Robertson, deputy Asia director of Human Rights Watch, said the Cambodian government "has never liked VoD's reporting, and, given Prime Minister Hun Sen's authoritarian attitude towards independent media, it's likely VoD have been living on borrowed time for a while".
"But that's no excuse for this outrageous and ridiculous order to shut them down based on the silliest of rationales about who signed a government document to give aid to Turkey," he said.
"This flimsy and absurd decision barely masks the government's real intent to further suppress media freedom."
He said that, historically, Hun Sen and his party usually crack down hard on any independent voices ahead of a national election. "Going after VoD is a good indication that the scheduled July 23 poll will be neither free nor fair."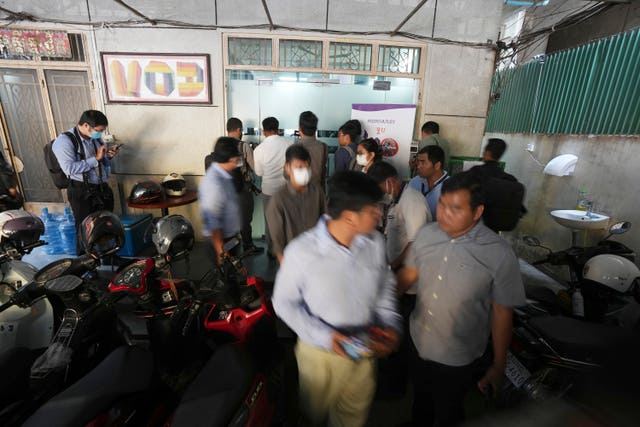 The road outside was closed in an evident effort to quash any street protests.
However, there were no confrontations because VoD said it would honour the licence revocation.
Hun Sen had advised the authorities to just inform the station when the deadline arrived and not take any further action.
After the authorities left, other reporters went to the VoD office to hear staff express their disappointment.
"I could not imagine that the prime minister would shut down the voice of the people like this," said a tearful reporter, Khan Leakhena.
"VoD only went directly to report on people who had land disputes, but then it was manipulated to look as if we are from the opposition."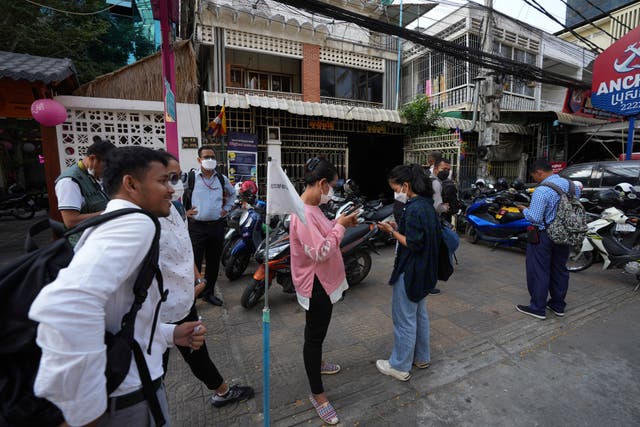 He told journalists: "Maybe hopefully this is not the end of everything."
In what appeared to refer to the possibility that Hun Sen might eventually restore VoD's licence, he said: "We will try our best to work with all relevant stakeholders and hopefully a solution can be realised."