Fierce battles raged outside Bahkmut as Russian forces pushed their advance on the eastern Ukrainian city with heavy shelling and infantry attacks, Ukraine's presidential office said on Monday.
At least five civilians have been killed and as many wounded in action across the war-torn country in the last 24 hours.
The presidential office said the situation in Bakhmut's northern suburb of Paraskoviivka is "difficult" as Russian forces continue to pummel the area with "intense shelling and storming action.".
The nearby town of Vuhledar is also under heavy bombardment.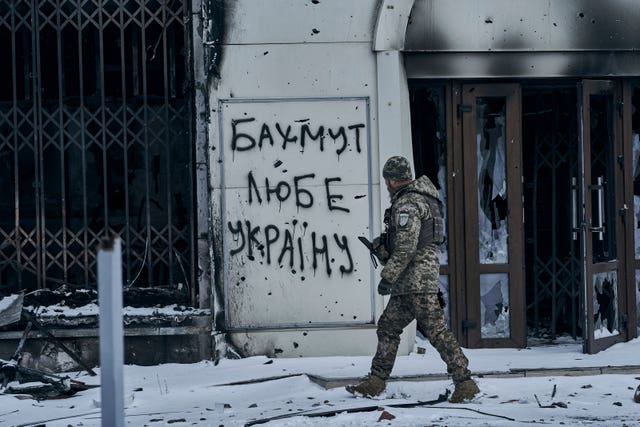 Donetsk Governor Pavlo Kyrylenko said: "The shelling intensifies, and the Russians accumulate more forces for an attack on peaceful cities.
"We're seeing a very tough battle in which the Russians aren't sparing neither themselves, nor us."
In the neighbouring Luhansk region, Russian troops pulled back after several days of intense fighting near the key city of Kreminna, although they are not "running out of steam", Governor Serhii Haidai told Ukrainian television.
In the partially occupied southern region of Kherson, artillery fire hit more than 20 cities and villages over the past 24 hours, including the regional capital of the same name which was recaptured by Ukrainian forces in November.
Two men were killed in one of the villages when their car ran over a landmine.
In the neighbouring Dnipropetrovsk region, Russian shelling of the city of Nikopol killed one person and wounded two others.
The shelling also damaged a residential building, a water treatment facility and a college.
Meanwhile, the UK's Ministry of Defence said Russian forces are bolstering defensive fortifications on the edge of the battlefront in southern Ukraine to protect their flank, despite their focus on the Donbas region.
"This is demonstrated by continued construction of defensive fortifications in Zaporizhzhia and Luhansk oblasts and deployment of personnel," it said in a briefing on Monday.
The US embassy in Moscow issued another warning to American citizens not to travel to Russia for fear of harassment or detention, and urged them to leave immediately if they have to travel there.
The warning cited "the potential for harassment and the singling out of US citizens for detention by Russian government security officials, the arbitrary enforcement of local law, limited flights into and out of Russia, the embassy's limited ability to assist US citizens in Russia, and the possibility of terrorism".
The embassy also noted that Russian authorities may sweep up US citizens who also hold Russian citizenship in a possible renewed mobilisation of reservists.
"Russia may refuse to acknowledge dual nationals' US citizenship, deny their access to US consular assistance, subject them to mobilisation, prevent their departure from Russia, and/or conscript them," the warning said.
Since the beginning of Russia's invasion of Ukraine almost a year ago, on February 24 2022, the embassy has regularly issued advisories for US citizens not to travel to Russia and leave if they already have.
Kremlin spokesman Dmitry Peskov denied on Monday that a second round of mobilisation is looming.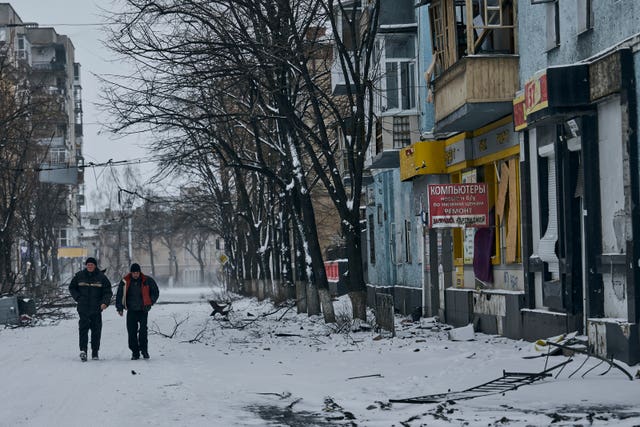 In the city of Sviatohirsk, in northern Donetsk, the few residents who remain rely on volunteers from the organisation World Central Kitchen for food and supplies to cope with freezing temperatures. Sviatohirsk was liberated by Ukrainian forces in September.
On Sunday, the area was blanketed with snow, concealing the massive destruction from repeated bombardments and heavy fighting.
Standing by the ruins of the city council building, resident Valeriy Andrievskiy said the building used to be "beautiful".
"God forbid our forces retreat and we stay (behind enemy lines). God forbid. I will not survive this one more time," he said.
Walking near the ruins of her home, 80-year-old Tamara Yevdokimova said she had been "tortured" by Russian forces.
"I haven't been able to hear for five months… They (Russians) have knocked my teeth out. What can I do?" she said. In her yard were the burned-out remnants of a Russian tank.
People who left the front lines in search of safety continue are still struggling to adapt to a new life elsewhere.
In Kyiv, dozens of people from the Donbas, Kherson and Kharkiv regions are being helped by the Centre of Hope and Recovery, an organisation that provides temporary homes and meals.
"These are people who have left in the past what they have earned for years, and this is a very traumatic experience," said head of the centre Anna Harkun.
They receive psychological and medical help, while volunteers help them find work and permanent lodging, she added.
Russian rockets destroyed the home of 80-year-old Anatoly Zakharenko in the Donetsk village of Terny.
His wife, daughter, and disabled granddaughter were all evacuated and are being helped in the city.
Missing his home town, he wrote a poem to ease the pain of displacement. "I will return to you, believe me," he said, reading it aloud.