Tens of thousands of Israelis – waving flags, blowing horns and chanting "Democracy" and "No to dictatorship" – protested outside the country's parliament on Monday as Prime Minister Benjamin Netanyahu's government formally launched a contentious plan to overhaul the country's legal system.
It was the largest protest outside the Knesset in years and reflected the deep divisions over the plan.
The proposed changes have triggered weeks of mass demonstrations, drawn cries of protests from influential business leaders and former military men, and even prompted a statement of concern from US President Joe Biden.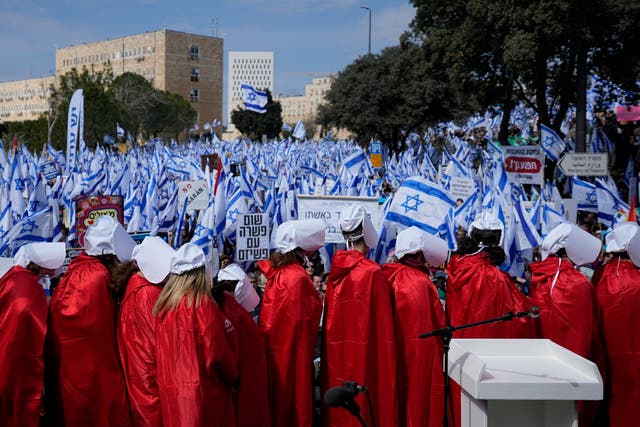 The vote now sends the legislation to the full parliament for a series of votes – an opening salvo in a battle expected to stretch on for weeks.
"They hear our cry. They hear the strong voice of truth," opposition leader Yair Lapid said from the stage outside parliament. "They hear it and they're afraid."
Mr Netanyahu and his supporters say the proposed changes are needed to rein in a judiciary that wields too much power.
But his critics say the judicial overhaul is tantamount to a coup and will destroy Israeli democracy.
They also say that Mr Netanyahu, who is on trial for a series of corruption charges, has a conflict of interest.
The protesters came from across the country.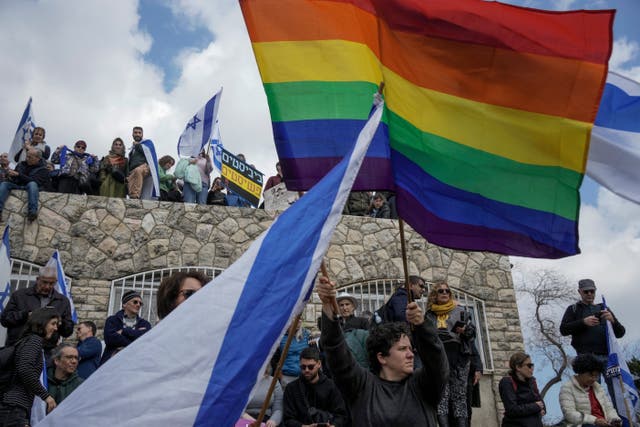 They were joined by groups of academics, army reservists, students, LGBTQ activists, workers and pensioners. Police estimates cited by Israeli media were around 90,000.
Thousands of people arrived in Jerusalem on packed trains, streaming up escalators in the city's main railway station chanting "Democracy", cheering and whistling, and waving the national flag.
Hundreds of others gathered in protest at Jerusalem's Western Wall, the holiest site where Jews can pray, before marching toward the Knesset.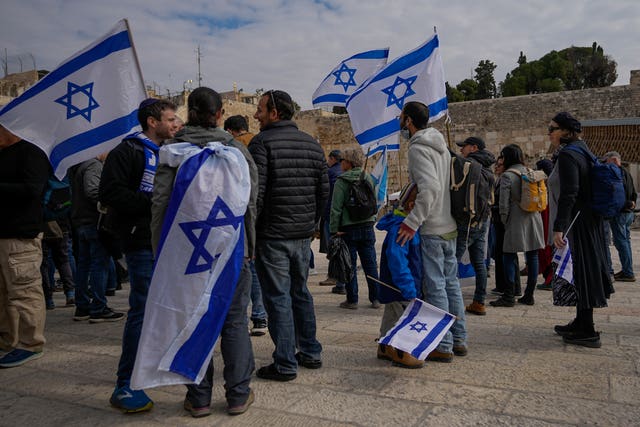 During an unruly session, members of the opposition stood on the conference table, pounded the desks and shouted "Shame!" as a key Netanyahu ally tried to hold the vote.
Simha Rotman, a Religious Zionist politician who chairs the committee, ejected several opposition politicians.
The motions passed in a 9-7 committee vote.
It was not immediately clear when the full parliament, where Mr Netanyahu and his religious and ultranationalist allies wield majority control, will begin debating the legislation.
Throngs of people marched to the Knesset a day after the country's figurehead president urged Mr Netanyahu's government to delay its proposed changes to the judiciary – moves that critics say will weaken the country's Supreme Court and erode democratic checks and balances.
As the demonstration was winding down, Mr Netanyahu issued a video accusing his political opponents of incitement and "deliberately dragging the country into anarchy".
But he also held out the possibility of compromise. "Most citizens of Israel don't want anarchy. They want a substantive dialogue and in the end they want unity."
Many protesters carried the blue and white Israeli flag and posters decrying what they see as attack on the country's democratic institutions, and chanted "Shame! Shame!" and "Israel will not be a dictatorship!"
"The people won't have it," said Boaz Zarki, a demonstrator in Jerusalem. "The separation of authority is critical to the existence of democracy, and we need to do everything in our power to prevent" the changes from passing.
Other large demonstrations were held in cities around the country.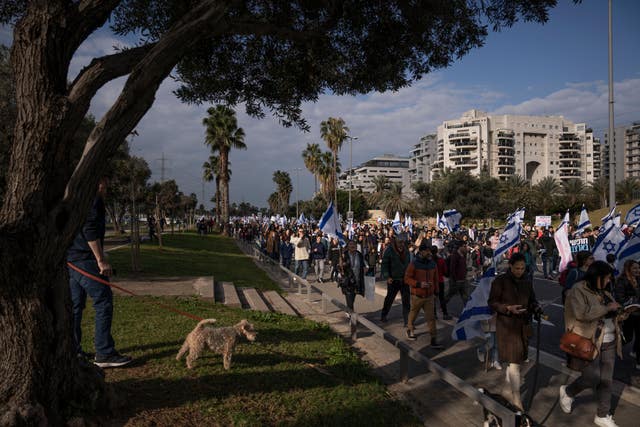 Mr Netanyahu and his allies took office in December after the country's fifth election in less than four years. That election, like its predecessors, focused on Mr Netanyahu's fitness for office at a time when he is facing serious criminal charges.
He has lashed out at the country's police, prosecutors and judges, saying he is the victim of a deep-state style conspiracy to oust him. His critics say he is motivated by a personal grudge and his campaign will destroy Israel's democratic system of checks and balances.
The legislation approved in committee on Monday would give Mr Netanyahu's parliamentary majority the authority for appointing all of the country's judges – a step that critics say could pave the way for his trial to be dismissed.
A second change would take away the Supreme Court's authority to review the legality of major pieces of legislation, known as Basic Laws.
His coalition also plans to pass another law which would give parliament the power to overturn Supreme Court decisions it dislikes.
Taken together, critics say this will destroy the country's system of checks and balances and unleash a process similar to those in authoritarian countries like Poland and Hungary.
Eliad Shraga, chairman of the Movement for Quality Government, a civil-society group that organised Monday's demonstration, said the gathering was meant to send a message of support to the Supreme Court and a warning to the Knesset.
"We will fight to the end," he told the Associated Press. "They want to change Israel from a liberal democracy to a dictatorship, a fascist dictatorship."