The US has announced a new 400 million-dollar (£330m) military aid package for Ukraine that for the first time includes armoured vehicles that can launch bridges.
The equipment will allow troops to cross rivers or other gaps as Russian and Ukrainian forces remain entrenched on opposite sides of the Dnieper River.
The war has largely slowed to a grinding stalemate during the winter months, with Russia and Ukraine firing at each other across the river. Both sides are expected to launch offensives as temperatures warm.
This round of aid will be drawn from existing US weapons stockpiles so it can arrive in Ukraine faster. The US and allies are trying to rush additional support to Kyiv to best position it for intensified spring fighting.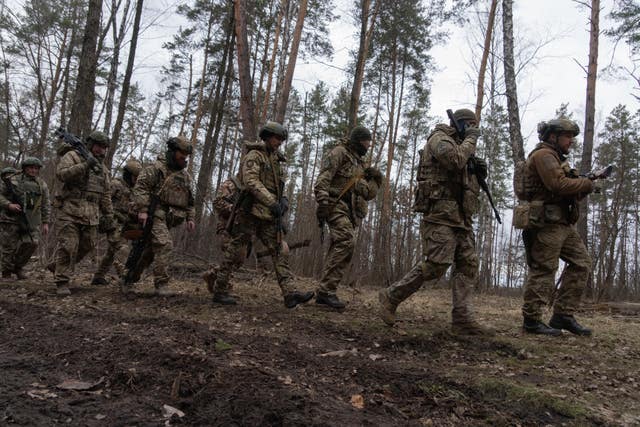 Because Ukraine also continues to face shortages of ammunition in the intense firefight, this aid package, like previous ones, includes thousands of replacement rounds, such as rockets for the High Mobility Artillery Rocket Systems and 155mm Howitzer rounds.
The package also includes demolition munitions and equipment for clearing obstacles to help Ukraine break through dug-in lines.
Since Russia invaded Ukraine a year ago, the US has sent in more than 32 billion dollars (£26.6bn) in weapons and equipment.
The US is also roughly tripling the number of Ukrainian forces it is training on advanced battle tactics at a base in Germany, to help them punch through entrenched Russian lines.
At the Grafenwoehr training area, Ukrainian forces run through a five-week course that prepares them to conduct advanced combined arms manoeuvres with Bradley fighting vehicles, M109 Paladins and Stryker armoured personnel carriers. The first 600 Ukrainian troops completed the course last month and 1,600 more are in training.
The aid will also include spare parts and equipment for vehicle maintenance and repair.
The announcement comes on the heels of a brief meeting on Thursday between US secretary of state Antony Blinken and Russian foreign minister Sergey Lavrov at a gathering of top diplomats from the Group of 20 nations in New Delhi.
It was the highest-level in-person talks between the two countries since Russia's invasion of Ukraine but there was no indication of any movement toward easing the intense tensions between the two nations.
Mr Blinken said he told Mr Lavrov the US would continue to support Ukraine for as long as it takes.
Mr Lavrov, who did not mention speaking to Mr Blinken when he held a news conference after the meeting, told reporters that Moscow would continue to press forward with its action in Ukraine.
Also on Thursday, Russia declared that saboteurs from Ukraine crossed into its territory and attacked border villages, a raid that fuelled fears of an escalation in the war.
Details of what happened remain scarce and conflicting theories about possible perpetrators and their goals are still swirling.
Ukrainian officials have denied involvement and a presidential aide described it as a false-flag attack used by the Kremlin to justify the war in Ukraine.
An obscure group of Russian nationalists who described themselves as part of the Ukrainian military claimed responsibility for the attack, but their status and goals remain unclear.