Authorities have ordered more than 1,500 people to evacuate from a Northern California agricultural community famous for its strawberry crop after the Pajaro River's levee was breached by flooding.
Monterey County officials said the break in the levee – upstream from the unincorporated community of Pajaro along California's Central Coast – is about 100ft wide.
Crews had gone door-to-door on Friday afternoon to urge residents to leave before the rains came, but some stayed and had to be pulled from floodwaters early on Saturday.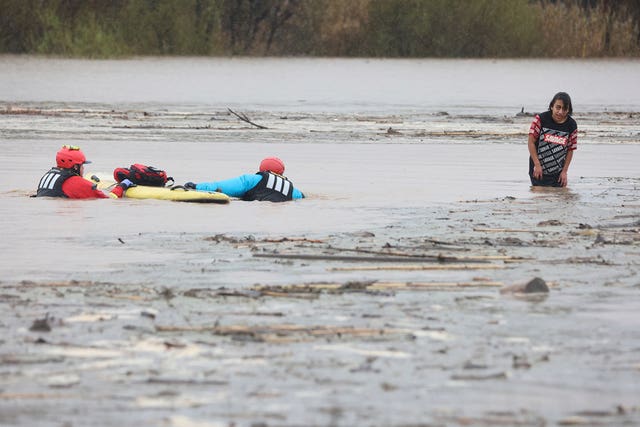 Luis Alejo, chair of the Monterey County Board of Supervisors, wrote on Twitter: "We were hoping to avoid and prevent this situation, but the worst case scenario has arrived with the Pajaro River overtopping and levee breaching at about midnight."
Mr Alejo called the flooding "massive," saying it has affected Pajaro's 1,700 residents – many of them Latino farm workers – and that the damage will take months to repair.
The Pajaro River separates the counties of Santa Cruz and Monterey in the area that flooded on Saturday.
Officials had been working along the levee in the hopes of shoring it up when it was breached early on Saturday morning. Crews began working to fix the levee at around daybreak Saturday as residents slept in evacuation centres.
In 1995, the Pajaro River's levees broke, submerging 2,500 acres of farmland and the community of Pajaro. Two peopled died and the flooding caused nearly 100 million dollars (£83 million) of damage.
A state law, passed last year, advanced state funds for a levee project. It was scheduled to start construction in 2024.
Across the state on Saturday, Californians contended with drenching rains and rising water levels. In Tulare County, the sheriff ordered residents who live near the Tule River to evacuate, while people near the Poso Creek in Kern County were under an evacuation warning.
The National Weather Service's meteorologists issued flood warnings and advisories, begging motorists to stay off deluged roadways.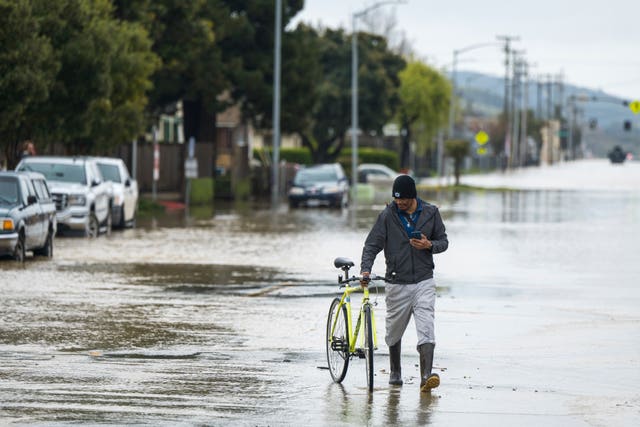 Snow levels in the Sierra Nevada, which provides about a third of the state's water supply, are more than 180% of the April 1 average, when it is historically at its peak.
Officials reported 32in of snow had fallen by Saturday morning at the Mount Rose ski resort on the edge of Reno, Nevada.
The snowpack at high elevations is so massive it was expected to be able to absorb the rain, but snow below 4,000ft could start to melt, potentially contributing to flooding, forecasters said.