Newly obtained video shows a group of police and hospital staff in the US pinning a patient to the floor until he was motionless and limp before beginning unsuccessful resuscitation efforts.
The footage, which has no audio, shows various members of the group attempting to restrain Irvo Otieno – who was handcuffed and shackled – for about 20 minutes after he was led into a room at a Virginia psychiatric hospital where he was going to be admitted on March 6.
For most of the time, the 28-year-old black man is on the floor being held down by a group whose members change but who at one point appear to number 10.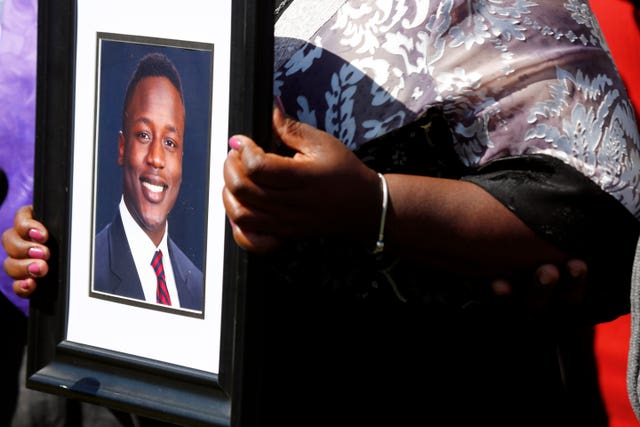 Mr Otenio's family said he was brutally mistreated, both at the state hospital and while in law enforcement custody in the preceding days. Lawyers for many of the defendants have said they will vigorously fight the charges.
Relatives of Mr Otieno were shown video from the hospital last week by a prosecutor who had said she planned to publicly release it.
Lawyers for at least two of the defendants sought to block the video's release, arguing that it could hinder a fair trial.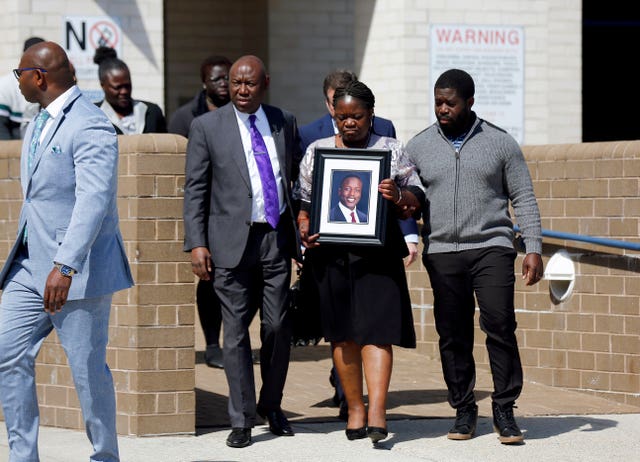 As time passes, an increasing number of workers hold him down as he appears to start to move on the floor. Mr Otieno's shirtless body is obscured at times by those restraining him or standing in front of the camera.
"He certainly did not deserve to be smothered to death, which is what happened," prosecutor Ann Cabell Baskervill said.
The workers were holding him down "from his braids down to his toes", she said.
By the 4.39pm timestamp, someone is taking Mr Otieno's pulse and he appears unresponsive. Soon after, as Mr Otieno's body lies still, someone appears to administer two injections. By 4.42pm, CPR appears to be under way. Life-saving efforts seem to go on for nearly an hour. At 5.48pm, Mr Otieno's body is draped in a white sheet.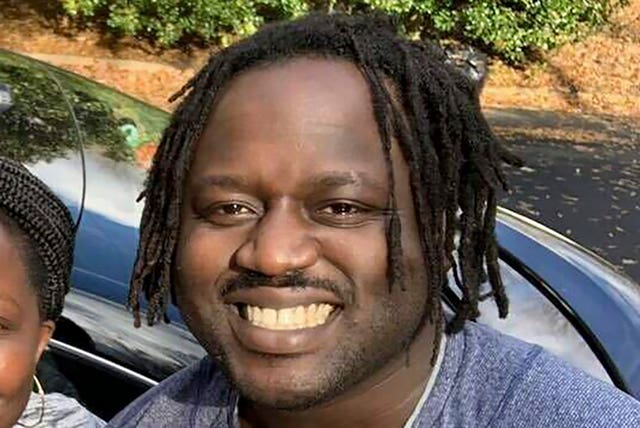 Defence lawyers have raised the possibility that the injections contributed to his death, although Ms Baskervill has disputed this, saying Mr Otieno was already dead when the jabs were administered.
A grand jury in Dinwiddie County signed off on second-degree murder charges for all 10 defendants on Tuesday.
"Those 10 monsters, those 10 criminals, I was happy to hear that they were indicted. And that is just the beginning step," Mr Otieno's mother, Caroline Ouko, said at a news conference in which she vowed to fight for justice for her son.
Mr Otieno's relatives have previously called the footage heartbreaking and disturbing and equated his treatment to torture, calling for the US Department of Justice to intervene in the case.
Mr Crump has said Mr Otieno's treatment has close parallels with Mr Floyd's killing in police custody in Minneapolis in 2020, and the president of the NAACP civil rights group Derrick Johnson has made a similar comparison.
"Police are simply not a substitute for compassionate and informed mental health professionals," Mr Johnson said.
"Rather than neglecting and criminalising the black community, we need action to make sure no one experiences or witnesses this kind of violence at the hands of law enforcement ever again."