Ukraine's president has visited the Sumy region in northern Ukraine as he continues his tour of areas of the country that have felt the brunt of Russia's invasion and with the stage set for a Ukrainian counter-offensive.
Volodymyr Zelensky met officials and local people in two cities in the region which borders Russia.
It was partially occupied by Russian forces after war started more than a year ago but the Russians withdrew from the region by early April.
The Associated Press was granted exclusive access as Mr Zelensky visited the Sumy region cities of Okhtyrka, which saw fierce battles last year but was never occupied, and Trostianets, which was held by the Russians for a month after the invasion but liberated by Ukrainian forces on March 26 2022.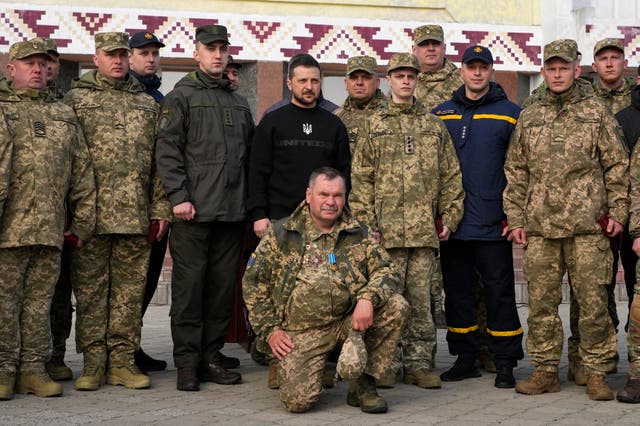 At least three civilians were killed and 43 others were wounded on Tuesday by the latest Russian attacks involving drones, gliding bombs and heavy artillery, Ukraine's presidential office said.
In the eastern Donetsk region, Russian shelling hit 12 towns and villages, killing two and wounding 34.
The Russian shelling also targeted the southern city of Kherson, where five people were wounded. In Bilopillia in the Sumy region, a Russian strike damaged a school building and an apartment building.
Addressing a crowd of people on a square in Okhtyrka, Mr Zelensky promised that the battle-scarred city would be rebuilt.
"We won't let any wound remain on the body of our state," he said.
In Trostianets, Mr Zelensky honoured soldiers at the local railway station, where Ukrainian authorities say the Russians tortured prisoners. He also met Ukraine's minister for reconstruction Oleksandr Kubrakov.
Many buildings in the city are damaged or destroyed by the war, with crumbling walls and punctured roofs.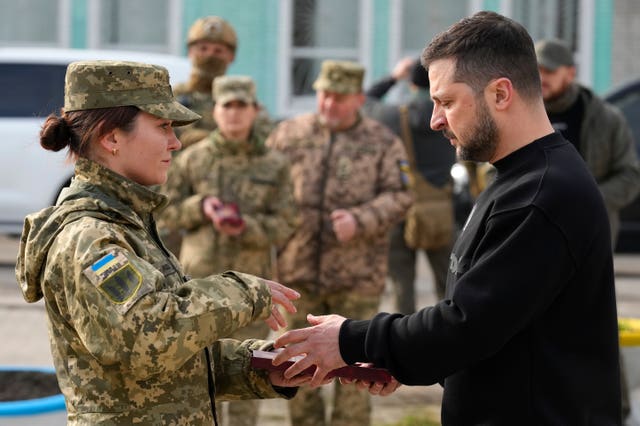 "It's a symbol of unity and the iron will that brought the country together," he said.
Expectations of a Ukrainian push against Russian positions are mounting as the weather improves and Western-supplied weapons for Kyiv arrive.
Germany said late on Monday it has delivered the 18 Leopard II tanks it had promised to Ukraine. The United Kingdom, Poland, Canada and Norway have also delivered promised tanks.
Russia has kept up its long-range bombardment of Ukraine areas but its night-time attacks with Iranian-made Shahed exploding drones are causing little damage.
The Ukrainian military downed 14 of the 15 Shahed drones Russia fired late on Monday, the General Staff of the Ukrainian armed forces said.
The Kyiv regional military administration said that wreckage from a downed drone hit an administrative building in the Sviatoshynskyi district in the western part of the capital, causing a fire. There were no casualties.
The Dnipropetrovsk regional governor, Serhii Lysak, said that the Ukrainian military shot down two drones overnight but another one hit a privately owned industrial facility in the city of Dnipro and caused a fire that took hours to extinguish.