Former US president Donald Trump flew on Monday from Florida to New York for his historic booking and arraignment on hush money charges, as the nation's largest city bolstered security and warned potential protesters it was "not a playground for your misplaced anger".
Mr Trump's motorcade ride from his Mar-a-Lago club to his red, white and blue Boeing 757, emblazoned with his name in gold letters, was carried live on cable television in the US.
It took him past supporters waving banners and cheering, decrying the case against him — stemming from payments made during his 2016 campaign — as politically motivated.
Mr Trump is already months into a third campaign to reclaim the White House he lost to President Joe Biden in 2020.
The scene was quite different in New York, where Mr Trump built a national profile in business and entertainment but became deeply unpopular as he moved into politics.
Prosecutors say their case against him has nothing to do with politics and have defended the work of Manhattan District Attorney Alvin Bragg who is leading it.
Mr Trump stepped off his jet alone and directly into a waiting black car, with no one greeting him. Only small, sparse groups of supporters lined the route as his motorcade used a police escort to whisk him into Manhattan.
There was no one to greet him as he arrived at Trump Tower, the street having been cleared. He gave a brief wave anyway.
Advisers said Mr Trump spent the flight working. He was to meet with his lawyers, then spend the night at Trump Tower before surrendering to authorities for booking and the arraignment.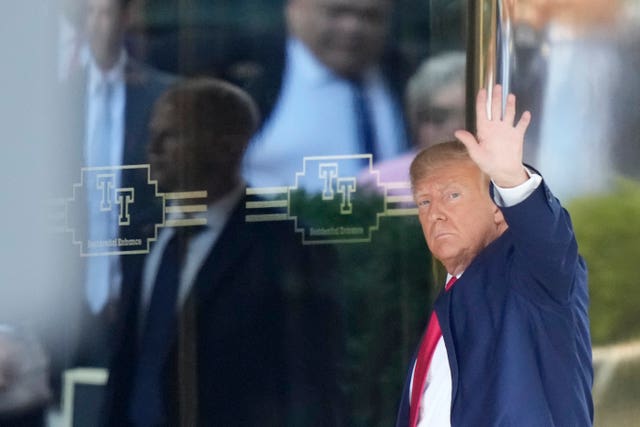 The investigation is scrutinising six-figure payments made to porn actor Stormy Daniels and former Playboy model Karen McDougal.
Both say they had sexual encounters with the married Mr Trump years before he got into politics. Mr Trump denies having sexual liaisons with either woman and has denied any wrongdoing involving payments.
It is an unprecedented chapter in American history, with Mr Trump the first former president to face criminal charges.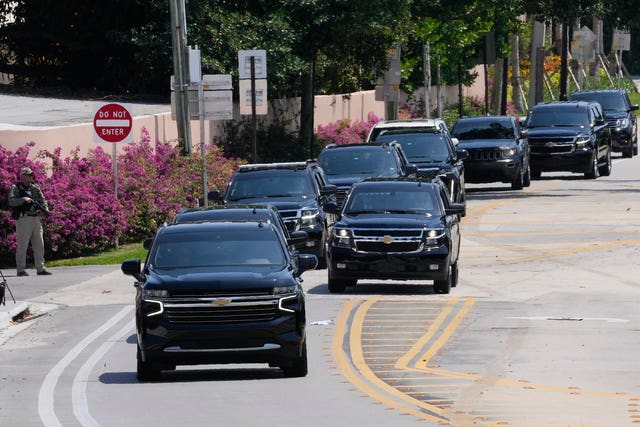 He also bolstered his legal team on Monday, adding a third high-profile lawyer, Todd Blanche, according to three people familiar with the matter.
Mr Blanche, a former federal prosecutor, has previously represented Mr Trump's former campaign chairman Paul Manafort. The people would not publicly discuss details of the legal team's plan and therefore spoke to The Associated Press on condition of anonymity.
Officials have so far not seen an influx of people coming into the city, as was the case in Washington in the days before a mob of Trump supporters overran the US Capitol in January 2021.
Still, they warned that possessing a weapon in certain areas of the city, including near courts, is a crime.
"While there may be some rabble rousers thinking about coming to our city tomorrow, our message is clear and simple: control yourselves," said New York Mayor Eric Adams.
"New York City is our home, not a playground for your misplaced anger. We are the safest large city in America because we respect the rule of law in New York City."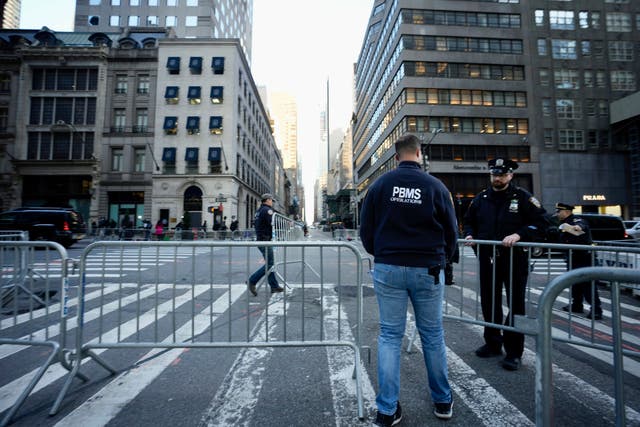 Additional security was also in the works. A small group of supporters hung large "Trump 2024" banners across from a makeshift pen of reporters, a block away from Trump Tower.
Authorities also have taken steps to close and secure the court floor where Mr Trump is to appear before a judge as part of his arraignment.
One of Mr Trump's staunchest defenders in Congress, Republican Representative Marjorie Taylor Greene of Georgia, was helping to organise a rally in New York for Tuesday morning, and Mayor Adams took the unusual step of calling her out by name.
"Although we have no specific threats, people like Marjorie Taylor Greene, who is known to spread misinformation and hate speech, she's stated she's coming to town," Mr Adams said. "While you're in town, be on your best behavior."
Arriving in Minnesota where he was touring a factory to promote his administration's economic policies, Mr Biden was asked if he thought there would be unrest in New York.
"No, I have faith in the New York Police Department," the president replied. He also said he had faith in the nation's legal system.