An Italian tourist was killed and seven other people wounded in a suspected car ramming attack near a beach in Tel Aviv, Israeli authorities say.
The 30-year-old Italian man was among a group of Italian and British citizens who were hit by a car late on Friday.
Israel's rescue service said a 74-year-old man and a 17-year-old girl were receiving medical treatment for mild to moderate injuries.
Police said they shot and killed the driver of the car and identified him as a 45-year-old Palestinian citizen of Israel from the village of Kafr Qassem.
A video circulating on social media showed the car hurtling along a sidewalk for several hundred metres before crashing out of control.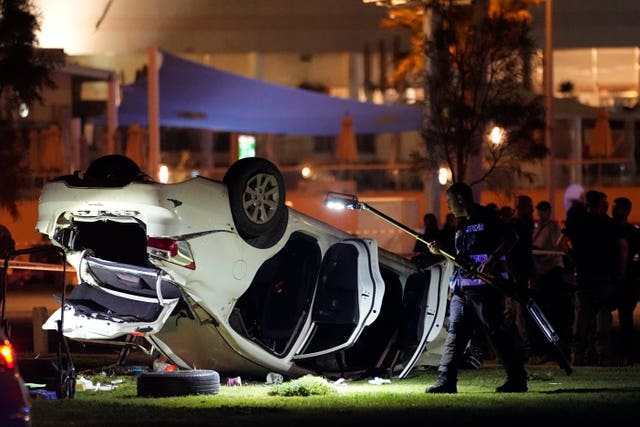 In a separate incident, two British-Israeli women were shot to death near a settlement in the occupied West Bank.
The two women in their 20s, who were sisters, were killed while their 45-year-old was seriously wounded, Israeli and British officials said.
The family lived in the Efrat settlement, near the Palestinian city of Bethlehem, said Oded Revivi, the settlement's mayor.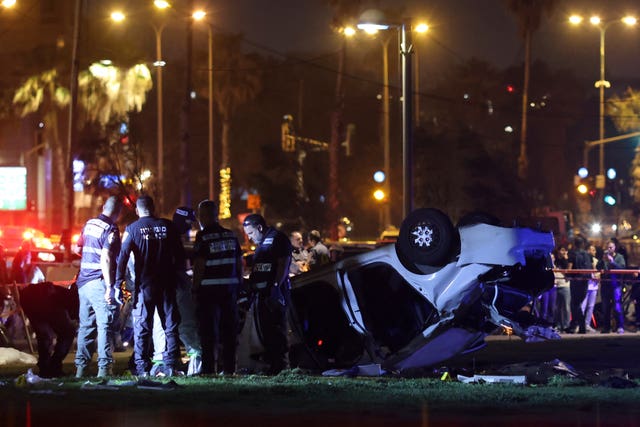 Medics said they dragged the unconscious women from the smashed car, which appeared to have been pushed off the road.
No groups claimed responsibility for either attack. But the Hamas militant group that rules Gaza praised both incidents as retaliation for Israeli raids earlier this week on the Al-Aqsa mosque — the third-holiest site in Islam.
On Tuesday, police arrested and beat hundreds of Palestinians there, who responded by hurling rocks and firecrackers at officers.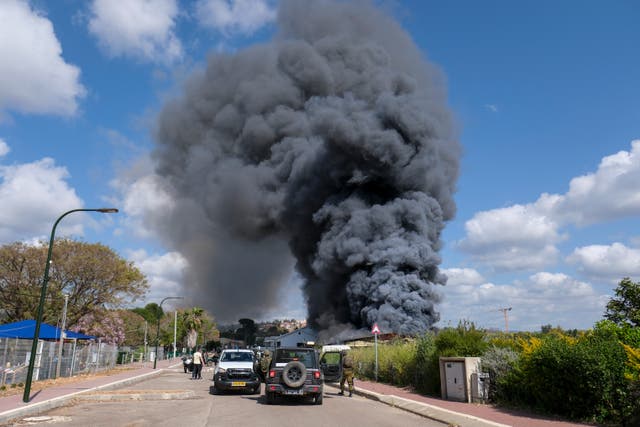 That followed days of violence and unrest in Jerusalem's most sensitive holy site, the compound of the Al-Aqsa mosque in the Old City.
Prime Minister Benjamin Netanyahu said he was calling up all reserve forces in Israel's border police "to confront the terror attacks".
The Hamas militant group that rules Gaza praised the attack in Tel Aviv as a response to Israel's "crimes against Al-Aqsa Mosque and worshippers".
Israeli strikes came in retaliation for a major barrage of rockets from Lebanon the day before, after Israeli police raids at the Al-Aqsa Mosque in Jerusalem spiralled into unrest and sparked outrage across the Arab world.
Although the Israeli military was quick to emphasise that its warplanes struck sites belonging to only Palestinian militant groups, the barrage risks drawing in Israel's bitter foe Hezbollah, which holds sway over much of southern Lebanon and has in the past portrayed itself as a defender of the Palestinians and the contested city of Jerusalem.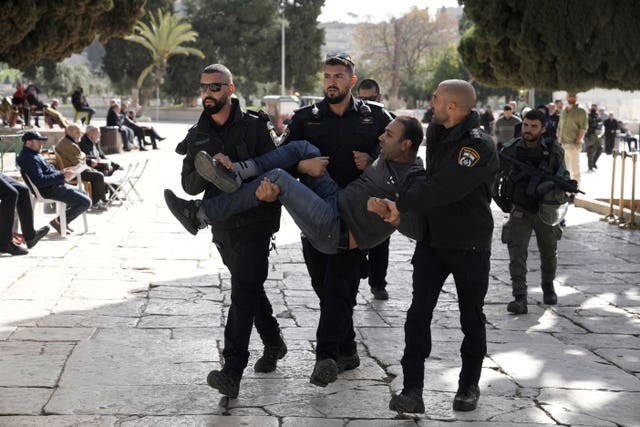 Other strikes hit a small bridge and power transformer in the nearby town of Maaliya and damaged an irrigation system providing water to orchards in the area.
The Israeli military said it was boosting infantry and artillery forces in a defensive move "to prepare for all possible scenarios".
A Palestinian official said Egyptian security officials were working with Hamas and Israel to de-escalate the situation.
Later on Friday, there were signs that both sides were trying to keep the hostilities in check. Fighting on Israel's northern and southern borders subsided after dawn, and midday prayers at the Al-Aqsa Mosque passed peacefully after an early flashpoint.
An hour later, according to videos, people leaving the prayers staged a vast protest on the limestone courtyard, with Palestinians raising their fists and shouting in support of Hamas rocket fire, and Israeli police forced their way into the compound.
Police did not comment on the earlier beatings, but said security forces entered the compound after prayers in response to "masked suspects" who threw rocks towards officers at one of the gates.